So you've finally decided to start your YouTube channel. Awesome! Now, if you really want your content to stand out, you need to do it right.  We've been speaking quite a lot about the importance of image and sound quality. Let's explore what equipment you're going to need to start your exciting journey on your way to successful video blogging.   
Camera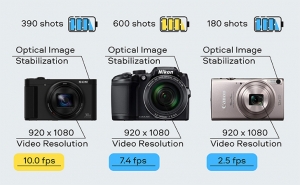 Actually, you might not even need a new camera and you definitely don't have to invest a fortune one. If your smartphone has been released some time after 2015, it will do just fine. If you already have an old mirrorless camera or DSLR, that's even better. If neither case applies you need to get a camera. It doesn't have to be the newest super expensive professional one. There are tons of budget options you can get for $200-300 that will do the job well enough.
When choosing one, pay attention not only to the camera's resolution but to other characteristics as well. If you're going to make any non-stationary videos (like vlogs), get one with optical stabilization. Also, don't forget to check how the autofocus feature works. Autofocus will save you a lot of time if you're new to video making. It is particularly important if you're going to take selfie videos (and as a Youtuber, you most likely are).
Here are a few great basic cameras to start with: 
Microphone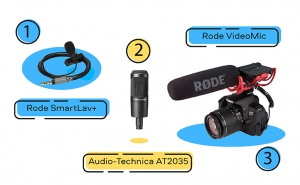 No matter how good your video is, no one will watch it if the sound is bad. Trust us, it's better to invest in proper sound equipment than in a camera that makes 4K videos. Buy a good external mic. The same rule applies: "good" does not necessarily mean "expensive".
In most cases, a simple clip-on mic will be enough. Try, for example, this one: Rode SmartLav+. You can use it both when recording at home or outdoors. Clip-ons are one of the most affordable options, except for using your headphones' mic (which can also be okay).
If for some reason you can't use a clip-on mic, go for other options. For example, a Rode VideoMic is a good shotgun mic for interviews and other similar tasks. Shotguns are fixed on the camera. This type of microphone records your voice as long as it's pointed at you. For home recordings, a condenser microphone Audio-Technica AT2035 will be great. 
Tripod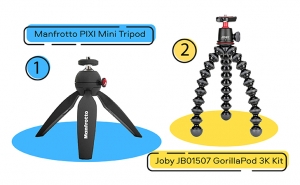 While filming at home, you can set your camera on a pile of books. If recording in the street, you can often put it on a bench or something like that. But a simple tripod will make things much easier. Start with budget options, such as Joby JB01507 GorillaPod 3K Kit or Manfrotto PIXI Mini Tripod.
Lighting
You can make the best videos using only natural lighting. However, it can get way too random. If you only count on the sun, you'll have too little time to shoot, and the whole recording could be messed up if the weather suddenly changes (which it does quite often – right in the area where someone is recording a video!).
To save yourself from that headache, buy at least a simple ring light. It should be enough for videos shot at home. If you're going to start a beauty blog, it's just perfect. If you're ready for more, there are whole lighting sets (like this one) which you can play around with and try different lighting schemes.
Enjoy our special discount for all blog readers!
Promocode: SUPERBLOG
Download Movavi Video Editor Plus with 10% discount for Windows
Download Movavi Video Editor Plus with 10% discount for Mac
Editing Tools
Tripod and lights will definitely make your life easier and help you make better videos. Still, if you try really hard, you can make great videos for YouTube even without them. However, it's hardly possible to make it all work without video editing software. 
So choose your app for editing wisely. We can't help hinting at our favorite Movavi Video Suite, the best software for beginners. It will help you trim your footage, pick the best moments and bring it all together for a great video for YouTube. Using this software, you'll easily stabilize shaky footage, apply an audio track, add color correction and cool visual effects, and much more. Moreover, you'll have access to other essential instruments such as our screen recording program and a video converter.
Professional advice
Want more tips? Let's see what professional YouTubers use to make their videos. 
Recommendations for beginners by YouTube Creators:   
What do popular YouTubers use to make their videos: