Julia is a successful businesswoman and proud mother of three. For the past few years, she has been juggling family responsibilities with developing a large-scale sports project for preschoolers. Thanks to Julia's initiatives, many kindergartens in Novosibirsk now offer high-quality soccer training with professional coaches.
This year's coronavirus crisis looked as if it would put her business in jeopardy, but finally a solution came along. Quite by chance, what saved the business was their family hobby – filming and video editing. While the lockdown forced everyone to stay home, training sessions had to move online. Julia's husband, together with their kids, stepped in to help – and the project was successfully digitalized.
Even now that quarantine is over in Novosibirsk, the process of creating video workouts lives on, and demand is even rising – so now there's every chance for Julia's business to develop online in a big way.
Julia's software of choice, Movavi Video Suite, is a powerful tool that she has proved can contribute to developing an important social project – and strengthen family relationships at the same time. Here's the story, told by Julia herself.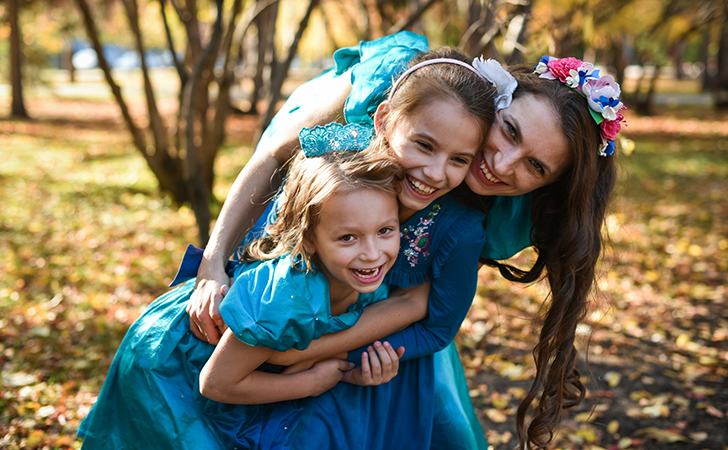 How It All Started
I have three kids of my own: girls aged 6 and 9, and my son is 12. The latter has always loved soccer. Unfortunately, when he was small, there were no suitable soccer clubs to train at anywhere near us. When we finally had the opportunity to sign him up for a team, it was too late – no team would accept him because he was already too old.
We know of many parents who face the same challenges as we did. It's not always possible to take your kid to a soccer club from an early age – particularly if there are no facilities available in your neighborhood. So we came up with the idea of creating these facilities in local kindergartens. It's actually good for everyone – parents, children, and kindergarten teachers. Children get to play soccer. Parents save time on traveling and waiting around. Teachers and students don't have to worry about organizing sports activities, as we provide them with everything.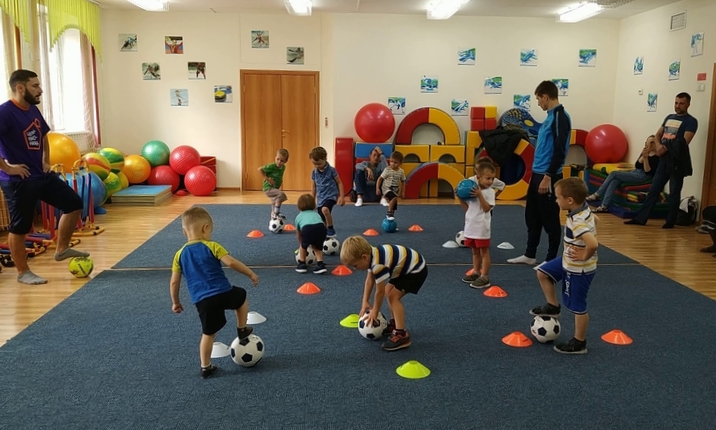 A friend of ours was involved in local government in the city of Irkutsk, so we decided to give it a go there first. Eventually it turned out not to be practical, as we had to travel there frequently. So, after a couple of years, we moved our business to Novosibirsk. During the first year of our presence here, we only managed to sign up 2 kindergartens. The next year, we had about three times as many. The next year, we had even more. Now we're in our fifth year, and we just keep growing.
How Video Making Became Part of the Mix
About three years ago, we started experimenting with filming and editing for our business. At first, we only made videos covering our events. We host two big festivals a year – one for New Year's Eve and one in the summer to celebrate Children's Day. For these two occasions, we bring together the children from all our kindergartens and get them involved in various fun competitions, together with their parents and teachers. We usually shoot some videos prior to the festivals to promote them, and we always produce a video record of the whole event.
Quite quickly, we realized that we should really use video to help develop our business more effectively. It's always tricky to arrange a personal meeting kindergarten administrators, but those administrators actively communicate with each other and exchange useful contacts. So, we began to make short videos of our training sessions – easy to share via messengers, clear enough to show what we're doing. Those who are already cooperating with us are happy to share these videos with their colleagues, which makes it much easier for us to establish new contacts. Whenever we come to a new establishment, the staff welcomes us, because they already know the value we bring.
We don't advertise ourselves on social networks yet because we don't target parents and their children. We work directly with the kindergartens, so WhatsApp networking is our main tool. We might end up developing social network accounts at some time in the future – particularly if we decide to further grow our online presence.
How We Got Online
Even before the coronavirus crisis, we had already started recording some of our home workouts. During quarantine, when all the children were stuck at home with their parents, these recordings came in handy. We began producing training videos on a regular basis and shared them to all those kindergartens. They'd pass them on to parents via their group chats. In return, they'd send us videos of their kids training at home. Eventually even those who never used to train with us couldn't resist joining in the fun. Videos became our main means of staying connected with each other.
When the quarantine was lifted this summer, we started offline training sessions and made them open to everyone. We were thrilled to discover that some of the older kids (aged 11-13) were interested, too – and many of them were girls, which we didn't really expect. Now we are actively looking to introduce the project to schools, too! The pandemic is making it all a bit complicated at the moment, but we keep trying our best to push forward.
How It's All Done
While I'm the CEO of the project, the whole family is involved in the process of filming and editing. I have to give credit to my husband, who also helps me a lot with these aspects despite being so busy with his own job at an international IT company. Our kids participate as much as they can, too! Our son is really good at editing, so that's what he does for me. The younger ones are just starting to familiarize themselves with videomaking. At the moment they mostly film each other on the phone with a view to becoming YouTube superstars. Sometimes they come up with something creative – like drawing or weaving bracelets on camera. They don't edit yet though – they ask their older brother to do it for them. So creating videos has really become our family pastime.
Our main tool is Movavi Video Suite. We mostly learned how to use it it with the help of the video tutorials on the Movavi Vlog. All the programs are pretty intuitive, actually: assembling your first ever video will take just a few minutes.
Testing the New Movavi Video Suite
We've just started using the latest version, but we are already excited about the new functions that they've introduced. With these tools, we can now easily and quickly edit a video at a fairly professional level. The software consists of three modules – the video editor, the converter and the screen recorder.
We mainly use Movavi Video Editor, so we've particularly appreciated its latest tools. Before, you could only adjust colors and apply creative filters. Now they've brought in LUT effects! What's the difference, you might ask? Thanks to this option, now we can stylize videos to make them look like Hollywood movies: for example, we can make all the colors deliberately bright, like in musicals, or darkly dramatic, as in the "Lord of the Rings" trilogy.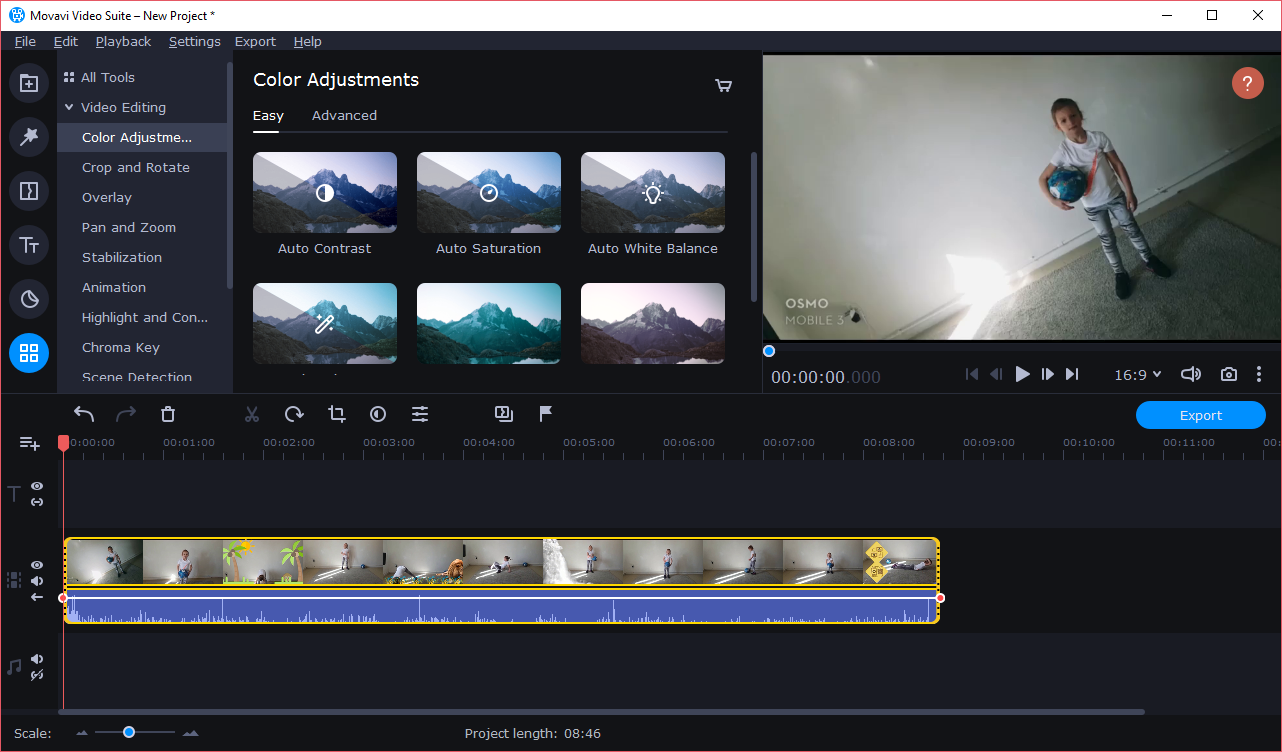 Another new function to look out for is the automatic synchronization of audio tracks. Now we can easily shoot video from different cameras and not have to worry about mismatched audio tracks later on. The program itself helps us combine the tracks in the right way. This is especially convenient for recording interviews where an external microphone is used.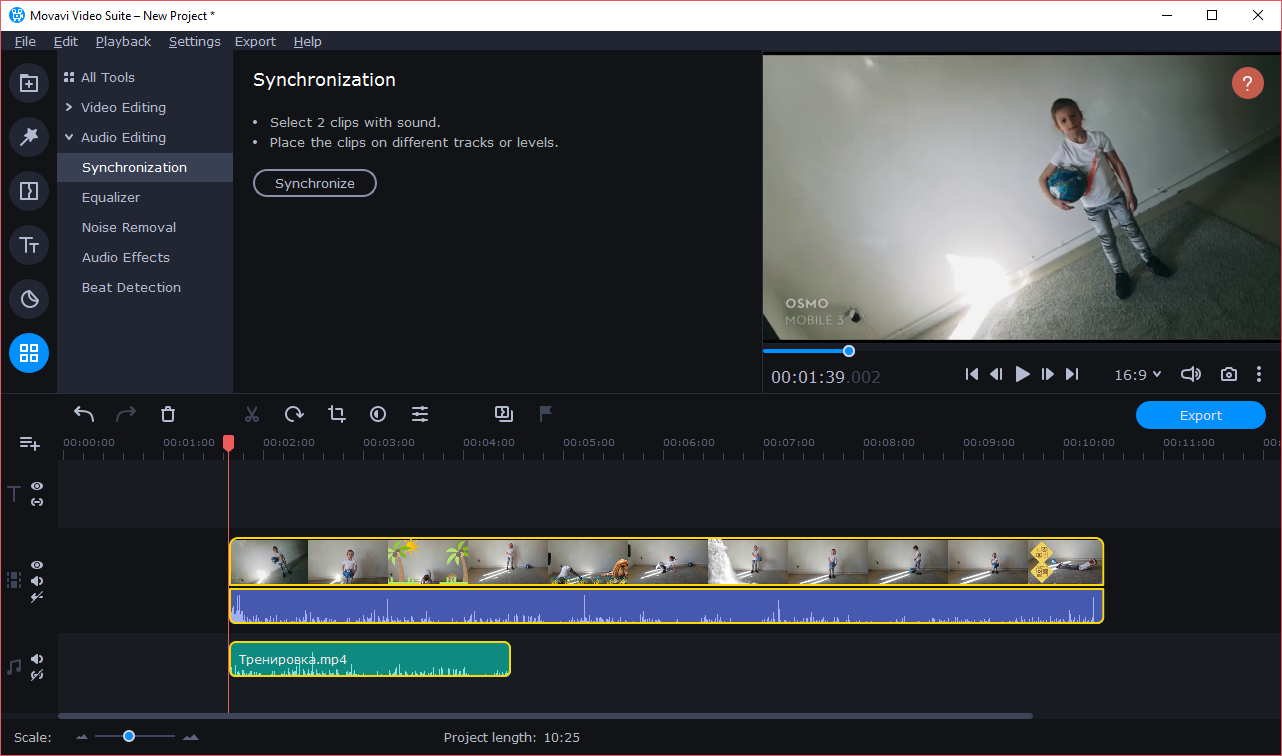 Assembling complex sequences is a lot easier, too. Now we can leave gaps on the timeline – it's really handy for those times when we have to start the edit before we've finished collecting the footage. we can also now apply transitions and effects to additional tracks – awesome for experimenting!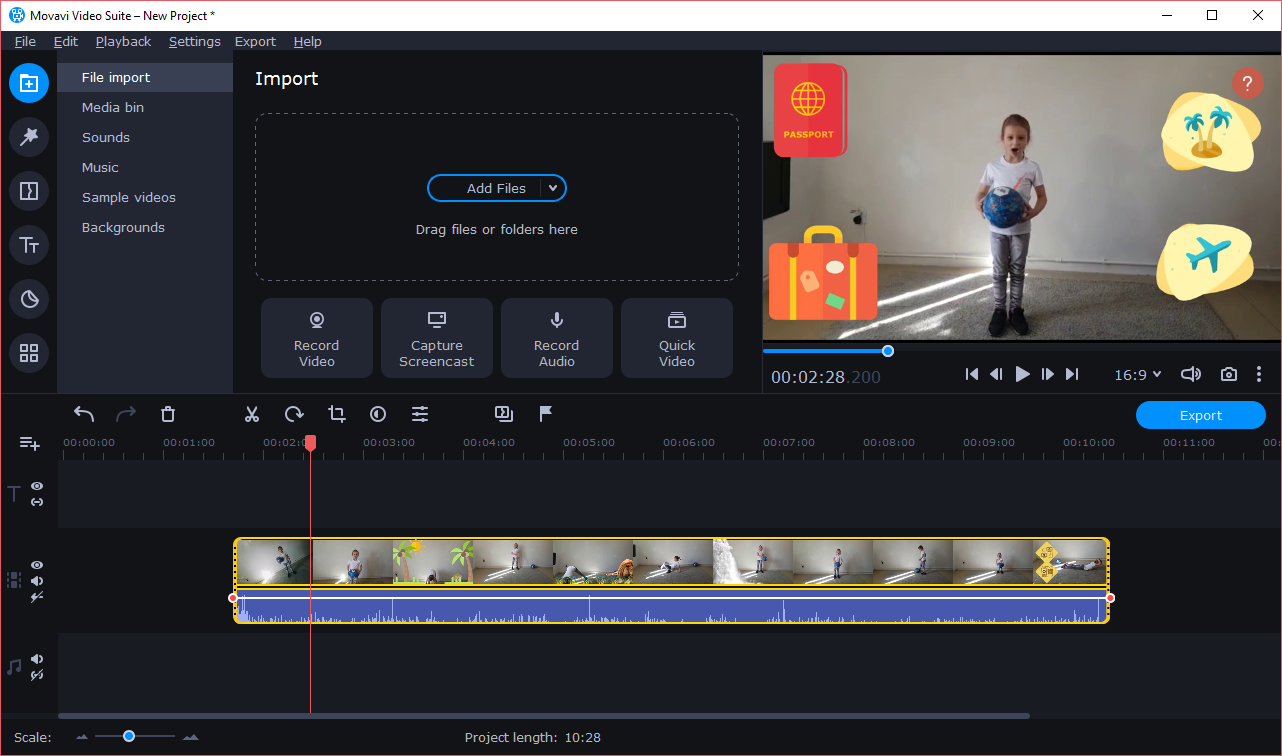 Speaking of effects, we use this feature to its fullest. Children love it when they see something animated in the shot. So we use all sorts of stickers, transitions and titles to make our videos more entertaining.
In addition to the editing software, Movavi Video Converter also helps us a lot. Thanks to this program, it's really easy to export our videos in the formats that are best-suited for sharing via messengers. Like I said, our videos are mainly shared via WhatsApp, straight to kindergarten group chats – so that's what we usually aim for.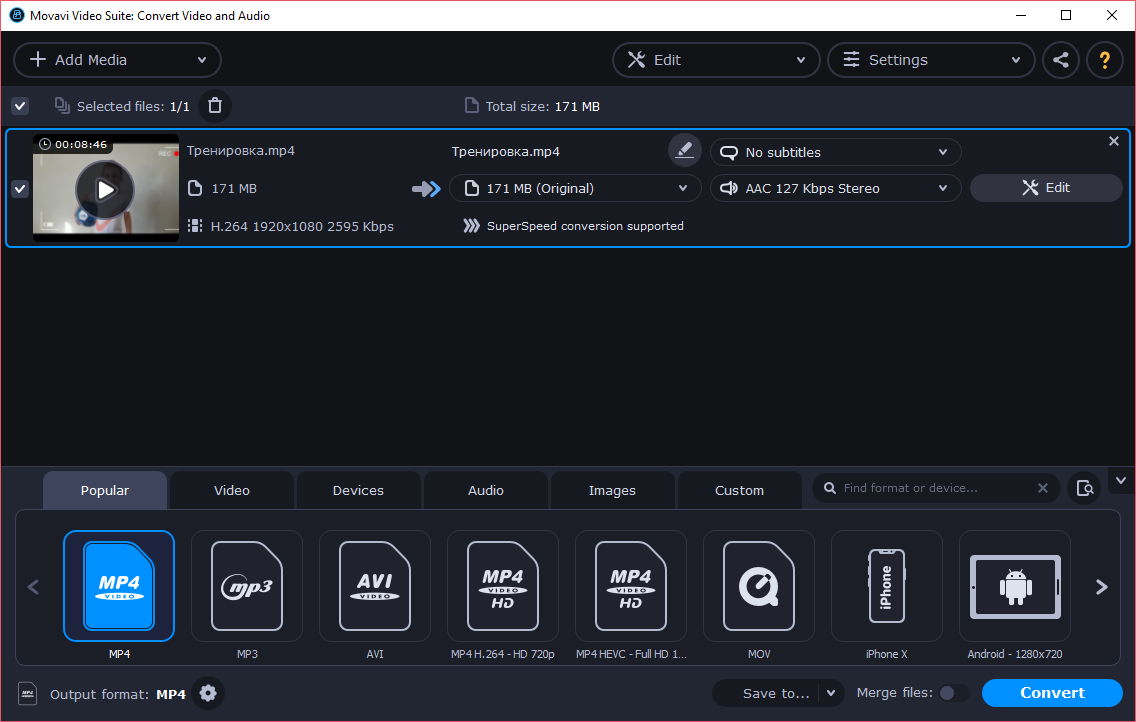 The Video Converter has also been updated: for example, we can now preview frames while cropping – which is great, as sometimes our videos turn out too long for WhatsApp, and we can easily trim them.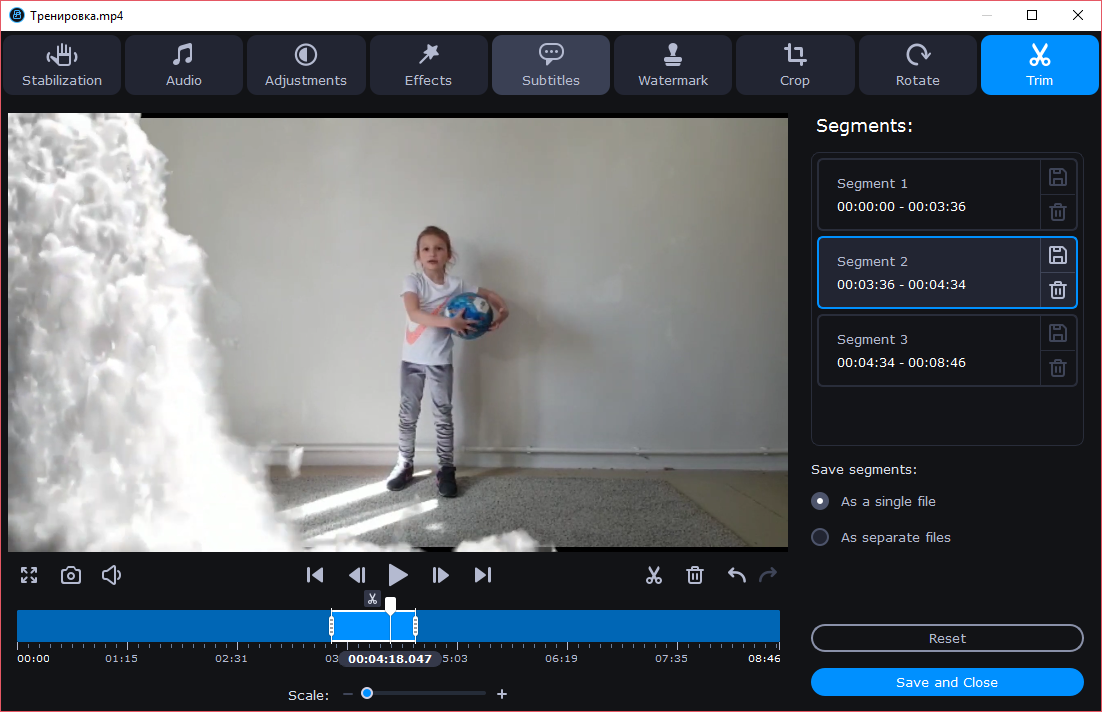 We don't make much use of the Screen Recorder yet, but I'm pretty sure we will explore it once we start investing more time in developing online programming.
What's next
We already have about 180 children onboard, and the demand is growing. So we keep developing, although I do have to admit that it's challenging for us all. In the morning, I leave the house early to take all our kids to their schools. Then I start on my business activities, until it's time to take everyone back home. We live in a house in the suburbs, so the journey home also takes some time. Often, my workday doesn't finish until about 9 p.m. My husband does his best to support me, but he's got plenty of his own work to do. But after all, we still get to spend our leisure time together, and we enjoy our little family collaborations while working on all these videos. It's great to have the whole family involved in something important.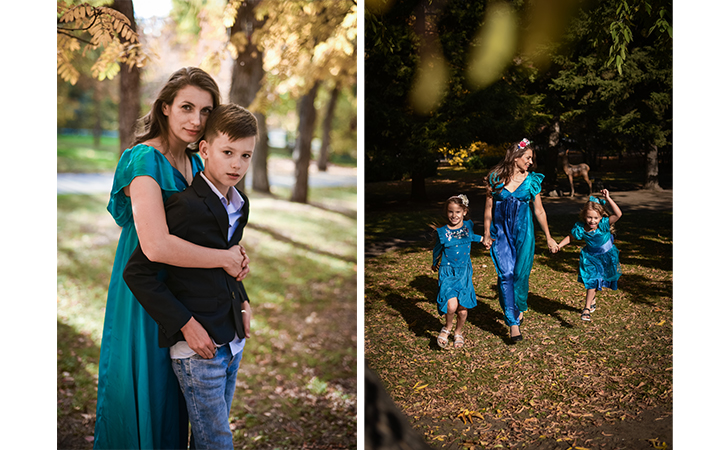 For me, this project is both about business and about some kind of… a social mission, I guess. Initially I treated it as a business. Right from the start, I invested a lot of time into learning as much as I could about all the important aspects – business communication, management, accounting – and it was worth it. Over time, I've realized that our project makes life better for everyone around – the kids, the parents, the kindergartens. It was particularly rewarding during the pandemic, when everyone was desperate for our workouts. They were like a breath of fresh air for everyone who was shut in. So we really felt like we were doing something good, and that has indeed become our mission.
We've also noticed that our home workouts and family competitions are helping parents to bond with their kids. These days, it's not always easy to make room for quality time together when everyone's working so hard. For our family, soccer and videomaking have become the two things that really bring us together, and we're working hard to share this experience with others.
Feeling inspired to create an ambitious video project of your own? Start by mastering Movavi Video Suite – our all-in-one solution for aspiring video creators. We're offering a special 10% discount to all our blog readers – just use the promocode BONUS10 when completing your order.