Do you like black and white movies? Have you ever wondered how they would look in color? Well, a lot of filmmakers have, too. That's why there are a lot of old movies that were originally shot black and white and are now colorized. You have probably seen them on TV – these movies don't look like today's films, but still, they are in color. Let's see how the very first colorization techniques came about. 
Hand-Painted Movies
The history of film colorization began at the start of the 20th century. The process back then took a lot of time, as artists hand-colored copies of movies frame by frame.
One of those artists was Elizabeth Thullier, a French colorist who ran a coloring lab in Paris. She and her 200 employees would paint every single object in every single frame of a movie. They used aniline dyes dissolved in water and alcohol. Artists used four main colors: magenta, bright yellow, orange and blue-green. By mixing them in various combinations, they could produce more than 20 unique colors and hues.
Thullier's atelier painted films for a number of famous directors. For example, George Méliès would often hire Elisabeth Thullier and her team to color his movies. For him, they painted, for example, the adventure film A Trip to the Moon (1957).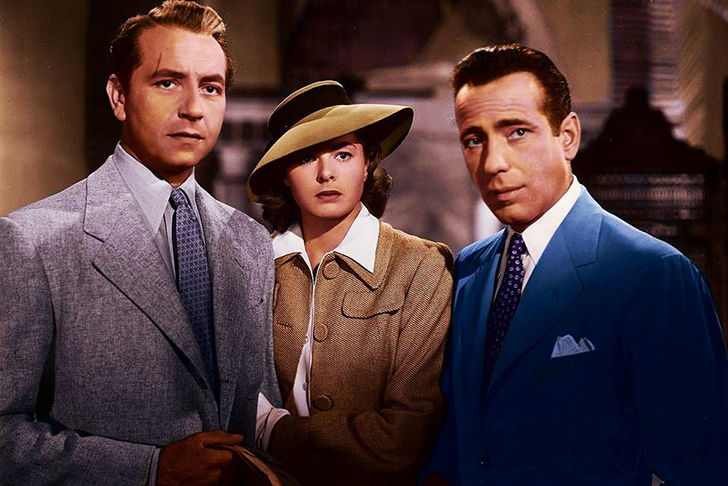 First Steps in Digital Colorization
Elisabeth Thullier started her film painting business around 1897; computerized colorization came into play only in 1970. For its invention, we should be thankful to Wilson Markle, an engineer who first colored pictures from the Apollo space program for NASA. In 1983, Markle turned his attention to commercial projects and founded Colorization, Inc. 
His process involved creating copies of the frames and feeding them into the computer, which then determined the shade of every object. To color each frame, the program used a palette of over 4,000 shades. By the end of the process, technicians only needed to fix and recolor pixels that had accidentally moved. 
Basically, Wilson's process was not completely digital. It was similar to what Elisabeth Thullier and her workers had been doing, only now it was done by a computer. Wilson and his employees had to figure out the color of every object in the film, and sometimes that could take a lot of time. Some objects were easy to colorize, as everybody knew what sky, trees, water should look like. Beyond that, technicians had to research the color of every item – clothes, furniture, buildings, etc. In most cases, studio photographs of the filming process and digging onto costume shops helped. But sometimes even those methods didn't work, and specialists had to assign color to an object at their own discretion and based on the characteristic of the greyscale of the object. Wilson's technique was patented in 1991.