YouTube video tags are a simple, fast, and effective optimization tool. When used correctly, they can improve the chances that relevant audiences will find your video through a search.
Viewers don't see the tags that are attached to a video, but the tags do help them find it. When a user enters their search query into the search bar, YouTube returns the most relevant videos by factoring in the words used. In addition to boosting visibility in search, tags also increase the likelihood of a video appearing in Topic Channels and Up Next queues under related videos.
If you want to know how to add tags on YouTube and reach a larger audience, read on. We've gathered all the information you'll need to optimize your videos with the most effective keywords.
What Are Tags on YouTube?
Tags are specific keywords and phrases used by the platform's search algorithm to determine what each video is about. They can be added either during the uploading process or after your video has been published.
How to Add Tags
To add tags while uploading, click on More options in the Details window and scroll down until you find the Tags section. If you're using a phone, you will have to wait for the upload to finish before you can add tags.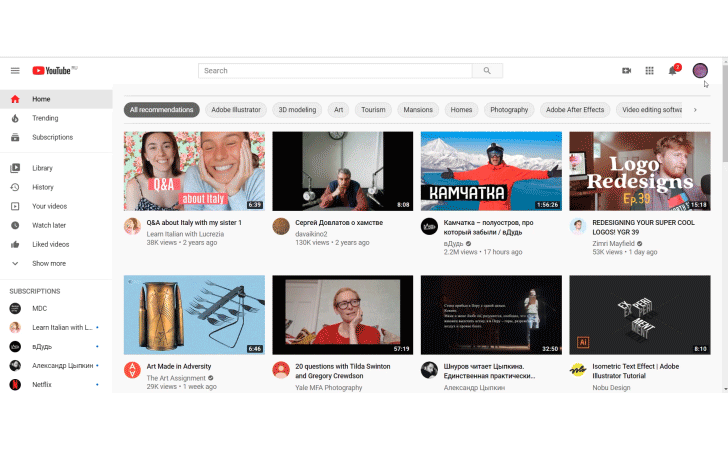 You can also add tags to previously uploaded videos. To do this, open YouTube Studio, go to the Videos section and select the video you want to add tags to. Doing this from your phone is a slightly different process: open the YouTube Studio app, choose Videos from the menu on the left, open the video, and tap on the settings icon. You will see an Add tags section – go ahead and enter your tags there.
How to Choose Tags
Figuring out what tags to use can be quite confusing. To help you out, we have compiled a list of four important types of tags.
The primary keyword. This keyword (or phrase) is the one that most accurately reflects the essence of your material. It is the combination of words that users are most likely to type in the

search

bar when looking for a video like yours. If, for example, you made a video on how to make pesto sauce, your primary keyword would be "pesto sauce recipe".

Alternative keywords. Not all people search by the same logic. Alternative keywords are any combination of words that viewers might use instead of the primary keyword. For example, "homemade pesto sauce" and "Italian pesto sauce recipe".

Generic tags. Any keywords or phrases that describe the theme of your video can be considered generic tags. In the case of pesto sauce, for example, you can use "recipes", "Italian cuisine", and so on.

Brand-specific tags. These are tags that are specific to your brand, such as the name of your YouTube

channel

or your nickname.
YouTube lets you use up to 500 characters for your tags. However, this does not mean that you need to use all those characters. YouTube does not give weight to the number of tags you use, so the best course of action is to use around 10 well-thought-out tags that convey the essence of your videos in the best possible way.
A good way to simplify the process of choosing tags is to think about what you yourself would enter in the search bar if you were looking for videos like yours. Take those keywords as a starting point and writing tags will seem a lot easier!
Take advantage of our special Blog Reader discount to get 10% off Movavi Video Suite
1. Use YouTube Search
The first tip to find keywords is the easiest and fastest one. Type the keywords you came up with into the search bar. The platform will automatically display some suggestions for the next words you might use. This auto-suggest was originally created to save users' time on typing, but that doesn't mean that creators can't use it to their advantage as well.     
For example, if you type "pesto sauce" in the search bar, the system will suggest "pesto sauce pasta" or "homemade pasta sauce". You can try doing the same with searches like "how to make pesto" or "homemade pesto".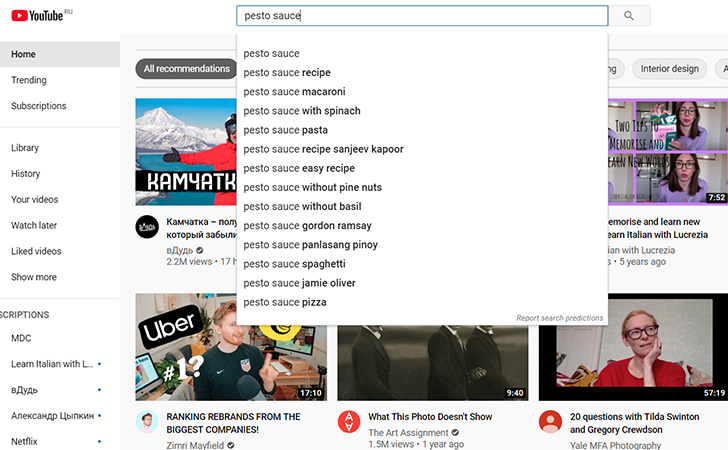 From what YouTube offers you, select the options that are the best matches for your video, and use them to create tags.
2. Try Tag Generators for YouTube
There are tools that can help you when brainstorming tags. Rapidtags.io, for example, automatically generates relevant tags for your video based on its title. Don't put all your hopes on that, though. Just use the tool as a starting point for more ideas.      
3. Create Brand-Specific Tags
Add your own nickname and your channel name as tags. This trick can increase the chances that your video will be recommended to viewers who are watching other videos of yours. Also, using your nickname as a tag can help you to get into Google's universal results.
You can use not only the official name of your channel but also variations of it. For example, for the name "movavi vlog", we could also add "movavivlog" and "vlog movavi".
4. Use YouTube Auto-Suggested Tags
When entering your keywords into the Tags section, pay attention to the options YouTube automatically suggests for you. We do not recommend using only these, as they are usually too generic and don't define the topic closely enough. Instead, use these tags in addition to more personalized ones. This will help the YouTube search algorithm find viewers who are likely to be interested in your content.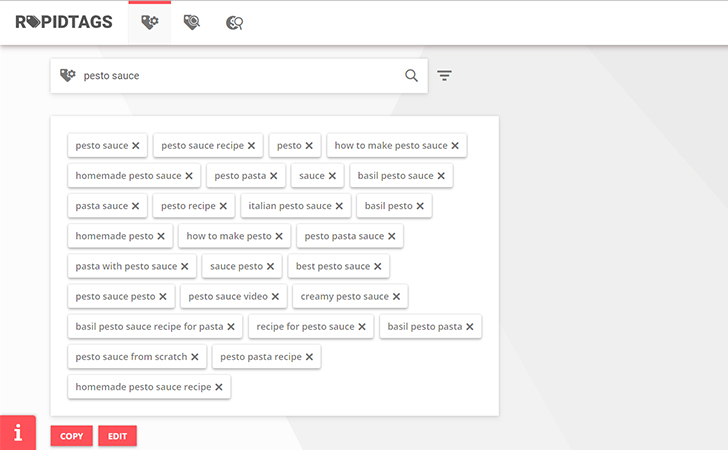 5. Get Ideas from Other Creators
If you want even more ideas, you can check out what keywords other creators are using. To do this, use third-party programs or delve into the source code of the web page. The latter option is the fastest and easiest. Just go to the page with your competitor's video and press Ctrl+U (Cmd+option+U for Mac). A new tab with the source code will open. Hit Ctrl+F (Cmd+F) to open the search bar and type "keywords" into it. The words that appear after "keywords" in the source code are the tags used on this page.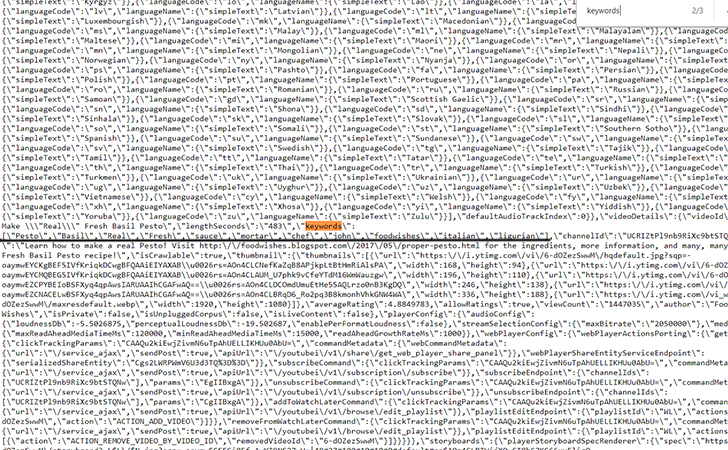 Order of Tags for YouTube
We recommend starting with your main keyword, then using the alternatives and your brand-specific tags. Generic tags are best placed at the very end.
Tips on Using Tags
The main keyword is not just for tags. Use it in the title and description of your video as well. Those are more important for optimization than tags.

If a video of yours is getting notably fewer views than others or the watch time is lower than expected, maybe you can fix that with tags. Tags on YouTube are indexed within 1-2 weeks. That means that a couple of weeks after uploading a video, you can rethink your tag strategy if you want. 

If you've created your brand-specific tags or have other

keywords

that you're going to use for every new video, you can create default upload settings for them: 
What Not to Do When
Tagging
a Video
Don't use super popular tags that do not relate to your video just to

get views

. It simply won't

work

and probably will achieve the opposite effect. YouTube will notice that people open your video and bounce from it very quickly, and will rank your videos lower.  

Don't copy others' tags word for word. We've shared a lifehack on how you can make use of keywords from other creators. But mindlessly copying them and not adding anything of your own may be considered by YouTube as duplicating others' content. Use only the best of what you have found among your competitors.

Don't ignore tags. The title and description are indeed more important in terms of optimizing a video. Tags are just an additional tool. However, if you are looking to gain more viewers, smart tagging can help a lot.   

Don't use too many keywords – quality is more important than quantity. 

Don't confuse tags with hashtags – they are different things. In simple terms, tags help search engines understand what a video is about and are not visible to users. Hashtags help viewers to find videos on a specific topic and are included in the description of the video. Hashtags are also pretty important for video optimization, but they are added in a different way. For example, you cannot use more than 15 hashtags for one video, and they have to be written without spaces, which is not how people normally write search queries. 
Ready to take your videos to the next level? Download Movavi Video Suite, an all-in-one editing app that will help you make videos of all kinds!