YouTube is the second-largest video platform for gamers after Twitch. So if you want to become a YouTube gamer, you should totally consider starting your channel here. If you work at it, you can make great money on it. 
Tempted? You'll find everything you need to know about how to start a gaming channel right here.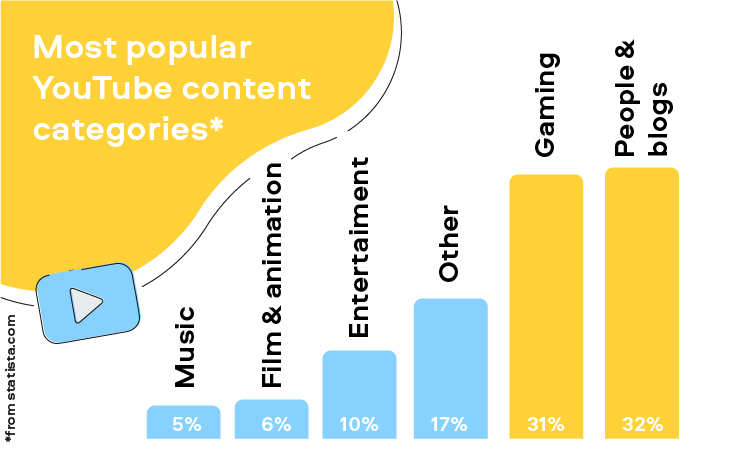 Find Your Niche
The first thing to do is decide what games you'll be talking about and what types of videos you're going to create. There are so many games out there that you just have to narrow it down. Do you want to review games for PC, or mobile games, or maybe console games? What are you going to focus on – shooters, sports, survivals, MMOs, or one of the dozens of other genres?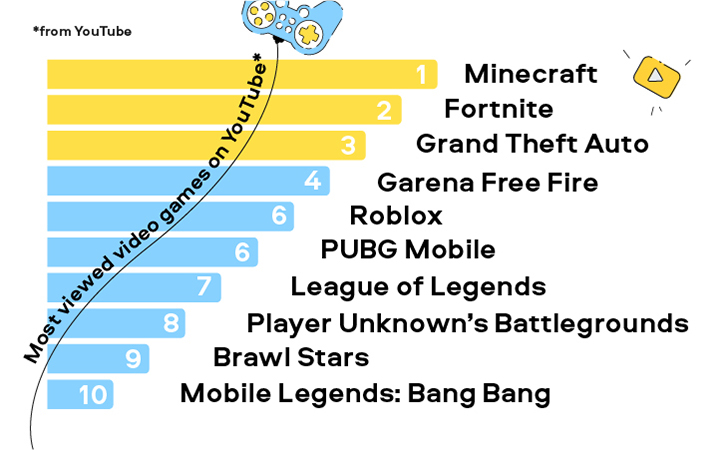 Once you've made those decisions, think about the type of content you want to create.   
Let's Plays
In Let's Play videos, you watch how someone's playing a game while describing what's happening. Usually, there's a screen recording of the game and the gamer's face in the corner so that the viewers can see the player's reaction. People don't watch Let's Plays to find out how to win the game; it's all about the player's sense of humor and charisma. These videos are focused on delivering a subjective experience.
Walkthroughs
When you don't know how to get past a certain level in a game, you can watch a walkthrough video. These are basically guides that teach you all the maneuvers to get through the game. Unlike Let's Plays, videos of this kind are not focused on the gamers' reaction; walkthroughs are all about explanations.
For walkthroughs, it's very important to keep things clear for viewers. You want to make the videos as descriptive and logical as possible. Quite often in these videos, games are played slightly more slowly so everyone can follow what's going on.
Reviews
Just like any regular review, a video game review gives people an idea of what the game is about and helps them decide whether they should purchase it or not. These videos usually describe the gameplay and give a breakdown of the details: what the controls are like, what the story is about, what bugs you need to be aware of. 
Machinima
On YouTube, machinimas are mostly amateur movies created using video games. Machinimators take clips of gameplay, sometimes add voiceover, then edit it and make a whole new story out of it. Basically, it's a form of art that is based on video game footage. For videos in this category, YouTubers often use games with an open world, like Grand Theft Auto, Minecraft, Halo, World of Warcraft, or even Sims. 
And these are just a few of the most popular types. On the YouTube gaming scene, there's much more: gaming news, compilation videos, esports, previews, predictions – and, of course, live streams.
Get the Gear
Hardware
Game-Ready Computer 
If you're considering starting a gaming channel, you probably already have a computer that's powerful enough. But if you don't, here's what you need to pay attention to when picking a PC for this purpose: 
•  Processor (CPU). This is the heart of your computer and plays a big role in how well it will run games. There are two brands of processors: AMD and Intel. Each brand has different lines of CPUs. For gaming, the ones to choose from are the Ryzen 3, 5, 7, 9 from AMD, and  i3, i5, i7, i9 from Intel. 
Unfortunately, you can't pick the Intel with the biggest number and be done, as each series has different models from different years. That means, for example, that a 2019 model Intel 5 is very likely to be better than Intel 7 from 2013. You can search for your CPU here and check out benchmark scores. The higher the score, the better the processor. Try to get something that's on the high-end list.
•  Random-Access Memory (RAM). It's the computer's "short-term memory", storage for the data the computer needs to access right now. For example, when you're playing a game, the important data (such as 3D models, textures, and scripts) is transferred to RAM so that the processor can quickly get it from there. The bigger this storage is, the better the game will run. Aim for at least 8GM RAM for casual gaming, but if you can afford it it's better to go higher (usually 16GB of RAM).  
•  Graphics Card (GPU). Along with the processor, the GPU plays a major role in how well your PC will run games. You can search for your graphic card here. Just like with CPUs, the higher the score, the better the GPU. Without a quality graphic card, most games will be largely unplayable.
•  Hard Drive / Solid State Drive (HDD/SSD). Both are responsible for space where all your files are stored, the difference is in just how they're built. It's best to go for something with an SSD because it provides much faster loading times. This won't affect the gameplay in general but will result in games and levels/maps loading faster. The PC will also boot up faster.
If your channel is going to be focused on console games, first you need to make sure that, well, you have a console. It doesn't really matter whether it's a PlayStation, Xbox, or any other – you'll find your audience with one of them.
Microphone
Additionally, you'll need a microphone. For this purpose, a condenser mic is preferable, because they are good for indoors voice recording. Here are some options to choose from:
•  Blue Microphones Baby Bottle
Alternatively, you can just use your headset for recording your voice. It's good enough.
Camera
Gaming is one of the few categories on YouTube that doesn't actually require a camera. All the videos can be done using only screen recordings. But if you're going to shoot Let's Plays or some types of reviews, your web camera won't be good enough. Use your smartphone camera instead, or any DSLR/mirrorless/compact camera you have at home. It'll be enough to get you started. If you want to buy one, check out, for example, Canon PowerShot G9 X or Panasonic Lumix G7.
Software
The most important software for gamers on YouTube is a good screen recorder. Here's some you can choose from: 
•  Gecata. This is made especially for the gamers out there. It's a free recording app that'll make capturing of the gameplay easy-breezy. You can control the recording without leaving the game, overlay a webcam video with just a couple of clicks, record in-game sounds, and more. 
•  Movavi Screen Recorder. An easy-to-use application with simple tools for those who don't want to spend a lot of time on editing. It'll give you everything you need. Using Movavi Screen Recorder, you'll be able to record your voice while capturing the gameplay, grab separate streams, show your keyboard to viewers, and more.
If you're going to make reviews or, say, machinimas, you'll also need good editing software. If you're new to video montage, start with a simple program that won't overwhelm you with advanced tools. For example, you could try our Movavi Video Editor – it's very simple and features all the tools you're likely to need. 
By the way, we have a couple of promo codes for you! You can get the full version of Gecata at 25% discount if you type 25gecatablog  when purchasing it. The full version of the app lets you record longer videos and doesn't watermark your videos. Also, if you use the promo code BLOG when purchasing Screen Recorder and Video Editor together, you'll get a 30% discount on the bundle. If you were looking for a sign to start your own YouTube channel, then, well, here it is! 
•  Screen Recorder + Video Editor at 30% discount for Mac
•  Screen Recorder + Video Editor at 30% discount for Windows
Starting a YouTube Gaming Channel
Unfortunately, just posting good videos every so often is not enough to grow your popularity on YouTube. If you want your channel to be successful, you need to think through a strategy and learn some optimization basics.
Here are a few tips to get you started: 
Be consistent
YouTube really doesn't like producers who post three videos in one week and then forget about their channels for the next month. The more consistent you are, the more the platform's algorithm will favor you – your content will be featured on users' main pages, and in the Up Next queue more often.  
Think of how many videos per week you'll be comfortable creating and, based on that, create a schedule. If you have three ready-to-post videos, it's better to publish them once a week. Then you'll have enough time to prepare new content.
It's not just YouTube algorithms that love consistency – the viewers do, too. It's always good to know when the next video from your favorite blogger is coming. Make people impatient for your content every week: promise you'll get back to them with a new gaming video every week on the same day – and keep that promise.
Optimize!
Consistency is not the only thing you need to care about. To grow your channel (faster), you'll need to build an optimization strategy. If this is the first time you're hearing about SEO on YouTube, here's how you can start optimizing your videos: 
Find the right keywords for your video. A keyword is a word or combination of words that users are most likely to type in the search bar when browsing for a video like yours. For example, that could be "GTA 5 easter eggs" or "Doom Eternal review".

Use your main keyword in the title of your video and in the description. Your goal here is to use that word as naturally as possible. Using it out of context, just for the sake of using it, simply won't work.

Rename your video file with the same keyword. 

Work on your description. Put the most important information first (YouTube displays only the first 2-3 lines of text; to read the rest, the user will have to click on Read more). To make the description more useful for your viewers, include some links related to your topic, and add time links.

Tag your videos wisely: use only those tags that are related to the video. Most importantly, use your main keyword as a tag as well. If you want to know more about YouTube tags, you'll find all the information you need

here

.  

Create custom thumbnails for your videos. This tool is often neglected by beginner YouTubers, but it really shouldn't be, as it's an easy way to boost your views. The cleaner and more attractive your thumbnail looks, the more likely a viewer will click on it. 
Analyze
A strategy can't be good if it's not based on conclusions that you made while observing your audience's behavior. To be successful, you need to know what your viewers think about your videos, how they find your content, when they stop watching it. Of course, you can get some ideas from the comments, but that is never enough. Learn how to use YouTube Analytics, if you want to improve your performance and get more subscribers. 
Check the Impressions metric to see if your SEO strategy is working well. Look at the click-through rate to find out if your titles and thumbnails are attractive enough. Make sure that the average view duration is long enough – if it's not, that can mean either that your titles are too clickbaity or that the intro is not quite intriguing enough. Explore traffic sources, research your best videos, learn more about your core audience. Don't forget to check the Audience retention graph to see when people are bouncing from your video.
Make Your Videos More Subscribable
Encourage your audience to like your videos and subscribe to your channel, make your content identifiably yours, invite viewers for conversations in the comments section.  
Have you noticed that every (literally, EVERY) blogger on YouTube asks their viewers to like the video and click the subscribe and the "bell" buttons? Sometimes it gets a bit annoying, but it is what it is – these reminders work pretty well. And if you see that many people watch your videos, but you're not getting many likes and/or comments, maybe you should start doing that too. Believe us, once you see how those two seconds boost your audience's engagement level, it'll stop being awkward to ask them to "give you thumb-up and smash that subscribe button". To make it even more enticing, add subscribe button animation to your videos. 
There are some other things that need to be the same in all your videos. For example, intros. Intros are short splash screens lasting for 2-4 seconds at the beginning of a video. This tool helps you to develop your own style and make your content more recognizable.
Start Making Money 
Once you reach 1,000 subscribers, you'll get the option to join the YouTube Partner Program. That means you'll be able to post ads promoting your videos and start making money. Just make sure that the game publisher allows using game content for commercial use.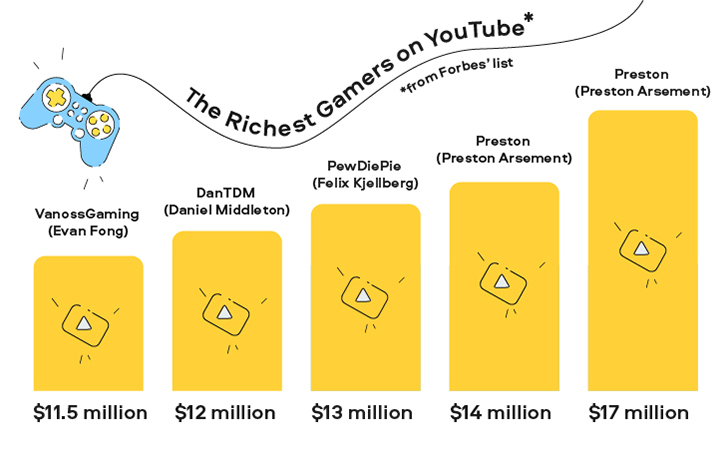 Also, if you're over 18 years old and your content is not for kids, you can apply for the channel membership. Gaming channels must have more than 1,000 subscribers (while for others it's 30,000, heh). Channel membership will allow you to add a Sponsor button on your channel and encourage your followers to support you by offering them perks.  
As your channel grows, you may end up getting offers for sponsorship from developers, equipment manufacturers, and other companies.
Good luck!