The moment an idea flashes into your mind, you pull out your phone and start recording. Let us guess: there's a big chance you're holding your phone vertically when you do that. You'd get away with it if the video is only meant for Instagram stories. But what if you want it on YouTube? We strongly suggest that you don't put it up there just as it comes, with a black bar on each side. There are far better ways to do it. 
Option 1. If It Accidentally Turned out Vertical 
Let's assume you meant to do it right. You were holding your phone horizontally, but something went wrong – say, your screen was locked on vertical mode. As a result, you got an actually horizontal video that is technically vertical, and it has those awful black bars on the sides. Luckily, it takes just a few simple actions to correct this mistake in Movavi Video Editor. 
Turn your video through 90 degrees.

Select the clip and click the

Crop

button on the toolbar.

Adjust the frame to exclude the black bars. 

Press

Apply

to cut the bars off.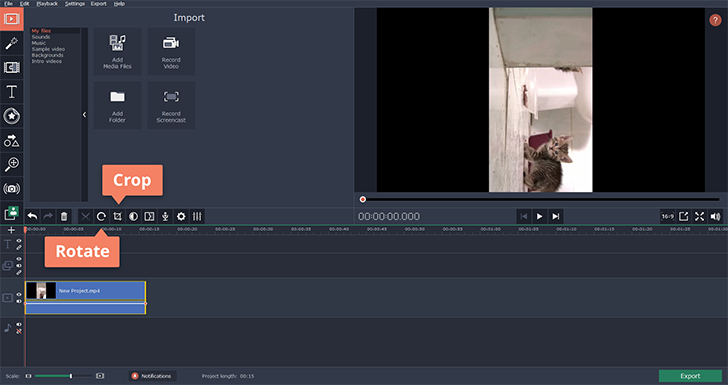 Option 2. If Cropping the Video Wouldn't Cause a Problem
Sometimes you only need to adjust your vertical video by cropping It into a horizontal state. This is applicable in those cases when you need a part of the image rather than the full picture. For example, you might have a full body shot, but you only need to include the face of the person. Here's what you can do in this case:
Zoom in onto the video until there is no room left for the black bars. 

Move it to the sides until you have the right part of the scene in the shot. 
This is probably the least recommended way, as zooming in on the video inevitably reduces the quality of the video unless it was shot in 4K. The clarity of the image drops, the grain comes in, and eventually, it won't look good on a big screen. This life hack will serve you well when you don't have to care much about the quality, such as when you're dealing with Instagram, which compresses your videos anyway.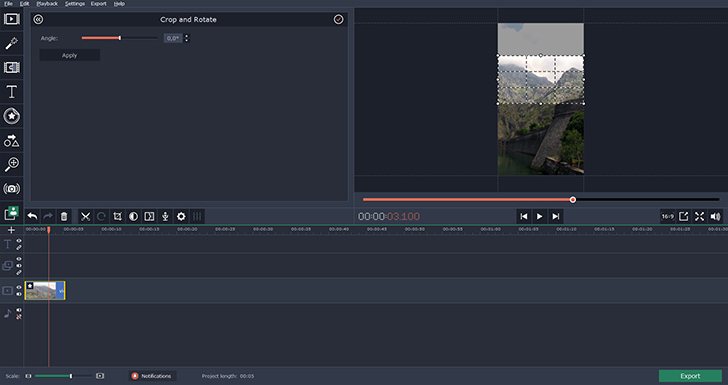 Option 3. If You Want Nothing but a Nice Simple Fix
Say you have recorded a vertical video, you can't crop it, and it is absolutely vital that you use it. In this case, try the strategy that is most commonly used on TV: place the video on its blurred version used as a background. 
This can be done in Movavi Video Editor in just 3 clicks:
Place your video on the timeline.

Open the

Filters

menu and choose

Adjustments

Pull the

Vertical fill

filter onto your timeline.
There you have it – a blurred background with a little motion in it, in full harmony with your vertical video.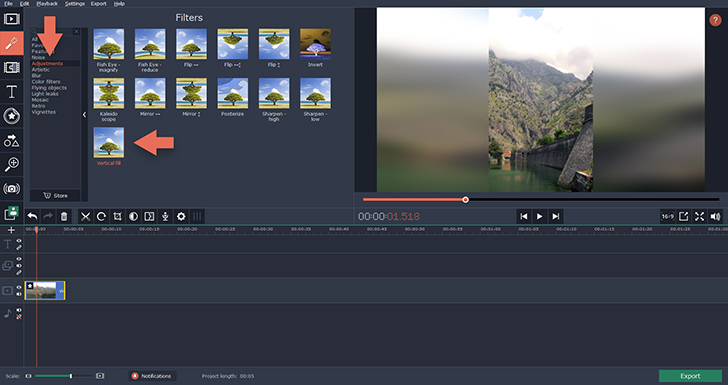 Option 4. If You Can Make Use of the Space
The black bars around your video are nothing more than free space that you can play around with. Here are a few options to think about:
Add some graphic animation in the background – preferably something simple. 

Create a static colorful background with your logo, titles and other graphics relevant to your blog – this is something many professional media channels do, too.

Leave your background neutral and move your vertical footage to the left or the right. Use the other side for something creative: graphics, text, or even another video. For example, if you have a viral video on one side, the other side would work well if it contained footage of viewers' reactions. However, remember that our brains find it hard to concentrate on two things at once. If your goal is to emphasize a particular video, you'd better opt for a different way to make it horizontal.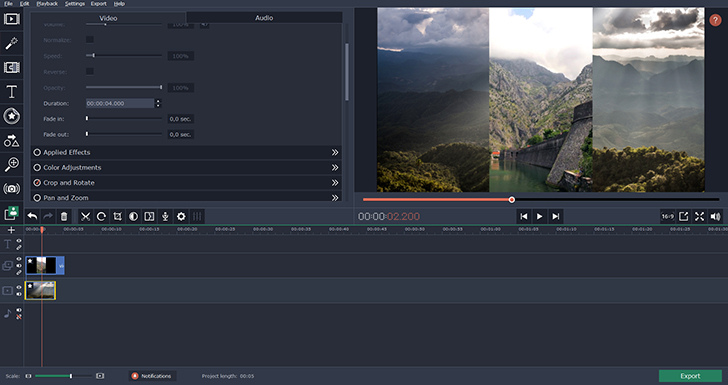 Option 5. If You Can Make It Even More Creative
A smartphone video looks best on a smartphone. So why not combine the two?
Find the right template in Google by searching with keywords like "hand holding a smartphone. Look for a PNG: it's much easier to work with in video editing software. Besides, zooming in on a PNG does less harm to the quality. 

Put the template on your timeline.

Place your vertical video directly onto the screen of the smartphone in the picture. 

You can leave the image of the hand floating in the middle of nowhere, or you can come up with a background. Use the hack with the blurred image in the background or apply a few graphic elements.