Let's talk about YouTube video intros!
What is an intro and why do your YouTube videos need one?
A YouTube intro is a short introductory clip that appears at the beginning of a video. It's almost like a video signature – it helps bloggers to link their identity with a feature and the topic of the video. Intros also help viewers to immediately understand the approach of the whole channel and get an idea of what the video is going to be about. And finally, an intro is a part of channel branding – it grabs viewers' attention and sticks in the memory.
What should an intro look like? 
YouTube doesn't have any specific rules for intros, so you can truly get creative when you make one. The only limitations you should pay attention to are described in the YouTube Community Guidelines. 
Other than that, you can do pretty much anything that comes to mind. But if you want your intro to be engaging and effective, we have a couple of tips for you. 
It's best if your intro is…
Short. Ideally, an intro is 2-3 seconds. Maximum – 10 seconds. 
An intro should make your viewers interested and intrigued, not bored. That's why we recommend keeping it short – just enough to show what your videos are about. At the end of the day, no one is going to your channel to check out your intros.
On our Movavi Vlog channel, we use a 2-second intro:
Fun and memorable. Because that's the whole point! 
Try to make an intro people will remember. Use catchy music, vivid colors, jokes, unexpected twists – anything that grabs their attention will work.  
Descriptive. It's best that a new viewer understands what your channel is all about from the very first second of any video.
You can use your intro to set the mood and establish your main focus. Even if a viewer is already familiar with your content, this will help them to relate to you. 
For example, if your channel is about cooking, you can use mouthwatering pictures of food in your intro: 
Travel channels often use images and videos of picturesque sights in their intros:
Consistent. The goal is to ensure people remember your intro. That's why it needs to be like a radio jingle – catchy and repetitive. 
When you use the same intro in every video you upload to YouTube, you establish your personality and reinforce your brand. People will remember you better that way.
But you don't have to use the exact same clip every time. Just one repetitive element will be enough. It can be the soundtrack or just the style of the clip. For instance, the channel The Take uses a new intro in every video. What remains the same in every intro is the color scheme and the logo.
Appropriate to the channel's style. Branding is not the most important part of your channel. But your channel will create a stronger impression if all the elements are created using the same style. 
If you create a logo, a memorable banner, video thumbnails, intros, and outros, develop a distinctive style for yourself. Choose colors, fonts, icons, images you like – and use them in all elements of your channel. Not only it will make your blog more memorable and attractive, but it will also save you a lot of time creating those items.
Best tools for creating a YouTube intro
There are many ways you can create an engaging intro for your YouTube videos. You can use regular desktop video editors, online tools with ready-to-use customizable templates, or even mobile apps. Here are some recommendations for programs to help you create intros. 
Desktop applications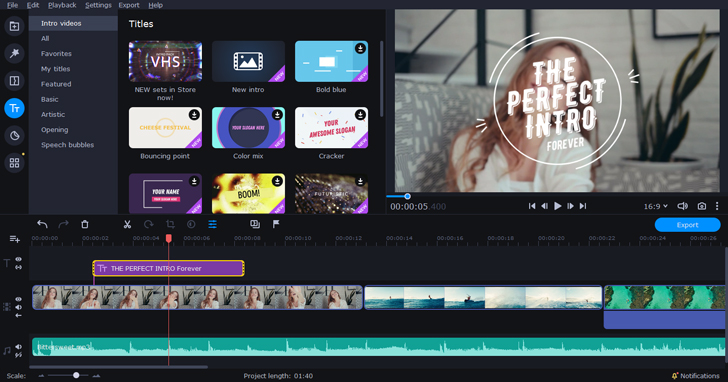 | | | | |
| --- | --- | --- | --- |
| Program  | Pricing | Supported platforms | Intro creation tools |
| Movavi Video Editor Plus | $16.95 + 7-day free trial | Windows, macOS | An extensive collection of special effects created specifically for bloggers |
| AVS Video Editor | $39 | Windows | Free intro templates |
| Filmora Wondershare | $39,99  | Windows, macOS | 20 free-to-use templates for YouTube bloggers |
Here's how you can create a great intro using Movavi Video Editor Plus: 
Online tools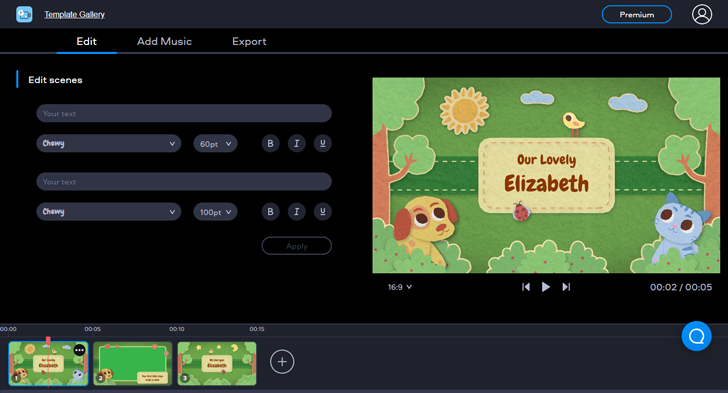 Программа
Стоимость
Инструменты для интро

Fastreel

free

a great choice of YouTube

intro templates

Renderforest

starting at $6.99 per month

a collection of universal templates

Clipchamp

starting at $9 per month

a collection of templates, free-to-use stock media
Pro tips on creating YouTube intros:
An intro doesn't have to be at the very beginning of the video
Sometimes it's better to add a quick peek at the video's most intriguing moments to hook viewers' attention – and only after that go to the intro. This is a great technique to increase the view duration of your videos. 
Listen to your audience 
Of course, if one of your regular viewers leaves a comment about your new intro, you will notice and take their comments into consideration. But there are also more reliable ways to learn whether users like your intro. 
Check your stats. If the percent of people skipping the introduction or closing videos early is high, maybe you need to change the intro or make it shorter. Maybe, your audience doesn't like intros at all. Check out our guide to YouTube Analytics to learn more.
Do not use copyrighted content
When choosing music, images, or videos for your intros, make sure they are copyright-free or created by you. Otherwise, the chances are that YouTube will ban your video or remove the soundtrack from it. 
To learn more about this, read our FAQ about copyright on social media.
Don't forget about the outro! 
In many cases, it's even more important than the intro! On the outro, you can place previews of other videos as well as links to your website and social media. These will help you increase your channel's viewer retention and increase viewership. Guess what? We already have a pretty comprehensive guide to creating YouTube outros. Make sure to check it out! 
That's it. Now you know as much about YouTube intros as we do! We hope our tips will help you to create the perfect intro for your videos. Good luck 😉