It's quite common that the number of views you get for your Instagram Stories doesn't ever come close to the quantity of subscribers you have. "What's the reason?", you might wonder. While it's actually quite natural that only a certain percentage of your audience engages with your activities, there is every reason to improve your scores. 
Stories are just as important as the posts in your feed: they help update, inform and entertain your subscribers. If your goal is to increase the popularity of your profile or raise awareness about your brand, it's worth mastering this instrument. Once you get the taste of it, you'll realize how cool it is – we promise!
In this guide, we've put together some tips on how to make an Instagram story that will captivate your audience. 
How to Create Instagram Stories That Really Stand Out
Show Some Action
Don't just post stories for the sake of posting something. We all hate those pointless pieces of footage with random people driving cars, lip-syncs and silent selfies. After all, videos are meant for showing something happening in front of the camera. If you were your own subscriber, would you watch the piece you've just filmed? Would you want to see more content from this account? These are the questions to ask yourself before posting your next Stories.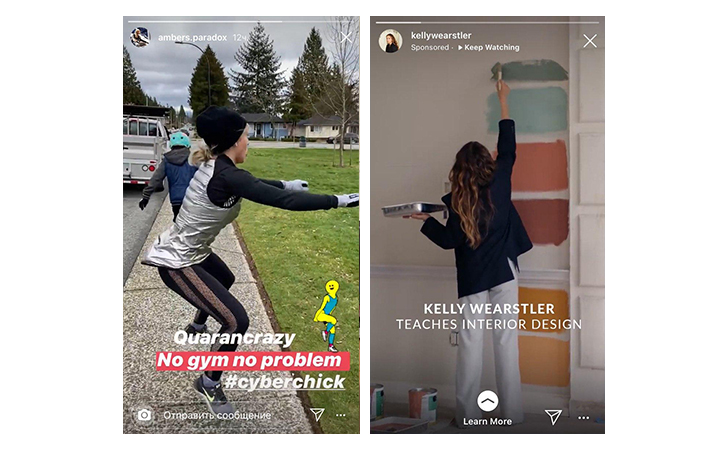 Tell the Actual Stories
Treat your Instagram Stories as if you were filming TV series. If you're refurbishing your room, keep posting the process step by step so your viewers can observe the progress. If it's a long process, try compressing into time-lapses – those look even more fun, actually. If you're out on a vacation, don't limit yourself to posting a sunset view once in a while – show where you're going, what you're doing, who's around you, what the surroundings are like.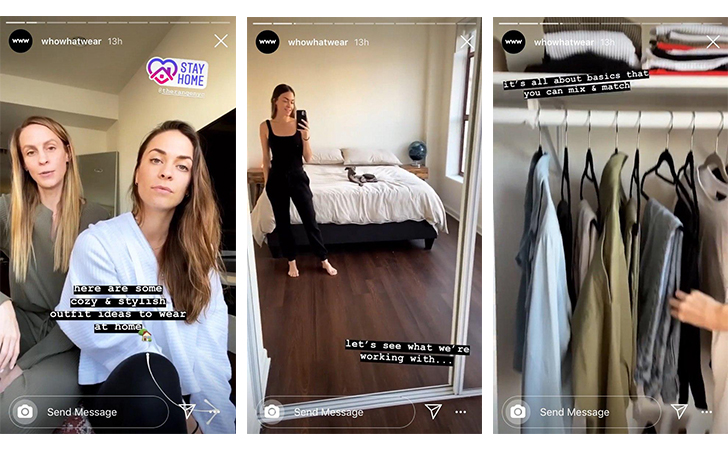 Show Sneak Peeks
While working on your next project, artwork, craft item or culinary masterpiece, let your subscribers observe the process. This way you'll heat up your audience so they'll be waiting for your next post in the feed to see the result. Make your backstage look more fun by showing more close-ups of the details, the dialogues behind the scenes, and so on.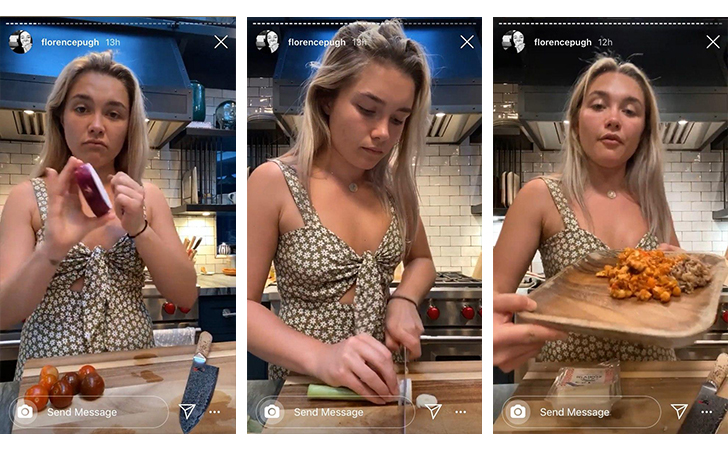 Do you want to edit video on your phone?
Download Movavi Clips for Android
Make Subtitles
Mind that quite often we watch Stories with no sound on. Whether it's you talking on camera or some conversation happening in the video, provide the subtitles so people still get it. Equally, if it's not obvious what's going on in your footage, you'd better make little notes for your subscribers to understand it.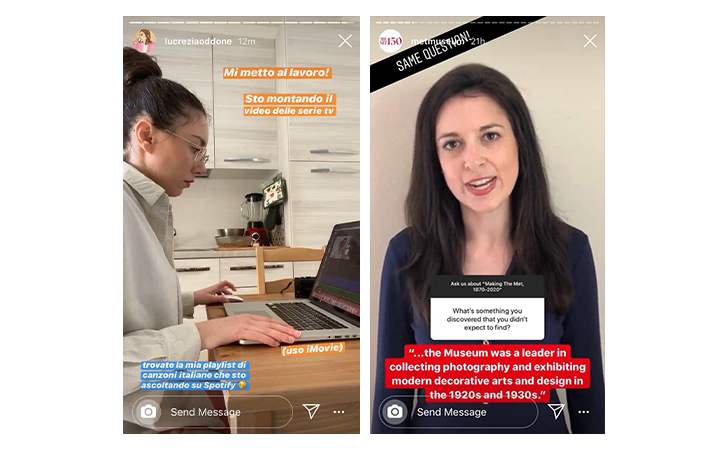 Interact With Your Audience
Encourage your viewers to talk with you. Ask them for their opinion, let them ask you questions, get them to guess what your next destination is, and so on. There are quite a few ways to get your subscribers involved in your Stories – here are some instruments to explore: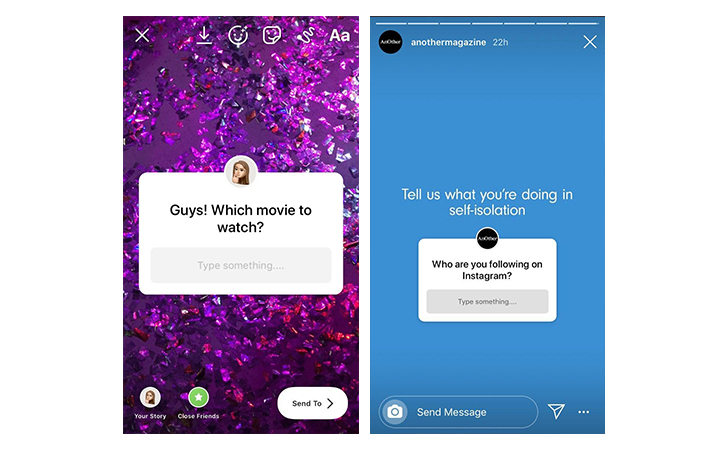 How to Use Polls
A poll is a question with two answers ("yes" and "no" by default, but you can change them, too). Your audience can vote for the option they like. The tool for creating polls can be found in the stickers gallery (a smiley face that appears on the right corner of your screen when you're publishing your Story). Invite your viewers to help you choose clothes in the shop, movies for the evening, products for reviews – the list goes on. Don't forget to upload an update on your final decision!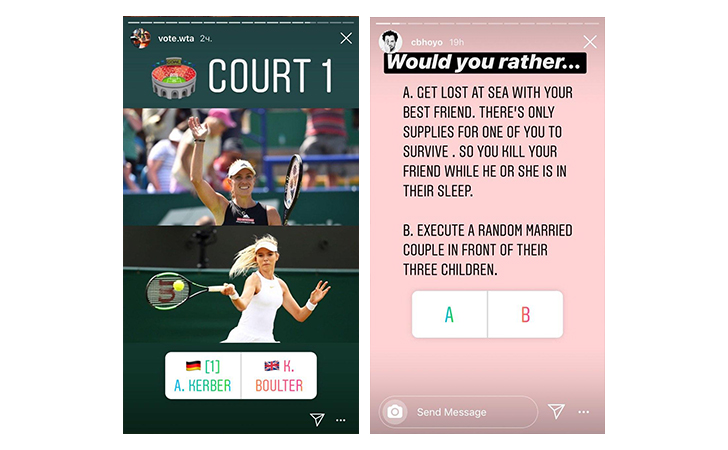 How to Use Questions
Initially this tool was created for inviting your subscribers to ask you something. However, its functions are not limited to that. Ask people for short recommendations, stories, come up with word games – use your creativity to utilize this little text box in your own way. You can find it in the same stickers menu we mentioned above. Put together the answers and publish them on your Stories, too. 
How to Use Tests
Tests are pretty much like polls. The difference is that you can add multiple answers and pick one of them as a correct option. It can be used for creating a bit of intrigue before telling the audience where you're going on your next trip, what you're cooking for this supper or which of your exes called you yesterday night. Go to straight to your stickers menu to access the tool.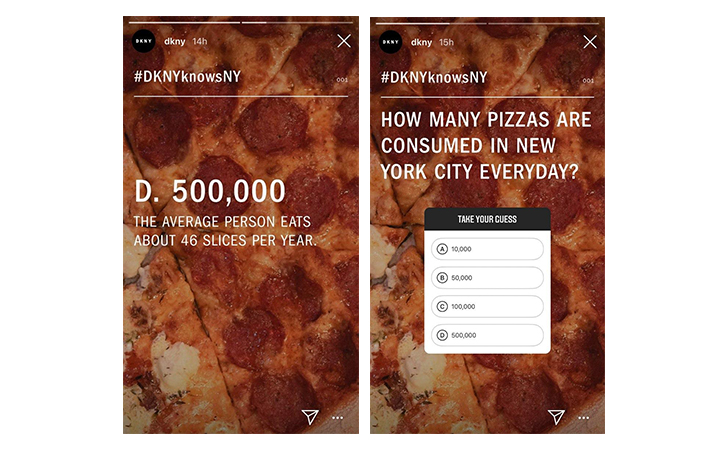 How to Use Links
This option is currently available for accounts with over 10,000 subscribers. If you already have that – great: now you can add links to your own website and other social network channels, share relevant articles and services, invite people to complete surveys – whatever you come up with.
Add Hashtags
This one is easy. If you've already used hashtags in your feed, you know how it works. Simply type them into your stories using the text tool. Or pick the designated hashtag sticker from the menu. The difference between the feed and the Stories in that aspect is that you can't overload the latter ones with 30 hashtags, as you won't be able to see the video behind. So choose wisely: opt for most popular once (check them in advance if you can).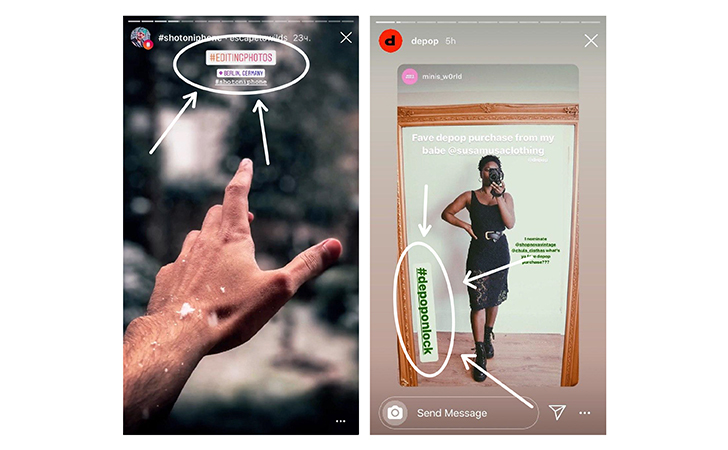 Apply Stickers and Masks
Stickers and masks are kinda like spices: they can't help you create a good dish when the initial products (we mean content) are bad, but they surely will make something good taste even better. Look for rare and original items to surprise your audience. Encourage them to try on the same masks and tag you in their stories, so you get even more views.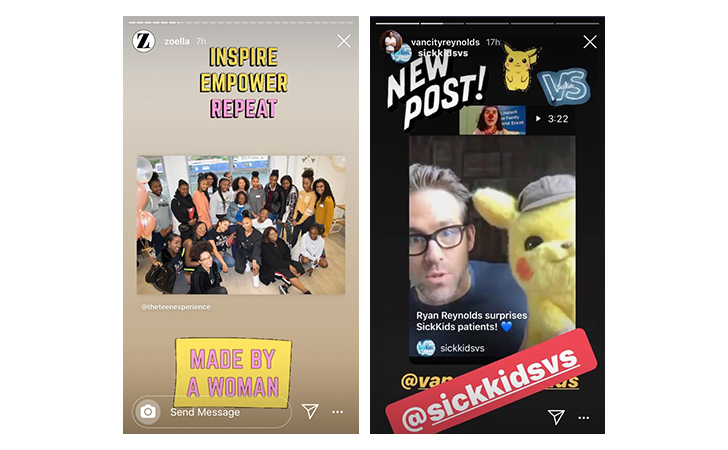 Locate Yourself
If you tag your location in your Stories, your videos will appear in the search. This means everyone who wants to see what that spot looks like will come across your Stories. The more popular the place you tag, the more views you are likely to get.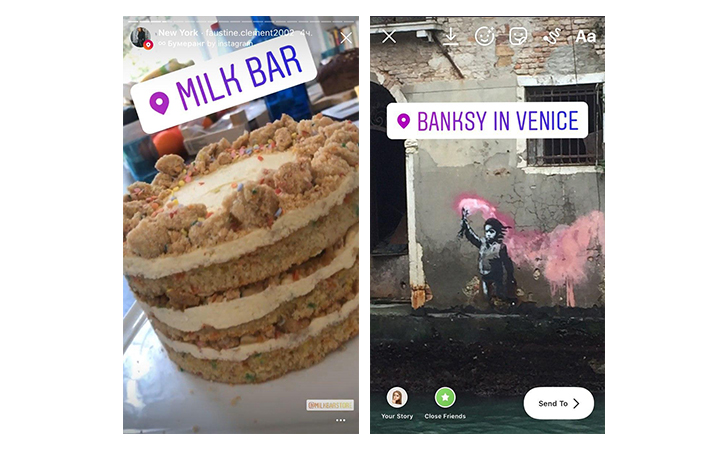 Share Relevant Posts
Instagram allows you to share posts from your feed in your Stories. However, we suggest only doing that when you see something really interesting. Again – if it's not obvious what it is that you're sharing from once glance, provide a note explaining why you're sharing it. Use this option to remind your followers about some of your older posts, provide reliable news sources, share funny pictures and thoughtful entries by famous bloggers – whatever you want your audience to see.
Don't Talk Too Much
No one likes watching all those talking heads in their Stories feed. Only record selfie videos when there is no better way of sharing your thoughts or your story with the audience. Remember to provide the subtitles: you don't need to write down everything you're saying, but you'd better compress your script into a couple of sentences. 
Don't Overpost
Technically you can post up to 100 Stories in a day. Our advice would be, don't. No one will bother watching them. You might get a few of them viewed if you're lucky, the rest will be lost. The more emphasis you want to put on certain bits, the less you should post so your subscribers don't get bored while getting through your videos. 15-20 pieces per day is considered the maximum acceptable number.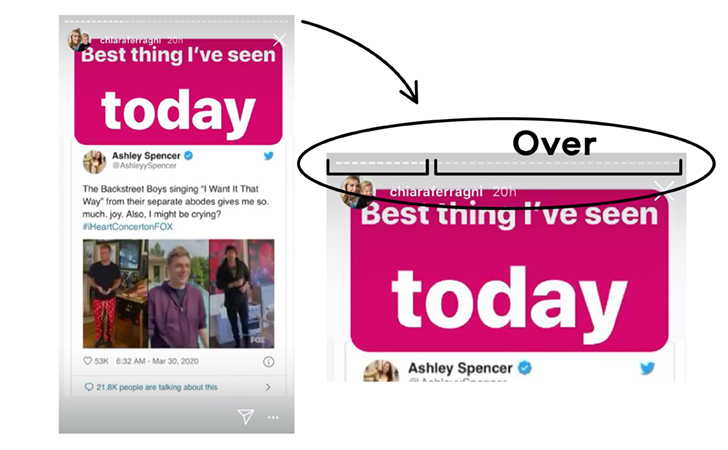 Join Flashmobs
Follow viral challenges on the Instagram to stay in trend (have you already seen the recent #flipchallenge ?). Whenever possible, take part in them and tag your friends to join you. Encourage them to tag you in return when they publish their own challenge-related stories. Do put some effort into completing the challenge to make it more engaging, so more people will want to follow you in the end.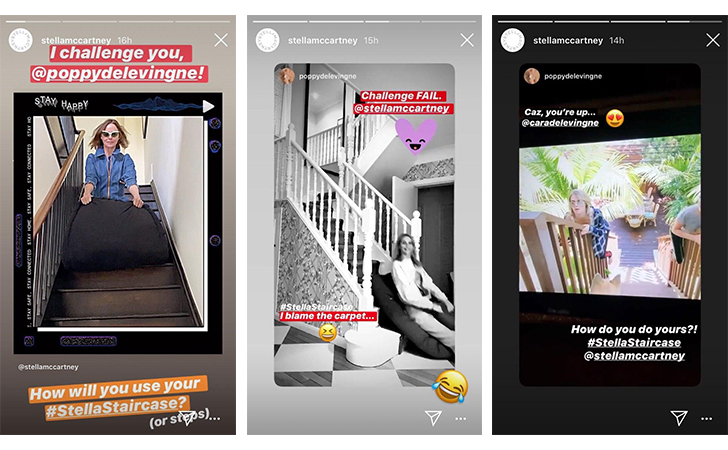 Just Add Memes
If you're desperately lacking ideas for producing new content of your own, there's always a first-aid kit of memes out there on the Internet. In most cases you'll find something perfectly suitable for each occasion. Share memes that are relevant to the main theme of your blog, your professional sphere or hobbies. Or find something topical related to current affairs. Or simply illustrate your mood. To get the most up-to-date memes (don't post things that have gone out of fashion!), get a habit of checking out Reddit, 9Gag, LADBible and other stocks of trending content. And don't forget to freshen up your knowledge of the subject by taking up our quiz on the best memes of the last decade.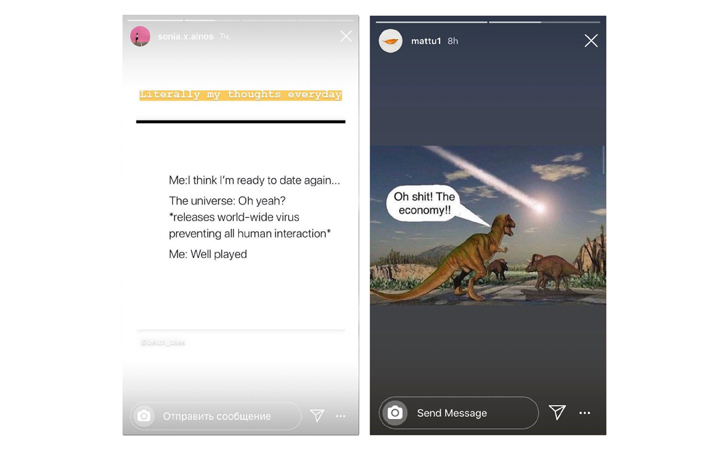 How to Do an Instagram Story on Your Phone
We hope that this guide has given you a fairly clear idea on how to create an Instagram story for gaining more views. We also suggest checking out this video by Movavi Vlog to learn how to edit videos on your phone: