How well do you know your family history? It's always fascinating to dig into one's roots. Exploring your ancestry may result in some truly amazing discoveries. There's always a chance to find out that your nationality is actually different from what you'd thought it to be. Or that you have historical ties with your favorite vacation spot. Moreover, you might end up finding new relatives living on the other side of the world – how exciting could that be?
And it's not all about new discoveries, either. Putting together your family tree could be a great activity for bonding together. It's all about talking, isn't it? Talk to your grandparents, meet up with other relatives and see what comes up. Eventually, you'll have a better idea of who you are – and hopefully some quality family time.
Going back to the whole idea of building a genealogical tree, it's actually one of the simplest and most effective ways to create a cohesive visual representation of your family history. If you opt to use a computer, there is software that will not just make your tree look attractive, but also provide you with the opportunity to restore old photos, which may be faded, scratched or otherwise spoilt. In this publication, we will guide you along the path of improving the quality of archive pictures using Movavi Photo Editor and assembling those images to create a digital family tree.
Step 1. Restore Old Photos
Remove Defects and Unnecessary Elements
The bad thing about old photos is that they often have cracks, creases and stains. The good news is, these things can be fixed with designated photo editing software. Take, for example, Movavi Photo Editor: our program has an automatic quality improvement function. To fix your old pictures, upload them into the program and follow the algorithm. Select Restore tab, choose the Enhance Photo option and click on the Restore button. Note that after automatic restoration the image will be black and white. If the original had been damaged too heavily, slight defects may also remain.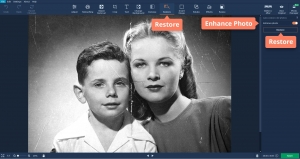 To remove any unnecessary elements, go to the Object Removal tab. First, select the area you want to remove. To do this, choose one of the available tools: Selection Brush to paint the designated area, Magic Wand to pick objects of the same color, or Lasso to trace the outline of an object. The selected area can also be adjusted with the Eraser tool.
Once the object has been selected, it can be removed by pressing the Start Erasing button. Small defects can be remediated with the Stamp tool, which enables you to copy pixels from one area of your image to another.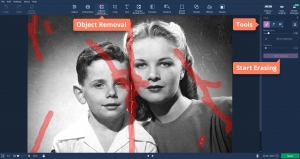 Get Rid of Scan Grain
You might notice that after scanning your picture looks a bit grainy. To solve the problem, choose the Denoise button and select the appropriate preset for your needs. If you can't find the right preset, adjust the settings manually until you get what you want. To do this, click on the gear icon and experiment with the settings. Set the optimum values for light noise, color noise, radiance, intensity and sharpness. Don't forget to click on the Save Preset button once you're done.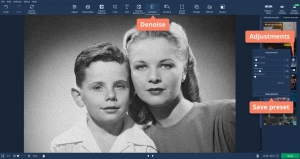 Increase Sharpness
Old photos can often look somewhat washed out. In most cases (unless your photo is way too blurred) you can increase sharpness by going to the Adjust tab and dragging the Sharpness and Details sliders. Try also increasing the color saturation to make it look brighter and higher in contrast. Or click on the Magic Enhance button to adjust the settings automatically.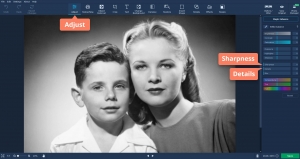 Step 2. Assemble Your Project in Our Family Tree Maker
There are several ways to compile a genealogical tree:
Ascending family tree (from you to your ancestors);
Descending family tree (from one particular ancestor to his or her descendants);
Circular table (with the youngest generation in the central circle, parents in the second circle, grandparents in the third circle, and so on).
An ascending tree is probably the most popular option, as it's the easiest to work with – especially for those who are still in search for more information about their past. Simply put your own picture at the bottom and work your way up as you find out more.
Once you have collected and edited all the images, you can move on to styling your tree. Start by preparing the background: draw it by yourself or download a template from the internet. Here are a couple of our templates you might consider using:
Family tree template for adults
How to add pictures to the template in Movavi Photo Editor:
Click on File, choose Open and select the template.
Go to the Insert image tab and select your photo.
Adjust the size and position of the image so that it fits into the right spot. Click Apply.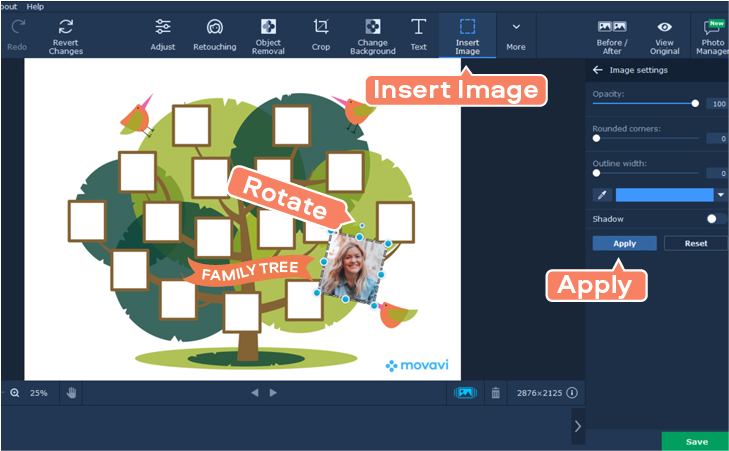 Once you have inserted all the images, click Save in the bottom right corner of the window.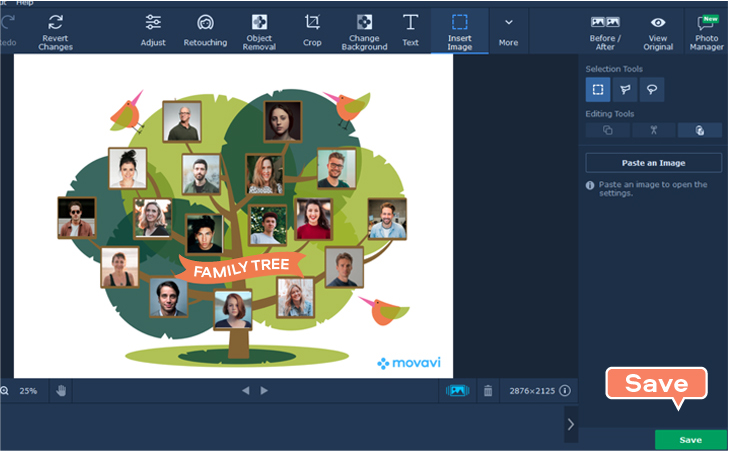 Congratulations, you've just created your first family tree!