The spooky season is here and we can't wait for the fun of Halloween night to arrive! Want to start dressing up earlier this year? We know a way to do it – arrange a Halloween photoshoot in advance! That way, you'll have your costumes ready and will have lots of cool photos to post when the time comes.
Picture Ideas for Halloween
Ready to start? Here are some creative and fun ideas for your photoshoot.
1. Dress up Like a Princess… and mess it up
On Halloween, you can be whoever you want to be – that's why we love it so much. And if you always wanted to try on Belle's or Ariel's dress, go ahead and do it! But don't just stand with a rose in your hands and a dreamy smile on your face in front of the camera. Add some humor and make it at least a little bit creepy! Belle, for example, might become a beast herself, Ariel might eat sushi with a calm but bloody smile, and Snowhite might be kissed by a vampire instead of the prince… It will take some time to find the right outfit, but, trust us, it's worth it!
2. Feature Kids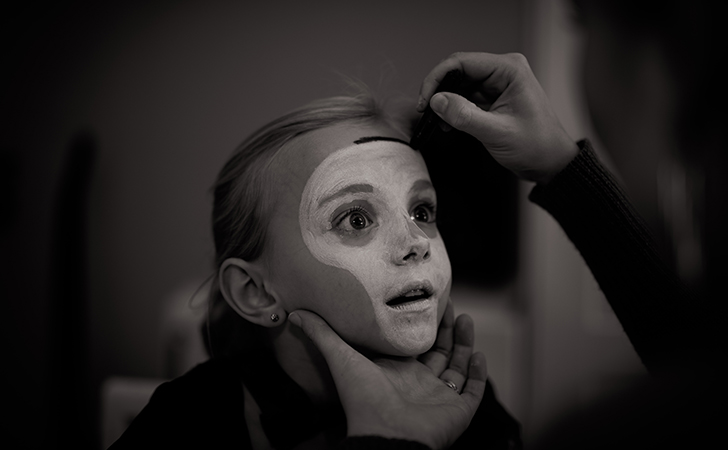 Arrange a fun family Halloween photoshoot and don't forget to invite the youngest members (after all, kids are usually the creepiest characters in horror movies). Dress like the Addams family or the Torrances from The Shining… or just wrap yourselves into white sheets and play ghosts! The goal is to have fun – the pictures will tell the story perfectly! 
3. …and Pets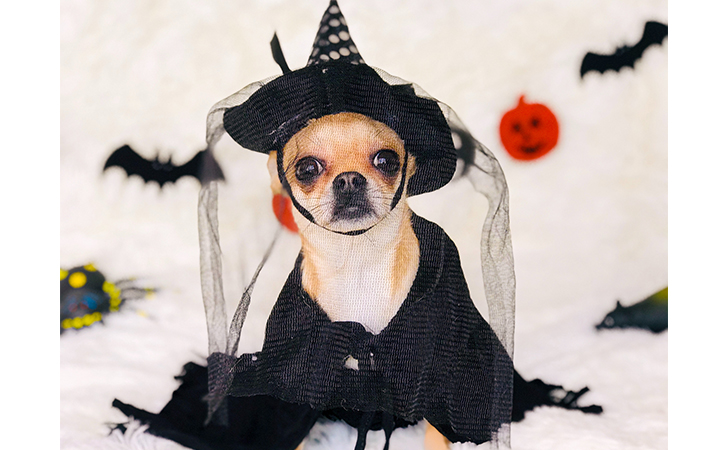 Don't forget to take some Halloween shots of your pets too! If your four-legged friends are okay with it, dress them as pumpkins or cute little monsters and witches. Get some nice Halloween photos!
4. Capture the Preparations
The whole family gathered together, putting on funny makeup, carving pumpkins, and crafting homemade garlands – this is a great scenario for a fun photoshoot. Take a break from your jack-o'-lantern artistry, grab your camera and create some great memories for the family album. Make different kinds of shots: portraits, wide shots, and selfies, of course. 
5. Become a Comic Book Character
If you're into makeup, you're going to love this one. Make use of all the weird shades of lipstick you bought last Black Friday and haven't even unpacked yet. Paint something crazy on your face! For example, turn yourself into a cartoon or a comic book character. On YouTube, there are tons of great tutorials to help you become Wonder Woman or Batman! After your makeup is done,  pose in front of newspapers or speech bubbles painted on the wall to exaggerate the effect even more. Or you can use a totally black background like on the video above, that looks pretty cool, too.
6. Play with the Lighting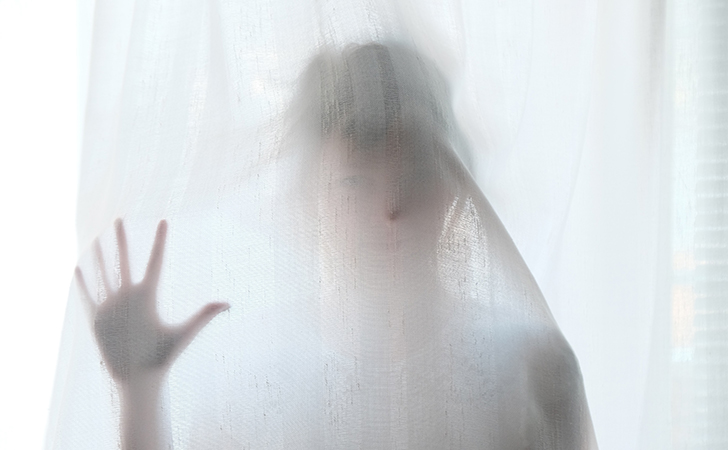 The light can be the main character of your photoshoot. Halloween is a great time to practice your silhouette photography skills or play with a flashlight like you did when you were a kid. Use a white curtain or sheet to make the light game even more interesting and fun. Find more tips on creating amazing silhouette photos in this article.
7. Add Some Smoke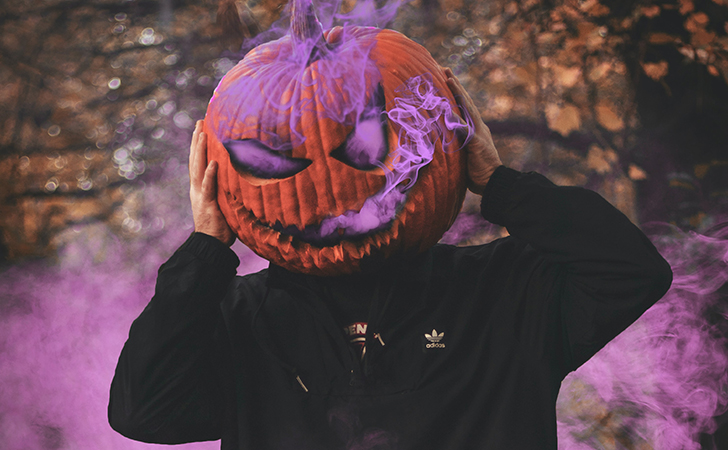 Smoke looks good in photos. It helps you picture movement and play with direct lighting. Also, it's the best prop if you want to add some mystery to your photoshoot. If you're shooting at home, you can use aroma sticks or even a steamer. For outdoors, you could get some smoke bombs of different colors and make some very impressive pictures. 
8. Make it Truly Disturbing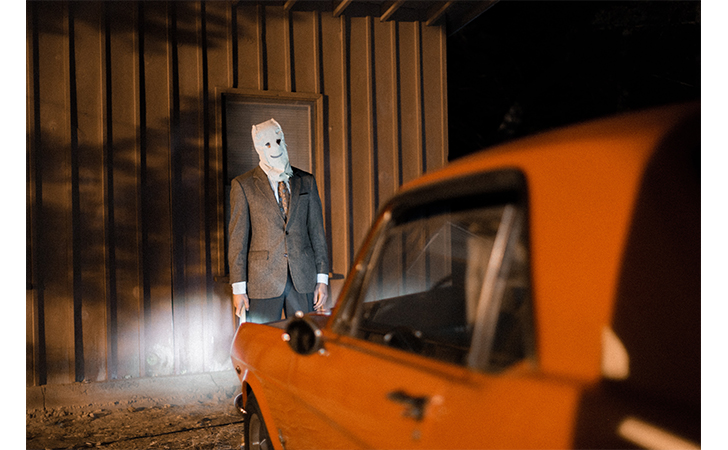 Halloween is supposed to be scary. So if you're not in the mood for Addams family-style photoshoots and pumpkin-dressed pugs, you could do something really chilling. Sure, you can cosplay any of your favorite horror movies and dress up like Pennywise the Dancing Clown or Leatherface. But why not go even further and create something of your own? After all, the more realistic it looks, the scarier it's going to be. 
Find an abandoned place, put on an old stained shirt, paint some fake blood on your face, and pretend to be a zombie. Or just lay down on the ground and pretend to be a dead person. Trust us, your followers on Instagram will be terrified.
9. Play with Perspectivehttps
If you decide to go for the pumpkin-dressed dog, add a touch of creativity to the photoshoot. Try, for example, placing your pet closer to the camera and stepping back yourself. Now you seem smaller than the dog and the photograph will seem like the dog's going to step on you or eat you. You can do the same trick without pets, too – try leaning on a giant pumpkin or holding a bonfire on your hand (be careful with the fire, though).
10. Shoot a Halloween Night Story
Make the day memorable and shoot some cool pictures. Whether you're spending Halloween night at home with your family or out with friends, make sure to take lots of photos, not just selfies. Don't forget to edit them afterward! If you've never edited a picture before, try Movavi Photo Editor, one of the best applications for beginners. Ready to try? Apply our special promo code FAMILY for blog readers to get a 20% discount:
Get Movavi Photo Editor at a 20% discount for Mac
Get Movavi Photo Editor at a 20% discount for Windows
* The promo code is valid until the 31st of December 2020.
We're sure you'll get some really good pictures! To get even more mileage from this content, create a stunning slideshow in Slideshow Maker. Before you start, check out our guide to making cool engaging videos from photos. 
With a slideshow, you'll be able to post all your awesome pics at once without spamming your friends' Instagram and Facebook feeds. To make the video even spookier, add Halloween effects from the Movavi Effect Store. The Horror Circus (be careful, this one is rated 18+) and Horror packs would be just perfect! More Halloween-themed effects coming soon.
Good luck and have a boo-tiful Halloween! ?