Even if you're an experienced content creator with a whole set of advanced professional programs on all your devices, there may be times when you could use a free video cutter for a quick job on the go. For example, if you're travelling far from home and need to post a new video to your feed, but the only device you have at your disposal is your friend's laptop (and your smartphone is out of battery, too!).
Another instance in which you could take advantage of a free video trimmer is if older family members are interested in trying their hand at video editing. While you wouldn't want to deprive your grandparents of the joy of putting together some archives, getting them familiar with a free online tool first could be a great way for them to find out if it's really something they want to do for themselves – or whether they'd prefer to ask you to do it instead.
So, what are the best options for those situations when you just need a simple tool for removing certain bits of your video? Here's our top-10 list of free options to consider of all those that come up when you Google "video cutter free download".
Best Free Video Cutters and Joiners
Desktop Tools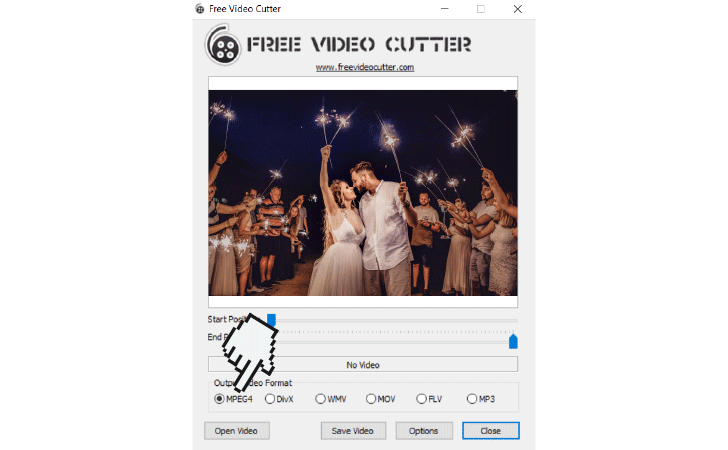 The name describes its function pretty accurately. It's a regular desktop-based app for cutting out unwanted parts of your footage and putting clips together. Reportedly, its two main advantages are its clear interface and its smooth working process. The downside is that it doesn't let you do anything but actually cut the clips – but if that's what you're searching for, look no further. Unless you use a Mac – the program only runs on Windows.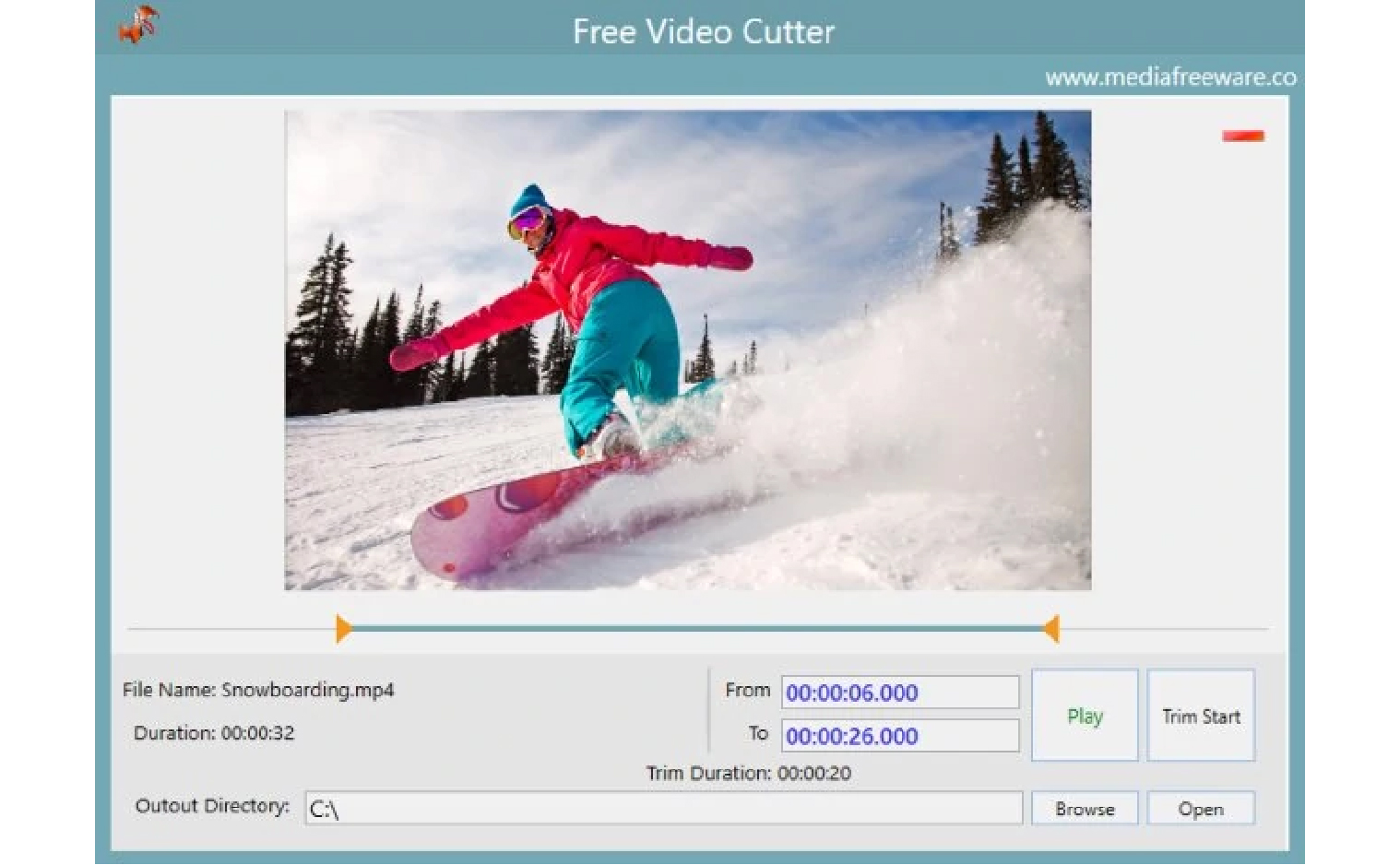 A simple program with a very straightforward interface. It's easy to install and easy to use – set the start point, set the end point, cut, save. MediaFreeware allows you to preview the clips you're cutting and supports the most popular formats such as MOV, AVI, MP4 and a few more. Compatible with Windows only.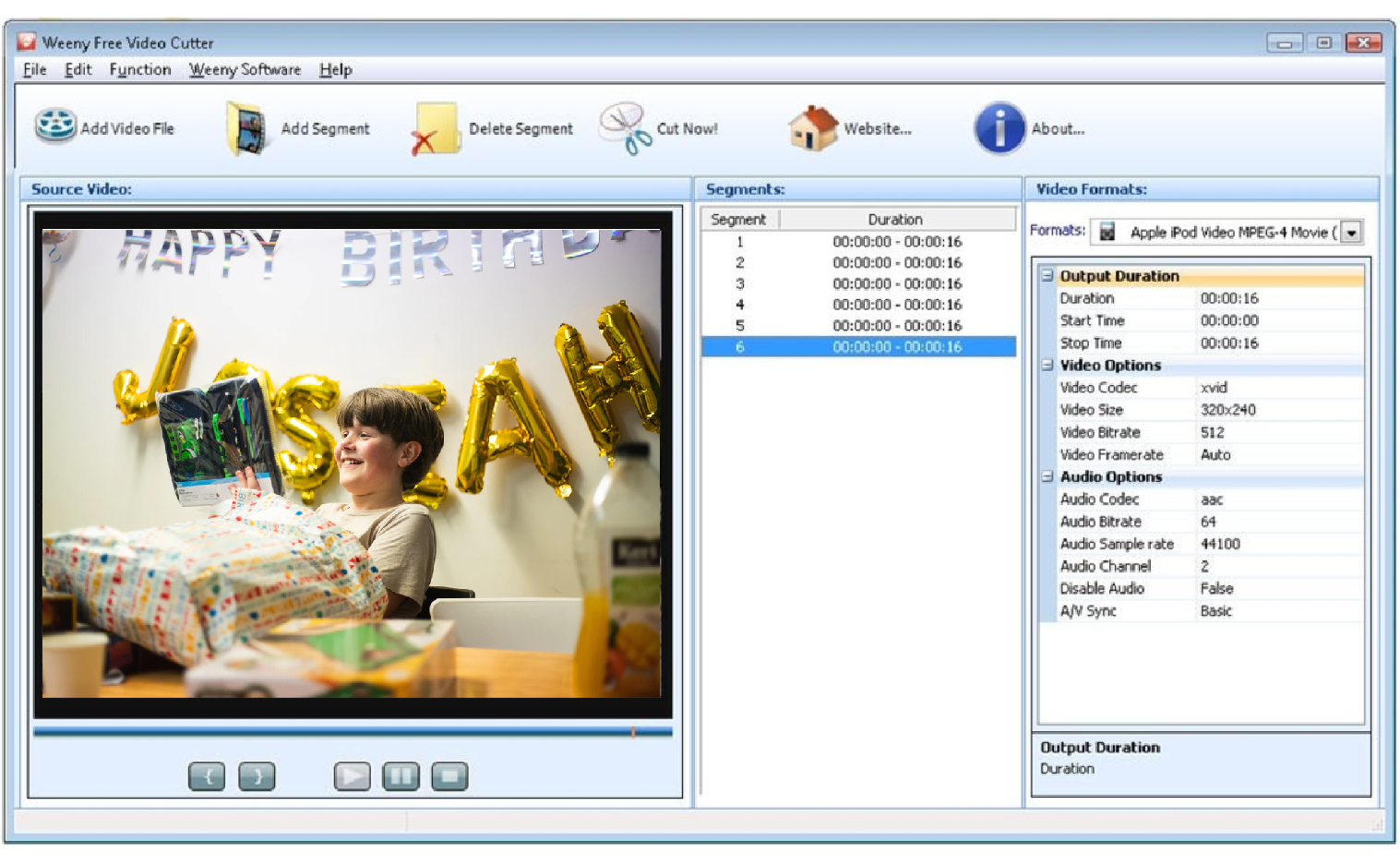 Not only does this program have an exceptionally intuitive interface, but it also offers some extra options which enable you to modify the output settings, including video codec, frame rate, video bitrate, and a number of other important parameters. However, it's worth noting that this software has one major downside: it's really difficult to set the start and end point accurately, as the slider itself is hard to move. The only supported platform is Windows.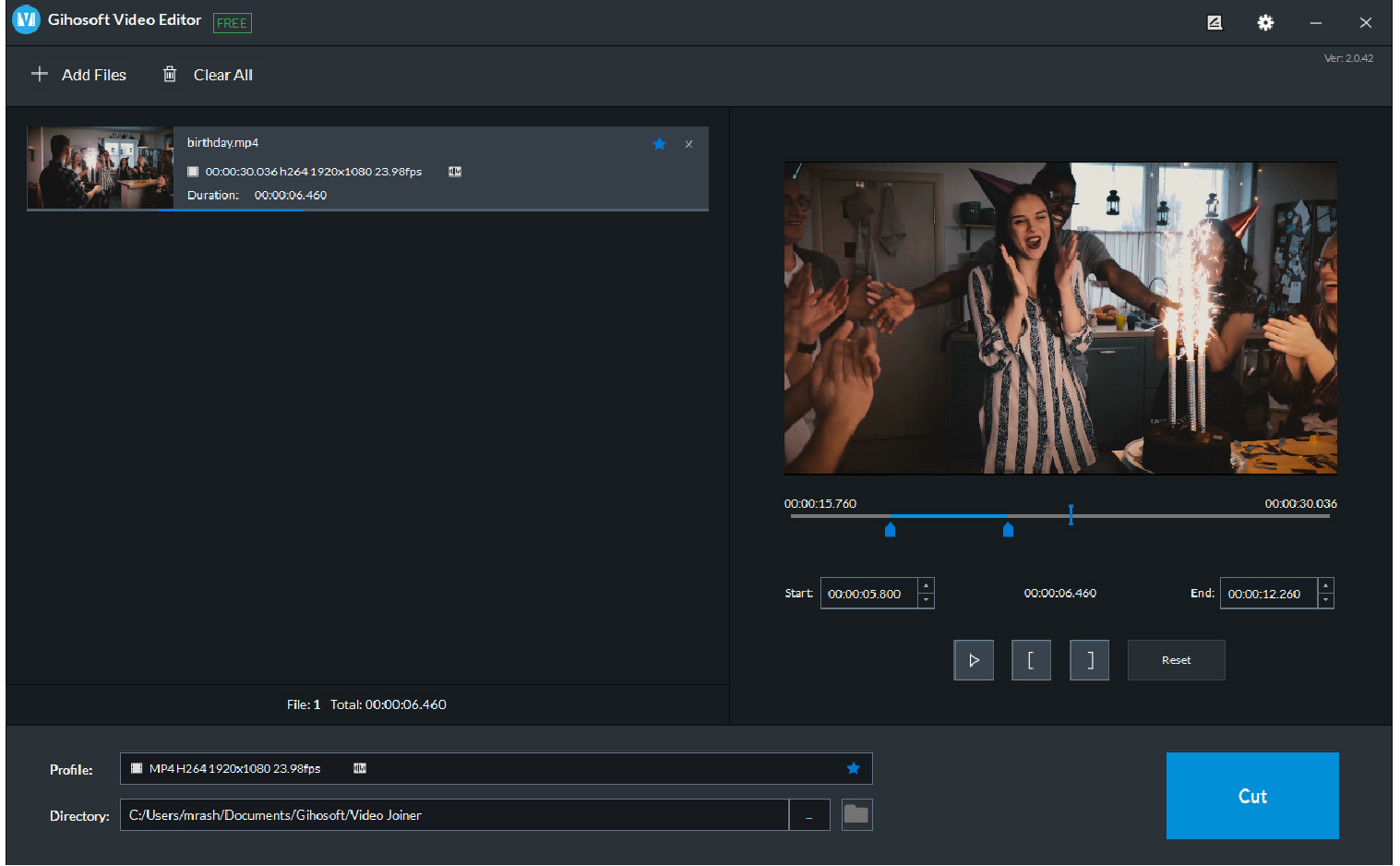 A fairly good video cutter with a nice, simple interface. It'll run on most computers as it's compatible with Windows and Mac. What's particularly important is that not only does this program support many video and audio file types, but it also preserves the quality of your footage. This is a simple and practical solution available for both Mac and Windows users.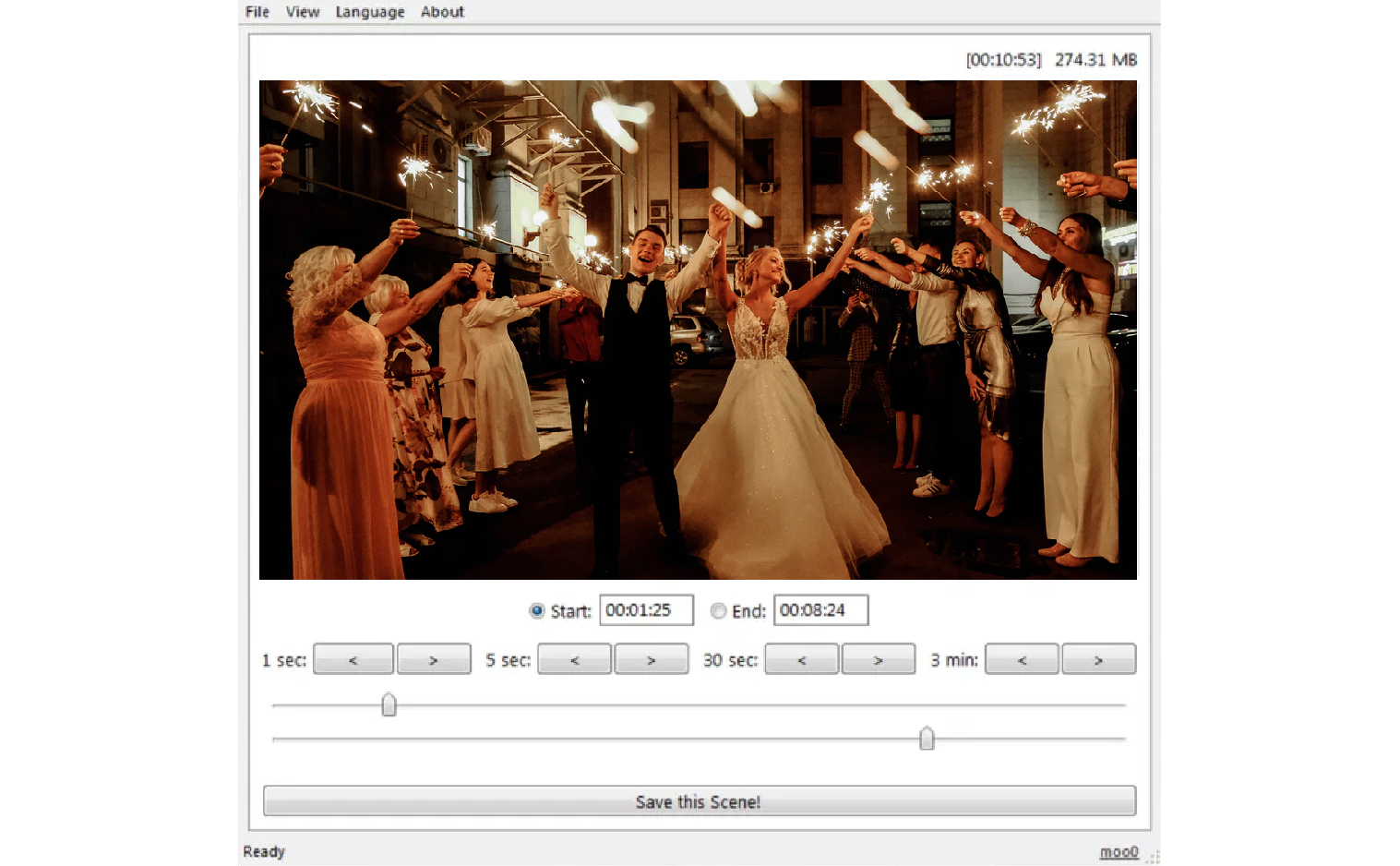 Another fast and simple tool for cutting and trimming footage. Its specific features include forward and back buttons which allow you to move the slider in 1, 5 and 30 second intervals. Furthermore, it does not affect the quality or format of the resource file, which is why it's called a lossless video cutter. What this program does lack is the ability to preview cuts and display the estimated length of the clip you're about to get. Only available for Windows at the moment.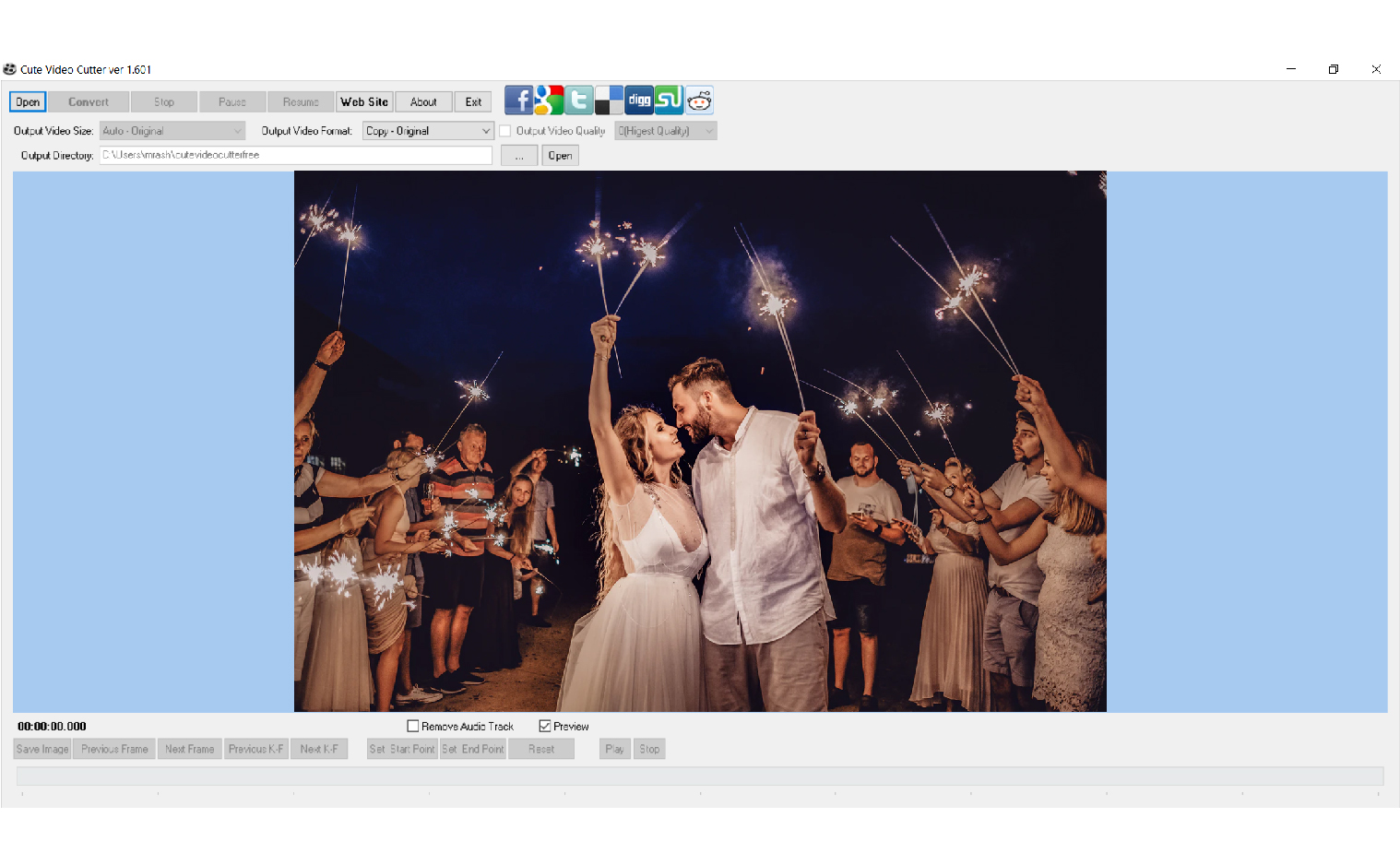 One more lossless video cutting freeware app that works with the majority of video file formats like MP4, AVI, MOV, WMV, 3GP and many more. Again, it's designed solely for removing unwanted sections and splitting your footage into smaller pieces – but at least you can't go wrong with that, as there aren't too many buttons to make things complicated. At the moment the software is only available for Windows.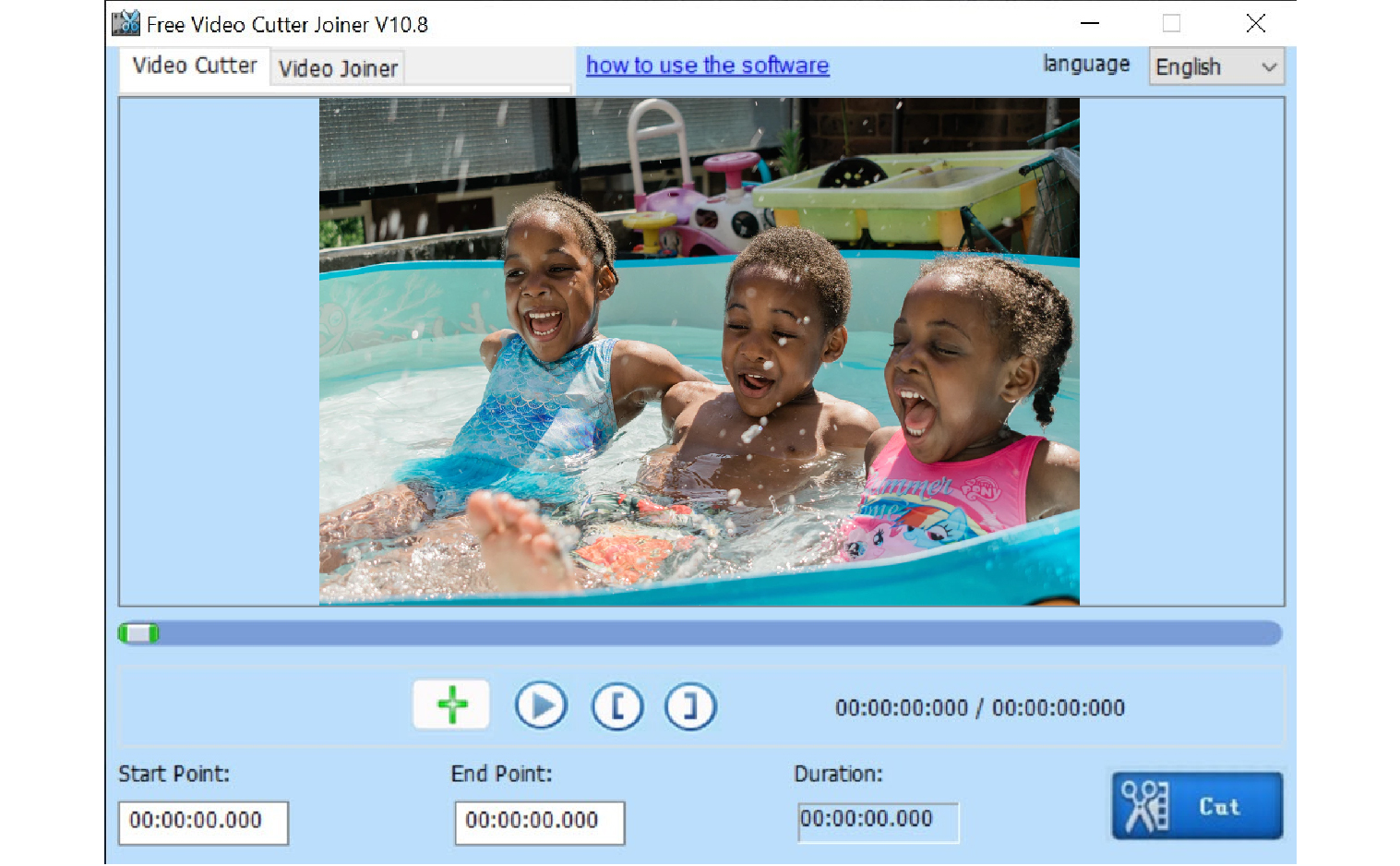 A video trimmer that's equally good for cutting and joining clips. It can be used in two modes –Direct Cut and Indirect Cut. The former is faster in use, but the range of supported files is very limited. The other option is not so fast, but there are far more file formats you can process with it. The video and audio quality as well as the frame rate can be set. It's one of the few programs in this list that are available on Mac OS only.
Online Tools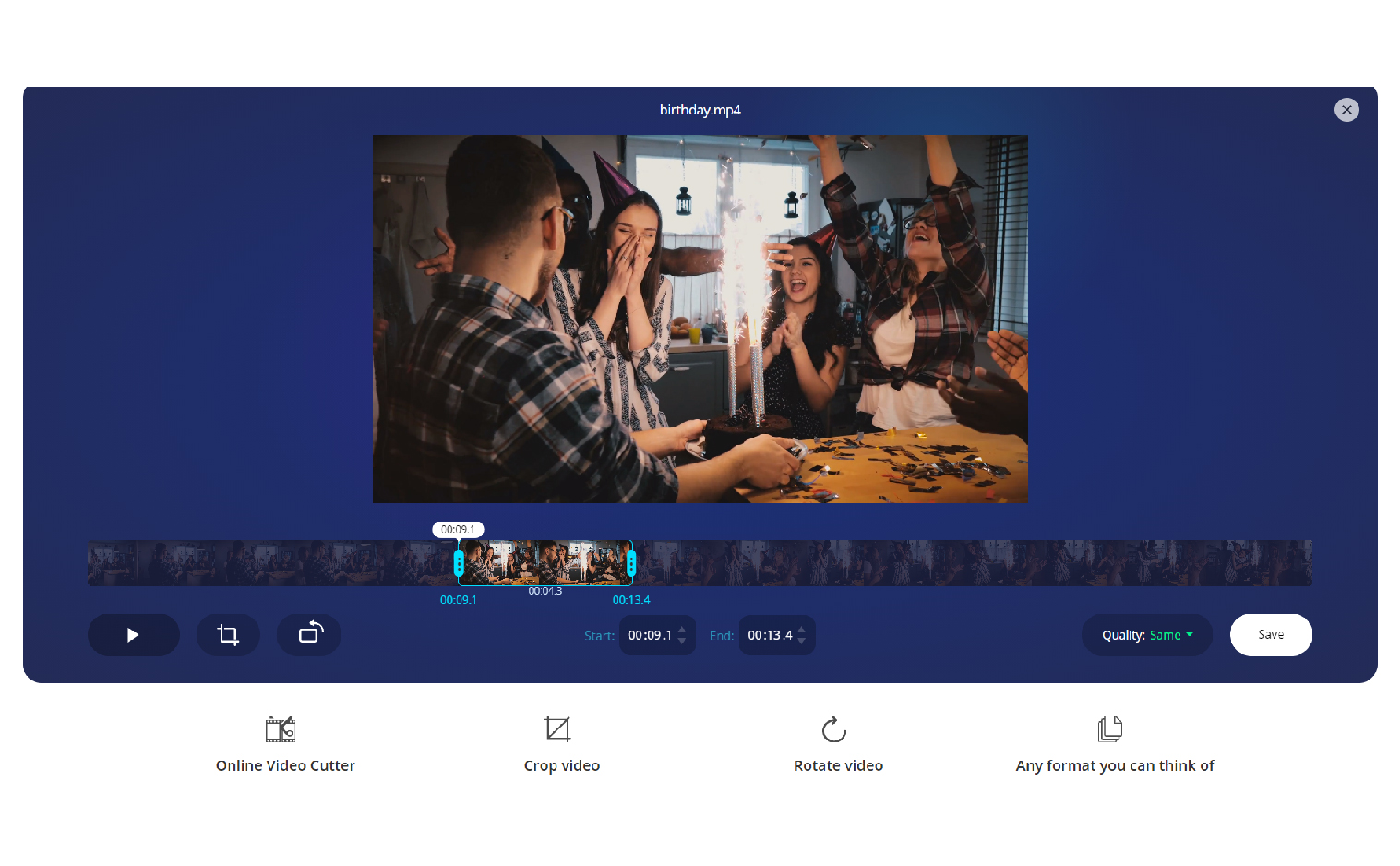 A simple web tool that lets you make basic adjustments to your video. WIth Online Video Cutter you can easily trim, crop, cut and rotate your footage. It's not suitable for large video files in Full HD and over, as the maximum file size is 500 MB.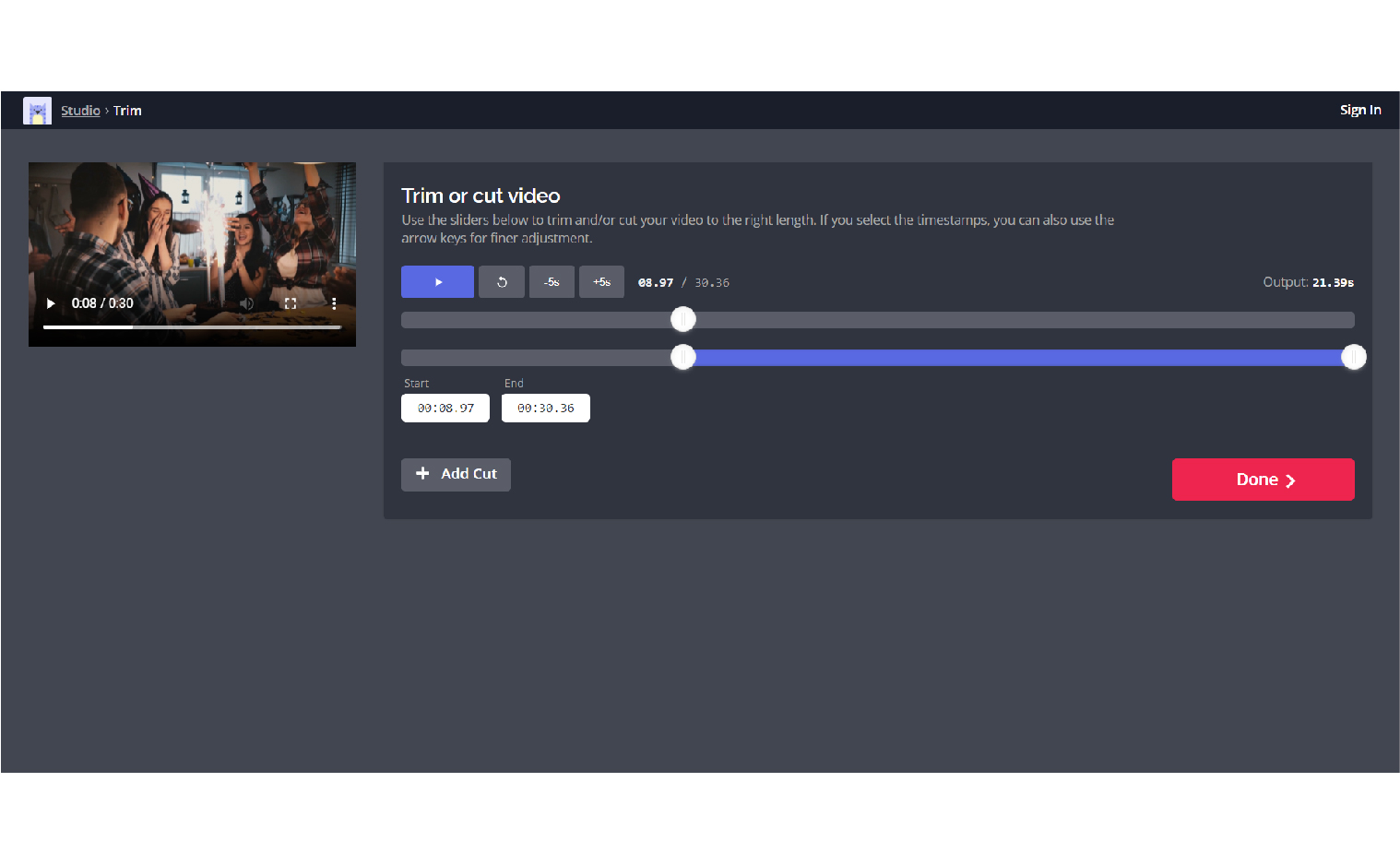 Another online video trimmer that's a piece of cake to use. The speed of trimming is probably the best thing about this tool. Upload the file, choose the start and end points, and click on Done – there you go, your video is ready. While the website works with the majority of common video formats, it doesn't let you choose the output format.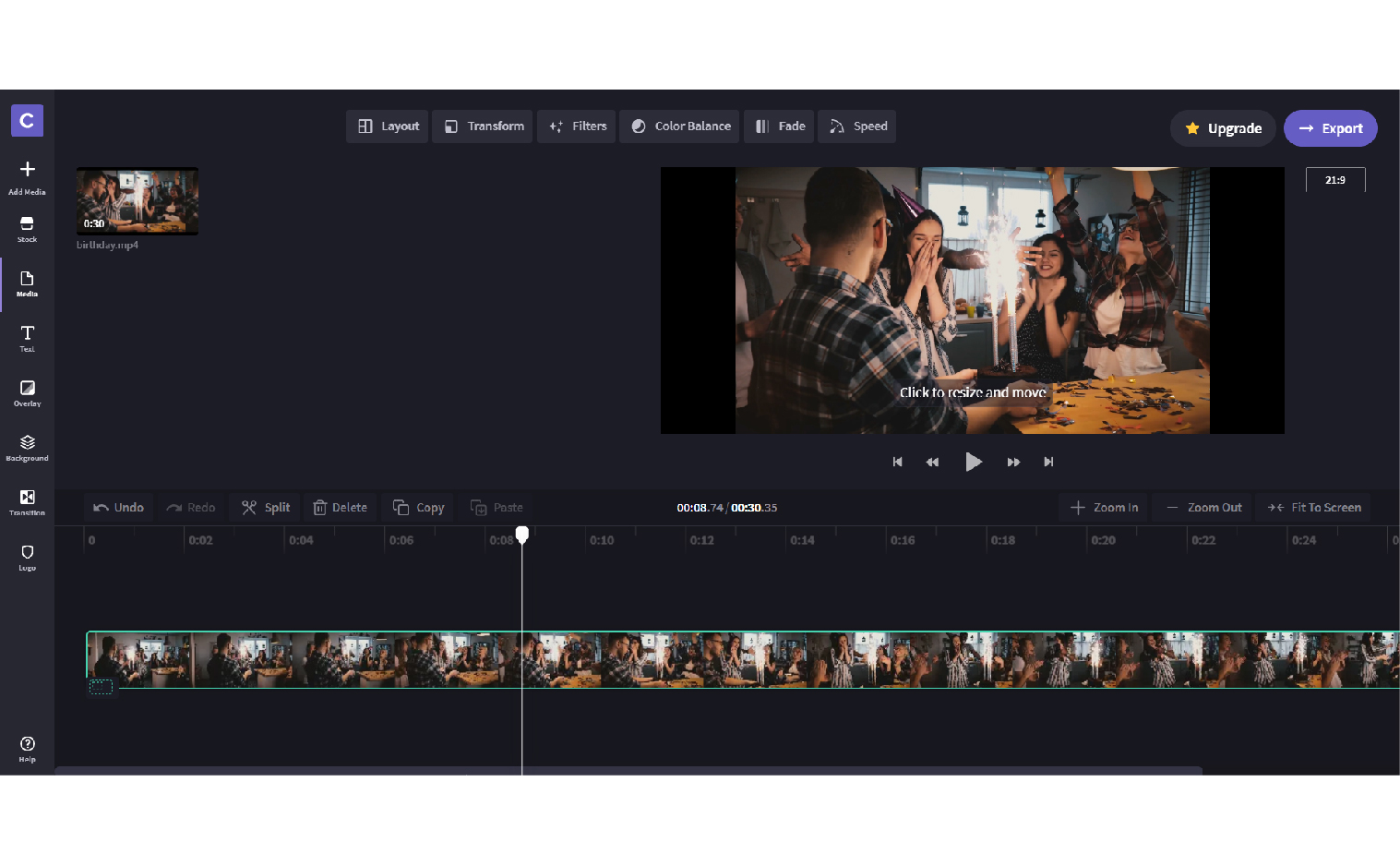 This is more of an actual editor rather than a cutter. In addition to splitting and combining your clips, you can also add titles and audio tracks and apply filters and transitions. This resource is good for practicing your editing skills before moving on to more complex programs.
Choosing a Video Cutter
Not sure which program to choose? Here are a few points to consider:
Online or Offline. Online tools are great when you don't want to spend any extra time downloading and installing new software. They also don't take up any hard disk space, and they usually work on any operating system. However, for processing larger files we'd suggest downloading a desktop app.
Operating System. Look for the program that's right for the device you're using – and don't forget to check if your OS version matches the requirements of the program.
Supported formats. Most of the cutters we've listed above support all of the most common video formats, but it's always worth checking if your footage meets the requirements of the software. Occasionally you might need to use a converter first.
Editing features. If it's only the cutting option you're looking for, that leaves you with more options. If you would also like to make changes to the video format, quality, bitrate or other output parameters, that makes your choice narrower. If you'd like to have more editing features such as applying filters, subtitles and transitions, you should look for video editors rather than cutters.
Interface. Make sure you understand the program you're using well enough to produce the result you need. With such a lot of options out there, there's no need to keep digging into a program that doesn't seem user-friendly to you.
Next Step in Video Editing
Once you've mastered basic cutting software, it's time to move on to more advanced tools. Most freeware options offer a limited array of functions for adjusting your videos. If you feel like taking your editing skills to the next level, it's best to choose dedicated editing software.
There's no need to invest in an expensive professional solution, though. Instead, opt for a simple and user-friendly program that's available at a reasonable cost. We suggest trying Movavi Video Editor Plus: easy as it may seem, the program includes a wide range of tools for complex editing tasks. What's particularly useful is that it also features a free trial period, so you can give it a go and figure out if the app is right for you.
We're also offering a special 10% discount for our blog readers on the latest 2021 edition of Movavi Video Editor Plus. It runs equally well on Windows or Mac OS platforms.
Download Movavi Video Editor Plus with 10% discount for Windows
Download Movavi Video Editor Plus with 10% discount for Mac
The software enables you to cut your footage in just a few clicks. Here's one of the tutorials from the Movavi Vlog Team on how to cut and merge videos:
Any further adjustments can also be made in simple drag-and-drop movements. You can easily rotate and crop footage, apply Zoom in and Zoom out effects, add transitions and filters, and insert captions and audio tracks where necessary.