If you record or make a lot of videos, you might find yourself in need of some cutting software to trim them down to size. A free video cutter can help you get rid of unwanted sections of your videos, trimming clips and cutting out the unwanted portions. This guide will introduce you to ten of the best desktop cutting software you can try today on Windows and Mac, as well as some free video trimmer online apps too. 
Editor's pick
| App | OS | Supported formats | Video quality |
| --- | --- | --- | --- |
| Movavi Video Editor Plus | Windows, macOS | MP4, MPEG, 3GP, FLV, MOV, WMV, MKV, etc. | Great |
| Free Video Cutter | Windows | MPEG4, DivX, WMV, MOV, FLV, and MP3 | Good |
| Gihosoft Free Video Cutter | Windows, macOS | AVI, MP4, MOV, M4V, WMV, MPG, FLV, etc. | Good |
| Online Video Cutter | Online | MP4, MPEG, 3GP, FLV, MOV, WMV, MKV, etc. | Great |
| Clipchamp | Online | MP4, MPEG, 3GP, FLV, MOV, WMV, MKV, etc. | Good (480p with free version) |
OS: Windows, macOS
If you want the best results in your cutting software, you might want to consider a paid option like Movavi Video Editor Plus. While this is not a free video cutter, it does come with a 7-day free trial, so you can test it out and see what it has to offer before deciding whether or not to continue with a full purchase. As the name implies, this app is a fully-featured video editor with lots of advanced features, transitions, and editing tools to give you full control over your video files in all popular formats – totally worth its $16.95! 
Key features:
✅ A variety of video-editing tools
✅ Titles, filters, and transitions for advanced video editing 
✅ Chroma key and picture in picture
✅ Voiceover
Best Free Desktop Video Cutters and Joiners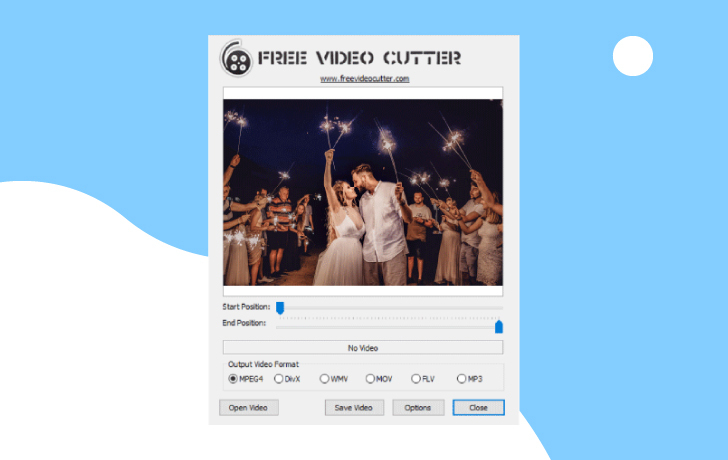 OS: Windows
The name describes its function pretty accurately. It's a regular desktop-based app for cutting out unwanted parts of your footage and putting clips together. Reportedly, its two main advantages are its clear interface and its smooth working process. The downside is that it doesn't let you do anything but actually cut the clips – but if that's what you're searching for, look no further. Unless you use a Mac – the program only runs on Windows.
Key features:
✅ Compatible with Windows devices 
✅ Works with MPEG4, DivX, WMV, MOV, FLV, and MP3 
✅ Can be used to rip audio from video files and create custom soundtracks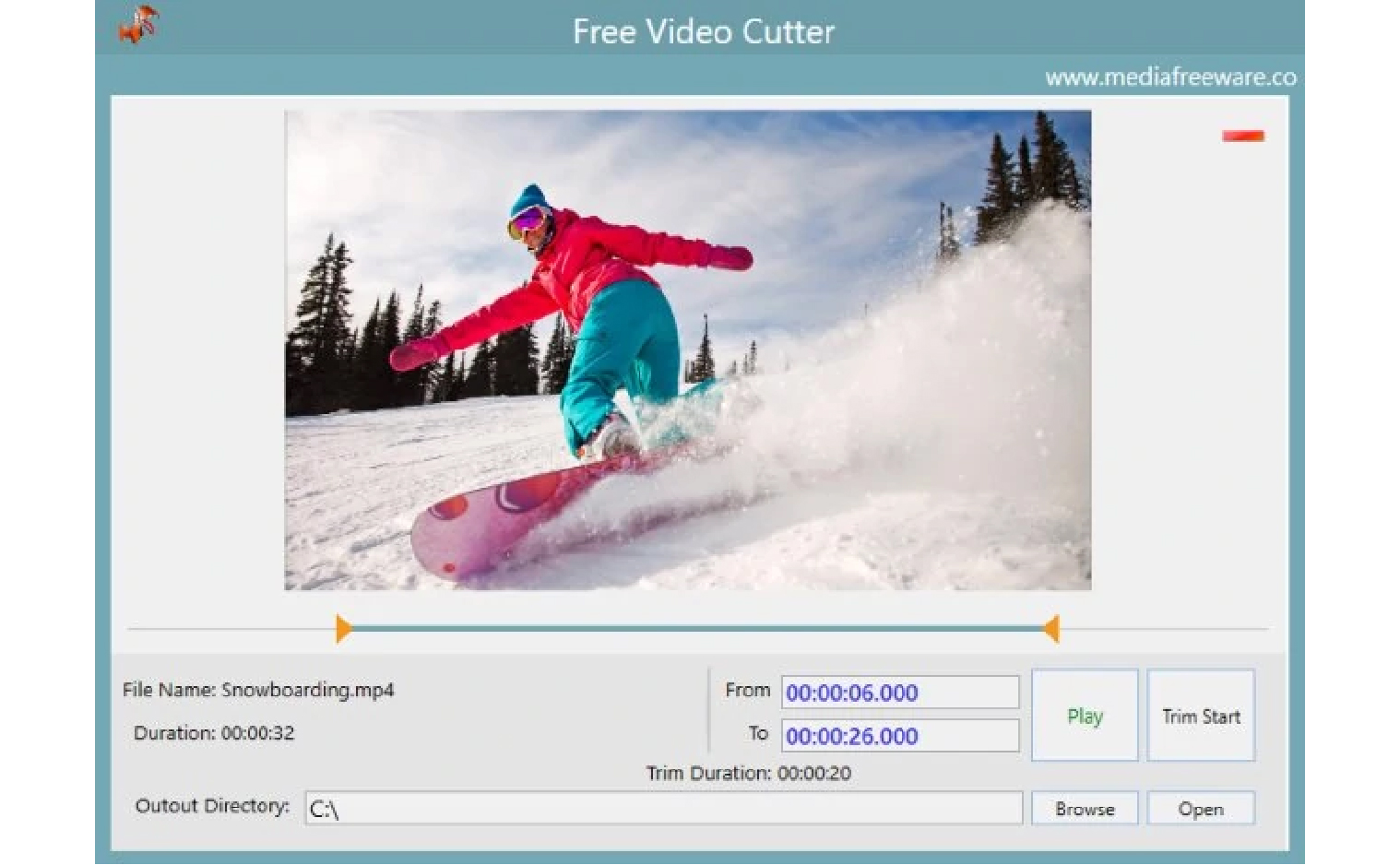 OS: Windows
This free video trimmer boasts a very straightforward interface. It's easy to install and easy to use – set the start point, set the endpoint, cut, save. MediaFreeware allows you to preview the clips you're cutting and supports the most popular formats such as MOV, AVI, MP4, and a few more. Compatible with Windows only.
Key features:
✅ Works on Windows devices 
✅ Simple interface 
✅ Drag and drop design 
✅ Built-in video player 
✅ Works with MP4, AVI, 3GP, WMV, and FLV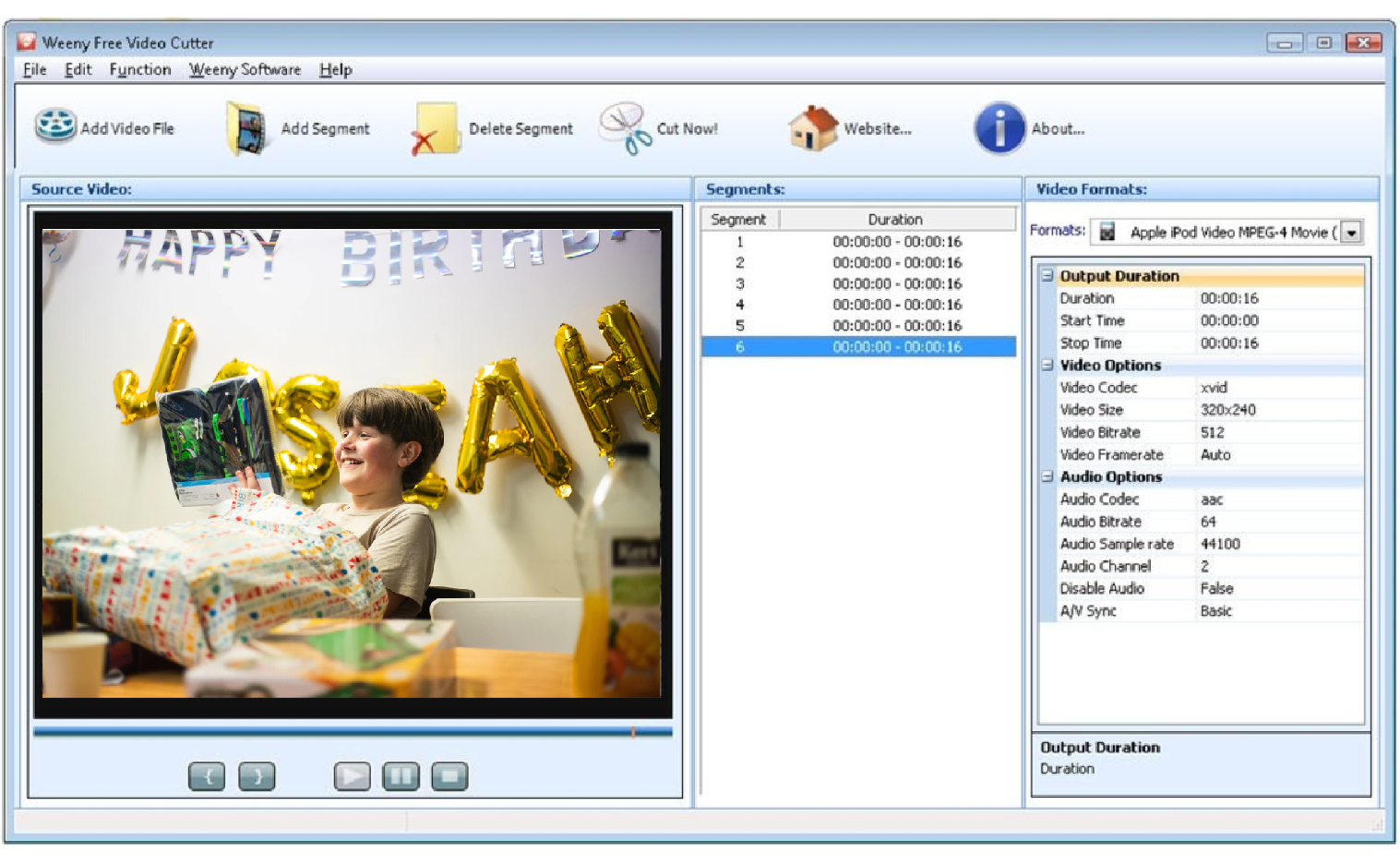 OS: Windows   
Not only does this program have an exceptionally intuitive interface, but it also offers some extra options which enable you to modify the output settings, including video codec, frame rate, video bitrate, and a number of other important parameters. However, it's worth noting that this software has one major downside: it's really difficult to set the start and endpoint accurately, as the slider itself is hard to move. The only supported platform is Windows.
Key features:
✅ Works with 3GP, ASF, AVI, FLV, MP4, MPG, WMV, and others
✅ Windows only 
✅ Change order
✅ Rename output files 
✅ Adjust output settings like video code, bitrate, and audio quality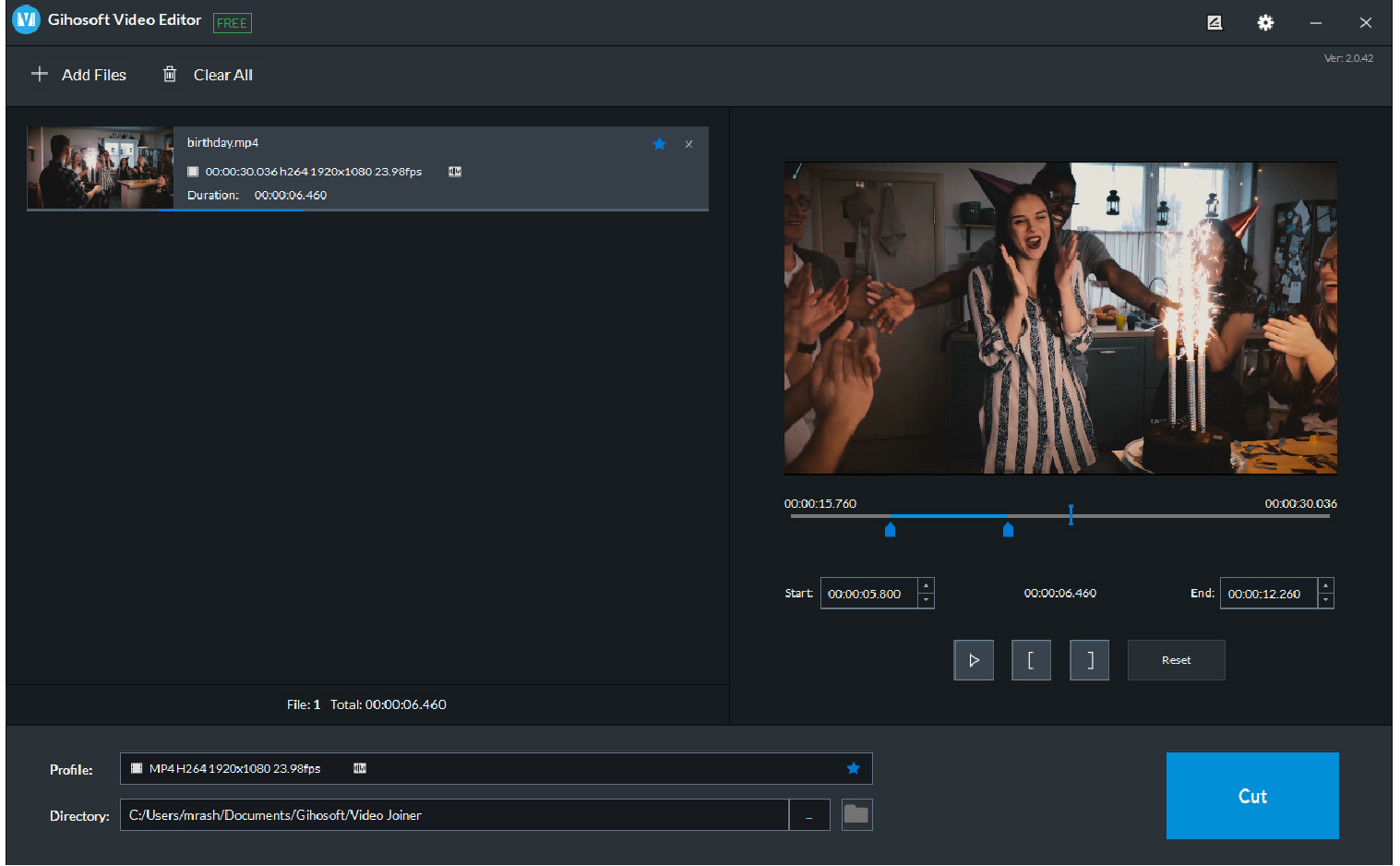 OS: Windows, macOS
A fairly good video cutter with a nice, simple interface. It'll run on most computers as it's compatible with Windows and Mac. What's particularly important is that not only does this program support many video and audio file types, but it also preserves the quality of your footage. This is a simple and practical solution available for both Mac and Windows users.
Key features:
✅ Works with all major video and audio formats 
✅ Simple interface with 3-step cutting process 
✅ Preview function 
✅ Lossless design helps to preserve the quality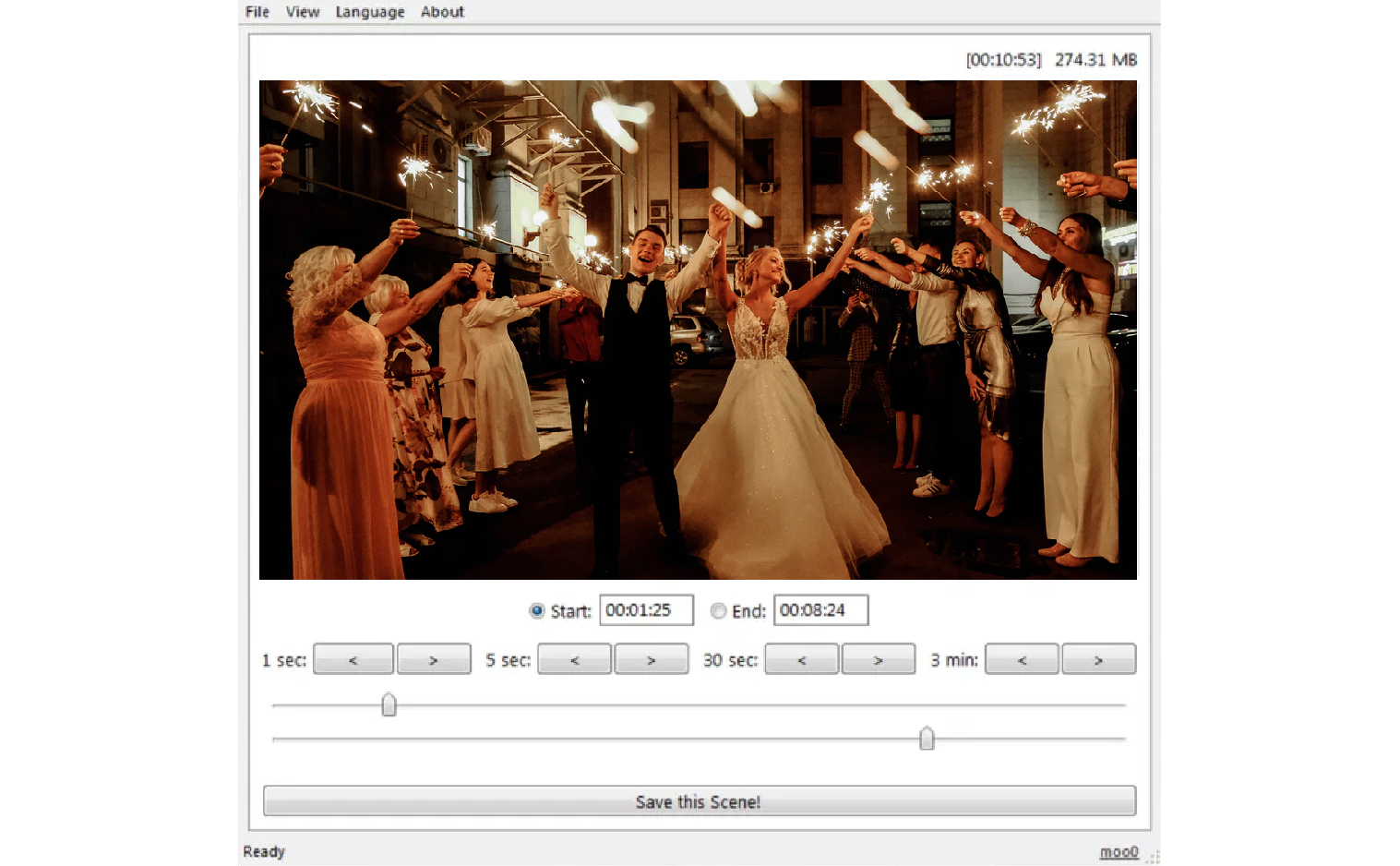 OS: Windows
Another fast and simple tool for cutting and trimming footage. Its specific features include forward and back buttons which allow you to move the slider in 1, 5, and 30-second intervals. Furthermore, it does not affect the quality or format of the resource file, which is why it's called a lossless video cutter. What this program does lack is the ability to preview cuts and display the estimated length of the clip you're about to get. This free video cutter is free to download for Windows users. No Mac version yet.
Key features:
✅ Works on Windows devices 
✅ The preview window allows you to view files as you edit them 
✅ Forward and back buttons for skipping 1, 5, or 30 seconds, or 3 minutes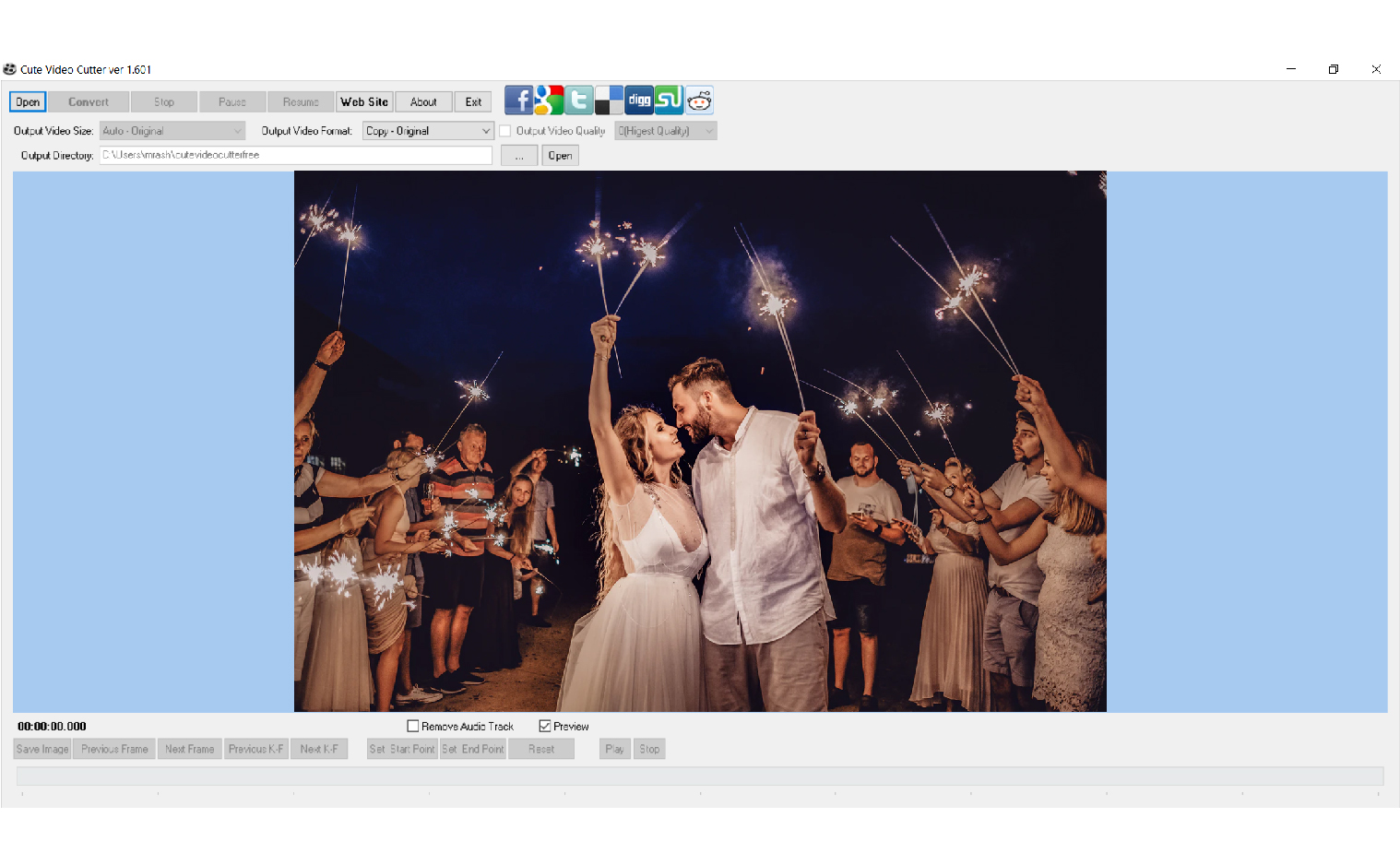 OS: Windows
One more lossless video cutting freeware app that works with the majority of video file formats like MP4, AVI, MOV, WMV, 3GP and many more. Again, it's designed solely for removing unwanted sections and splitting your footage into smaller pieces – but at least you can't go wrong with that, as there aren't too many buttons to make things complicated. At the moment the software is only available for Windows.
Key features:
✅ Lossless compression for preserving video quality 
✅ Works with AVI, MPEG, WMV, DivX, MOV, MP4, and other files 
✅ Preset settings for popular devices like iPhone and Apple TV 
✅ Slider system for easy selection of video segments 
✅ Preview window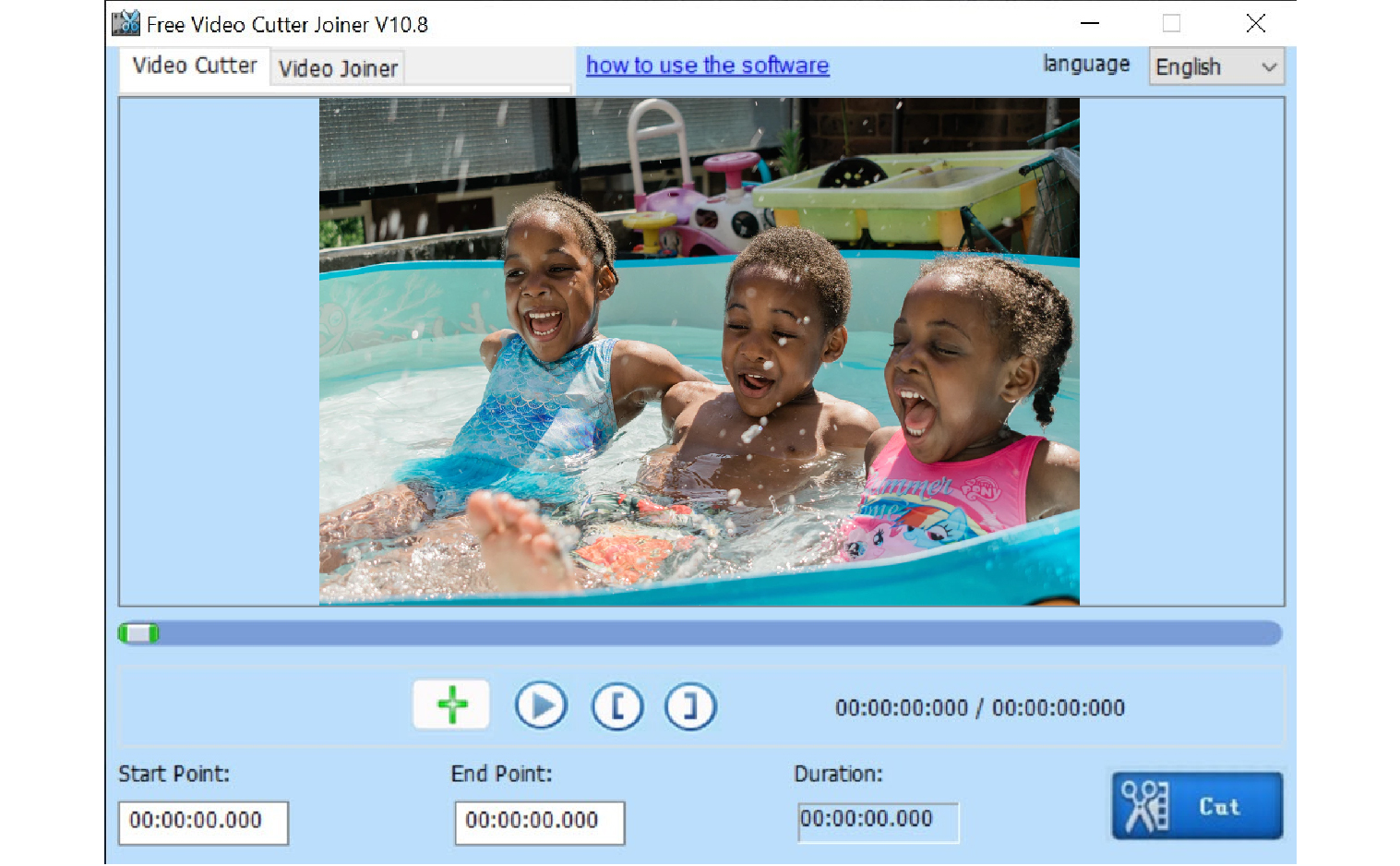 OS: Windows, macOS
A video trimmer that's equally good for cutting and joining clips. It can be used in two modes –Direct Cut and Indirect Cut. The former is faster in use, but the range of supported files is very limited. The other option is not so fast, but there are far more file formats you can process with it. The video and audio quality, as well as the frame rate, can be set. It's one of the few programs in this list that are available on Mac OS only.
Key features:
✅ Windows and Mac versions
✅ Regularly updated to remove bugs and make enhancements 
✅ Works for cutting and joining 
✅ Also available as an Android and iOS app 
✅ Supports 3GP, MP4, MPG, RMVB, AVI, F4V, MPEG, RM, MOV, and more
Online tools for cutting videos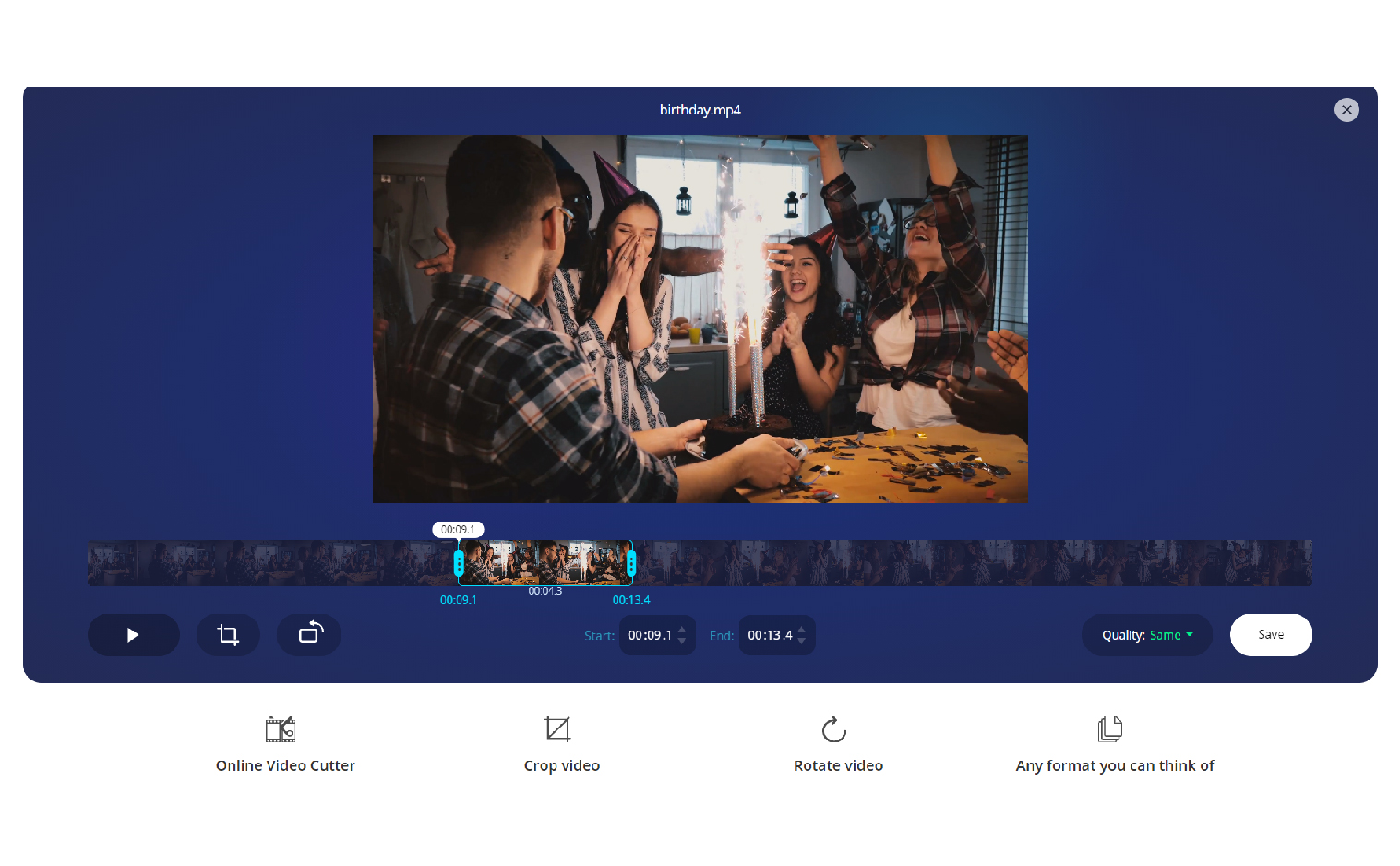 Online Video Cutter allows you to trim videos on all major platforms without the need for any downloads or installations. You can simply open up the tool in your browser, upload your video files, and then trim them as desired before downloading the edited files. It also supports cropping and rotating if you want to make additional changes to your clips and works with all major video formats, but there is a file size limit of 4GB. 
Key features:
✅ Works with all major video formats 
✅ Files stored on secure servers and automatically deleted after a few hours 
✅ 4GB file size limit 
✅ Rotation and cropping features also available 
✅ No installation, works right in the browser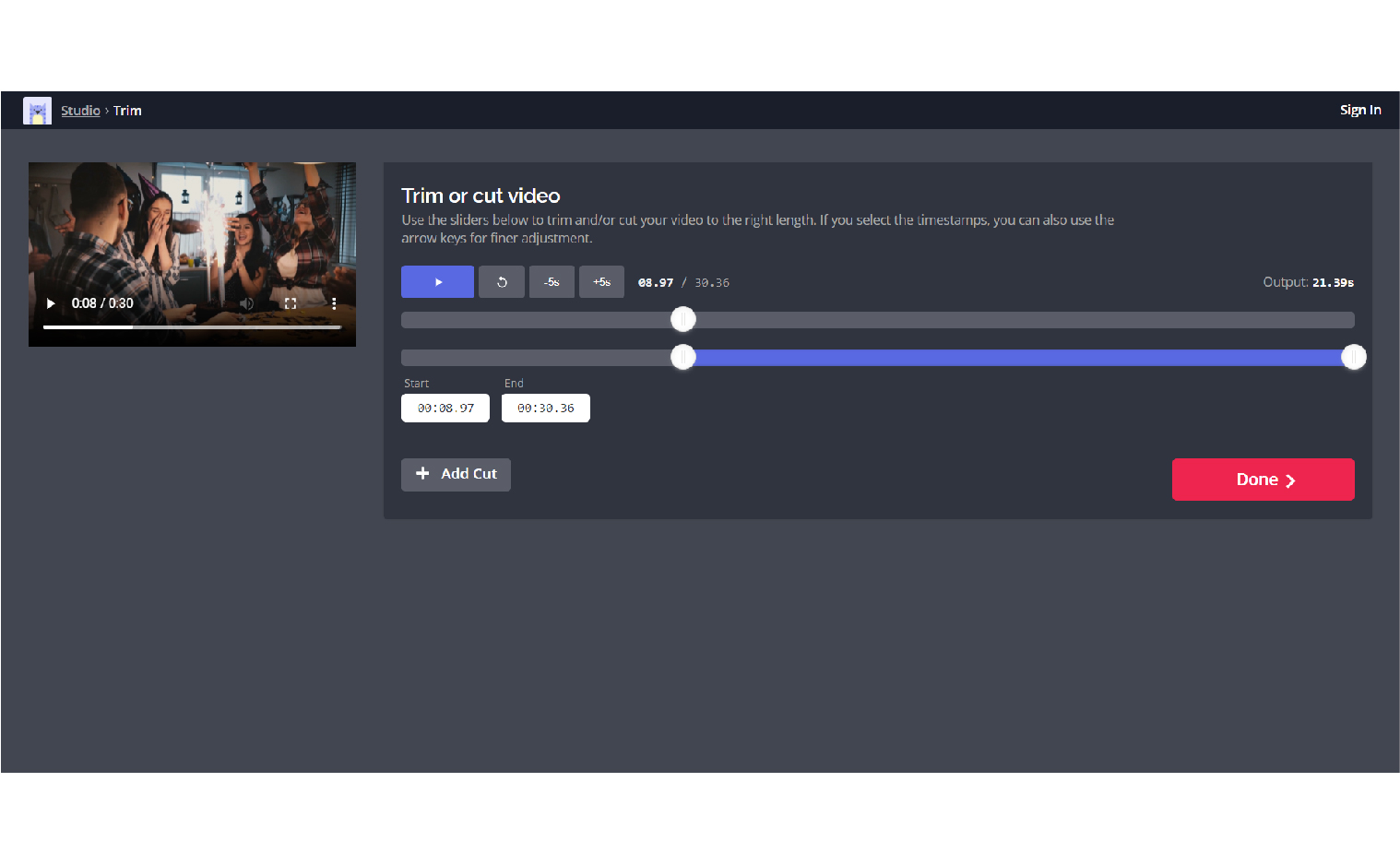 Kapwing is great for editing small video files on the fly across any device you like. You can load it up in any browser, like Chrome or Firefox, and upload files in many different formats, or simply enter a URL that leads to a video file and upload directly from the source. Users can edit files that are up to 250MB in size for free or pay for a Pro account to upgrade the limit to 4GB. 
Key features:
✅ MP4, MOV, MP3, FLV, AVI, WebM 
✅ Works with website links too 
✅ No watermarks or ads 
✅ Can be used across any device 
✅ 250MB limit for free users or 2GB for pro users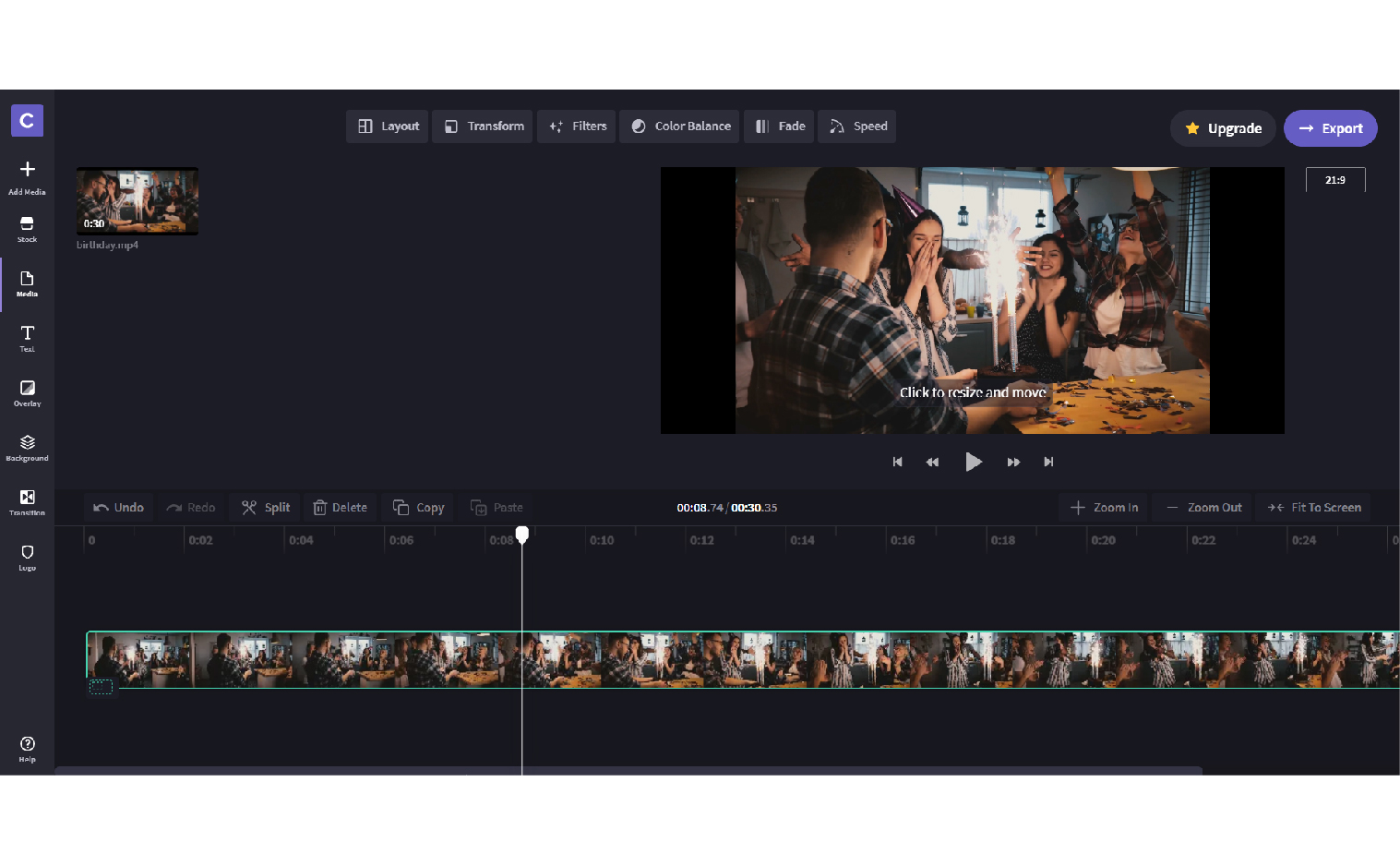 Working flawlessly on both Microsoft Edge and Google Chrome, Clipchamp is more than a simple video cutter; it's a fully-featured video editing solution you can use online, used by more than 14 million people. It allows you to cut, join, trim, add text, adjust colors, add logos, and enhance your videos with stock footage and audio too, all via a simple and easy-to-understand interface. However, free users are limited in terms of the features they can access, and you can only export standard definition (480p) files on the free plan. 
Key features:
✅ Full video editing
✅ Templates, text, colors, logos, and more
✅ Stock video and audio
✅ Works on Chrome and Edge
There are many useful video cutter tools you can either download today or use online without any installation required. Test each option out and find a video trimmer you can rely on for all your future needs.