We've been talking quite a lot about the importance of the right lighting for your shots, yet we haven't gone into much detail about how to achieve the right effect. There are many devices you can use for lighting your scenes, depending on the kind of project you're working on. One of the easiest ones to play around with is definitely a light ring – a compact circular source of light that can be mounted on a special stand or attached directly to your filming device.
How Can You Use a Light Ring?
A light ring is an extremely practical tool that can be used in a variety of situations. First of all, it works wonders when it comes to portrait photography, as it lights your subject's face evenly. It doesn't let you play around with shadows and contrasts, but if your aim is to produce nice clean portraits, this tool will work just fine.
Macro photography is another field of application for light rings, as they provide a perfectly balanced lighting on every detail of the subject.
Light rings are also great for shooting in locations with poor lighting. It's a must-have for nightclub photographers, as it gives your pictures a far more natural look than a camera flash alone. A light ring can be equally useful for shooting outdoors at night.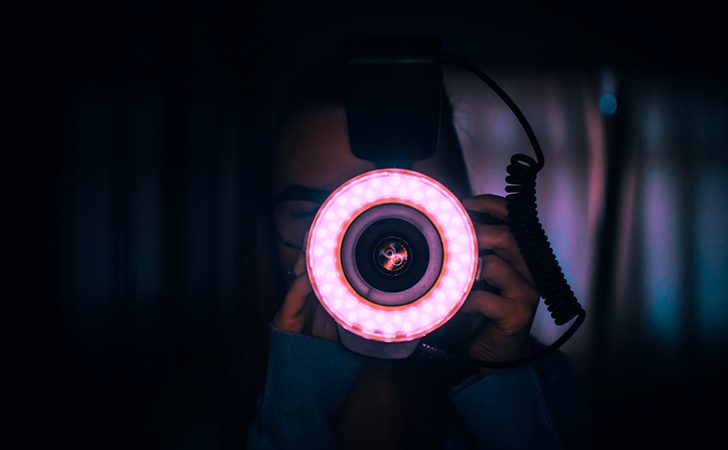 If you're a YouTuber or an Instagram vlogger, a universal light ring set with a smartphone stand is something you should definitely invest in. First, it will save you the hassle of purchasing a tripod, as one comes with the set anyway – just don't use the ring when you don't need to. Second, you'll be far more flexible when it comes to choosing the perfect shooting spot for streaming. If there isn't enough light around, you can always use your own.
For beauty vloggers, purchasing a light ring should be one of the first steps on your content creation journey. A source of even and neutral light is crucially important for producing good quality makeup tutorials. The same applies to makeup artists who post the results of their work on Instagram: a circle light will help you produce a far more professional-looking portfolio, as it will highlight all the shades and textures in the clearest way. Even when you're not recording the process of your work, this tool will help you compensate for the poor lighting in the room and see your model's face much better.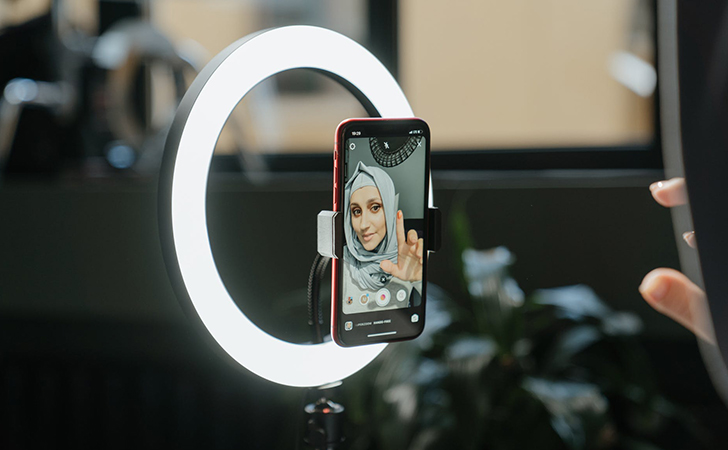 Ever felt upset about the performance of your selfie camera? Quite often what we see in our selfies doesn't really look like what we see in the mirror. Clipping a mini light ring straight onto your smartphone can help you solve that problem by eliminating all the unwanted shadows, giving you a fresher look.
Once you're all set with lights, you'll still need to fix and adjust the colors in your image/footage. If you're working with video, we'd definitely suggest trying out Movavi Video Editor Plus – its newest color grading filters will complement your vlogs and clips in the best way. Oh, and don't forget about our special 10% blog reader discount! Use the promocode SUPERBLOG or click on one of the buttons below:
For videographers, a light ring may not be the best replacement for a regular LED light panel, but it's still a fun tool to play around with. The reflection of the ring in the eyes of your subjects will make your video look more professional, almost as if it were shot in a studio. Picking color filters or applying coloured gels on the ring will give you a chance to generate creative effects in a live mode – no further color correction needed!
Bonus point: small tabletop light rings can also be used as a desk lamp for reading, and clip-on selfie tools can easily replace a proper flashlight on a camping trip.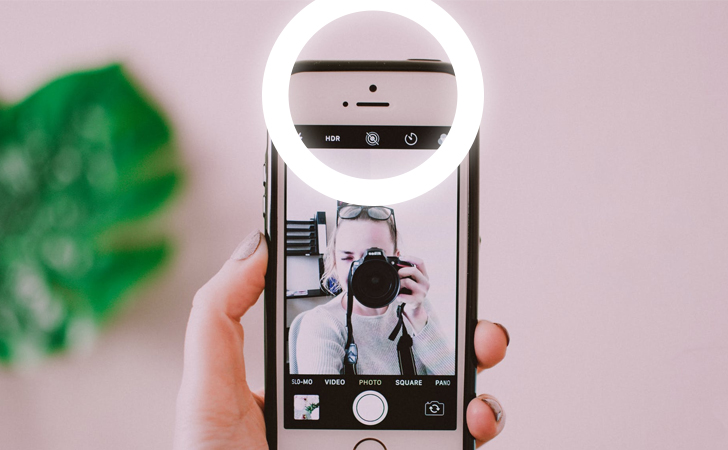 How to Choose a Light Ring
Light rings come in various shapes and sizes, and prices range from around $20 up to $200 or more. Some are designed specifically for DSLR cameras, others are only compatible with smartphones, but probably the most popular type is the one that can be used with both compact and bulkier devices.
The most basic types feature one or two light shades – white and orange. More advanced models will include a few more color filters.
If you haven't gotten yourself a LED ring yet, here are some of the best ring lights for you to consider. Some are small enough to carry around all the time – perfect if you have a lifestyle vlog on YouTube, Instagram or Tiktok. Others are quite large, so it's only worth buying those light rings if you're actually planning to use them for some serious filming.
If you've started to experiment with a light ring but haven't quite figured out how to achieve the right results, don't worry. Any minor issues with lighting can be fixed in our Movavi Photo Editor later on. The only thing to bear in your mind that it's always better to underexpose than to overexpose. Adding a little more light to shots that seem too dark is much easier than restoring overexposed shots.
The Best Light Rings for Photography & Videography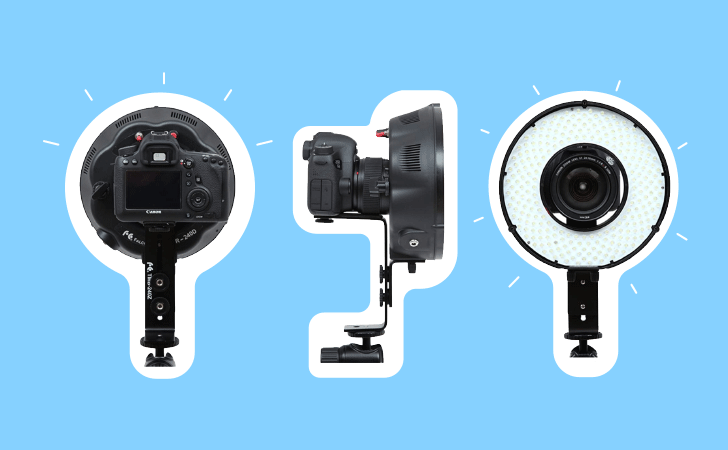 What: Fomito Portable LED Macro Ring Flash Light
Why: This macro ring flash may not be the cheapest one on the market, but it's definitely one of the most affordable ones of its kind. It's compatible with a large variety of professional DSLR cameras and can be operated in both flashing and continuing light modes, meaning that it is suitable for both photographers and videographers.
Price: from $165.82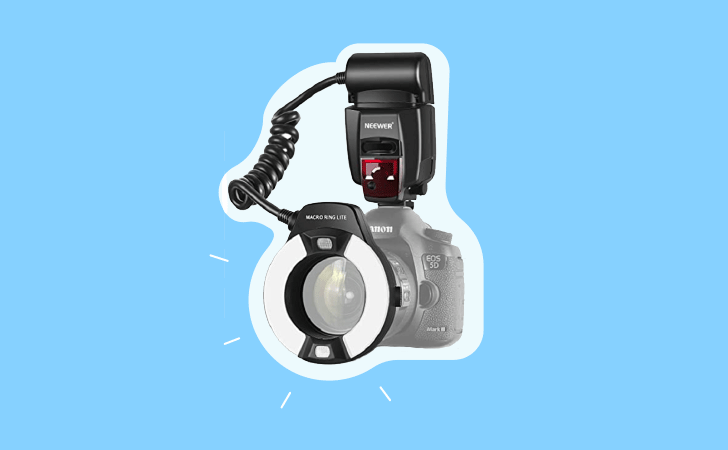 What: Neewer Macro TTL Ring Flash
Why: This LED ring flash is mounted directly over the camera lens. This product fits most Canon cameras and lenses (consider this alternative if you're a Nikon owner). Its effective distance ranges from 20 cm to 5 m, so it works best for macro shots and portraits.
Price: from $79.99
Best Light Rings for Beauty Bloggers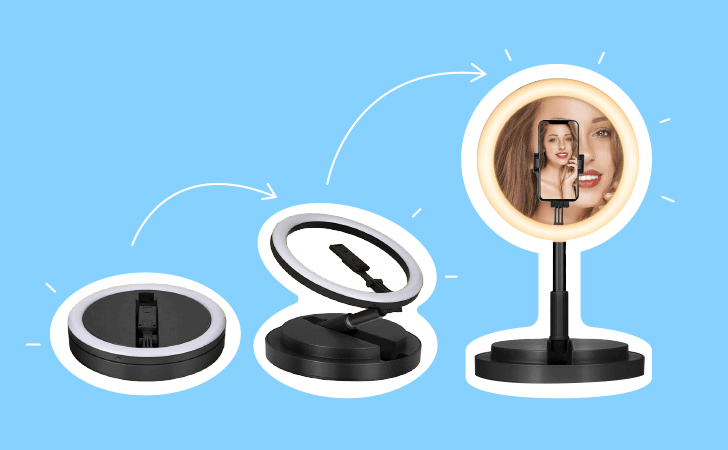 What: TARION 11″ Selfie Ring Light with Stand + Phone Holder
Why: This ring is much appreciated by beauty bloggers because of its compact foldable stand. Not only does it make it easy to adjust, but it also easily fits into any bag. Perfect for those makeup artists who like to stream their working process online from wherever they are.
Price: from $33.99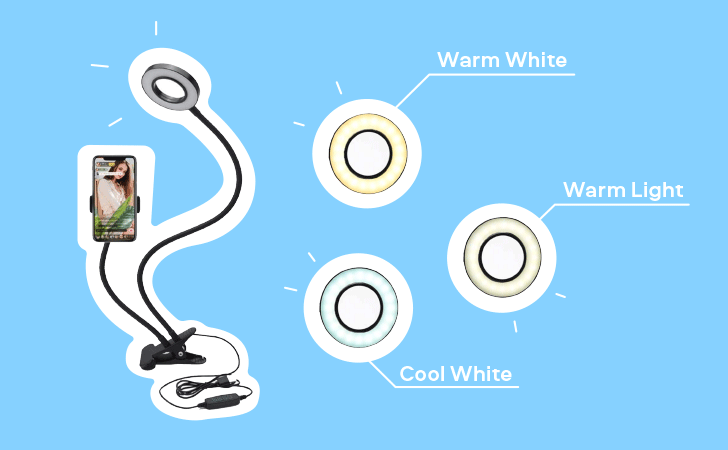 What: LEDGLE Upgraded Ring Light 360° with flexible arms
Why: This light ring set features a medium-sized stand with two flexible arms. Thanks to this feature, it's easy to play around with the angles of both your smartphone camera and light direction. It's an awesome feature for both makeup and nail artists!
Price: from $24.66
Best Smartphone Light Rings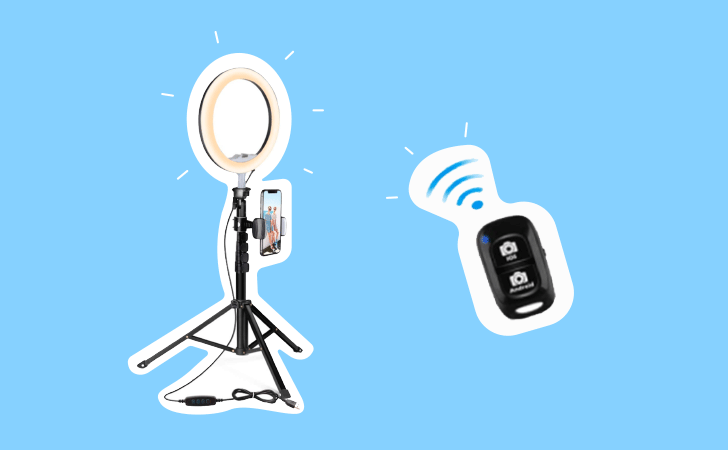 What: UBeesize 10.2″ Ring Light
Why: This device can easily be transformed into a regular smartphone tripod, making it a fairly cheap and handy tool for any blogging occasion. The light ring itself works in three color modes: white, warm yellow and warm white, and the brightness can be adjusted. All basic accessories such as a smartphone holder, a remote control button and a USB charger are included.
Price: from $39.99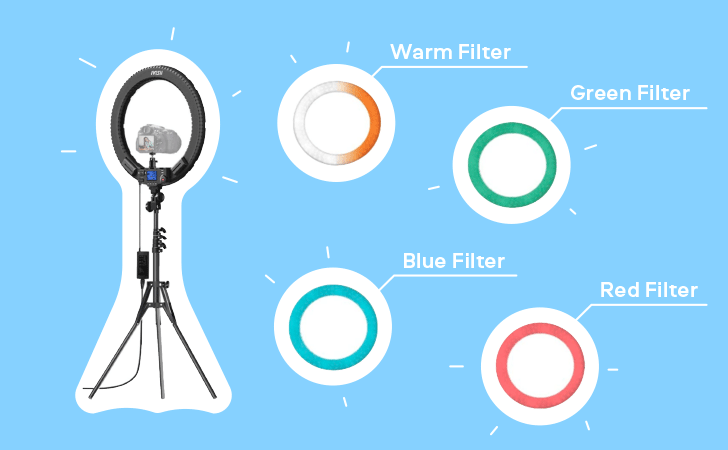 What: IVISII Ring Light with Remote Controller
Why: This is one of the priciest options, but the cost is fully justified. This set-up lets you customise your lighting as much as you want, with four color filters included in the set. All settings are displayed on a smart LCD display. Although this product is mainly designed for vlogging, you can easily replace your iPhone with a DSLR camera – a strong and steady stand will handle it just fine. Bear in mind that the ring itself is fairly large – 19 inches probably won't fit into your regular bag, but a carrying case is included.
Price: from $159.99
Best Selfie Ring Lights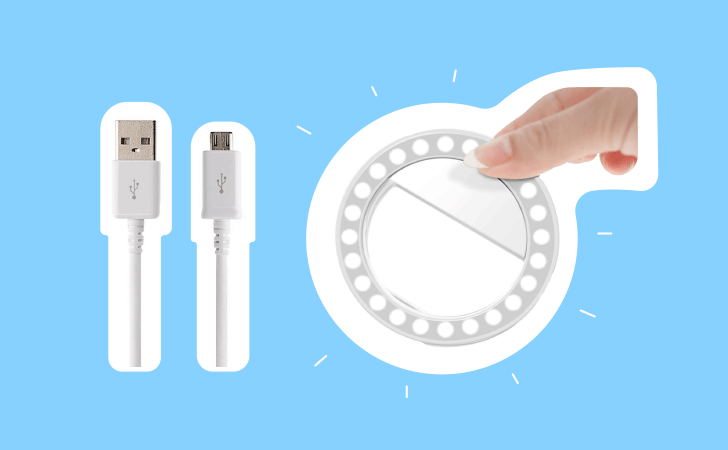 What: XINBAOHONG Selfie Ring Light
Why: This small yet powerful clip-on device comes with three-light brightness modes in shades of white and three-color flash mode (red, blue and red/blue). Aside from helping you take great selfies, it can be used as an extra flashlight, too!
Price: from $13.99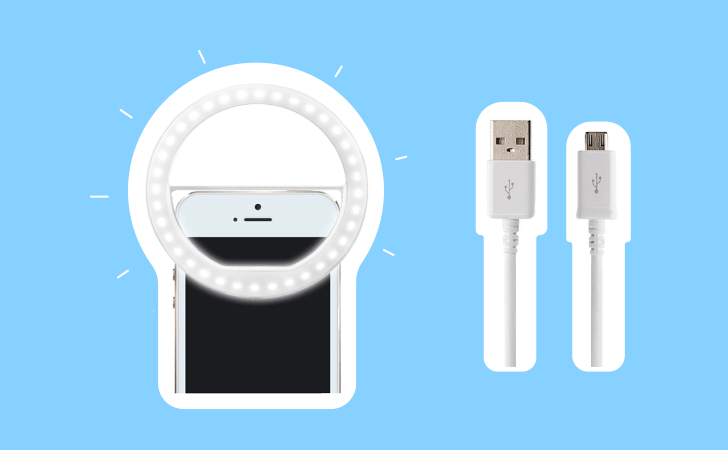 What: Oternal Selfie Light
Why: Pretty similar to the previous device, this is a simple little light that can easily be clipped on your phone. The features are mostly the same, but this model is slightly cheaper.
Price: From $12.99
Best All-In-One Light Rings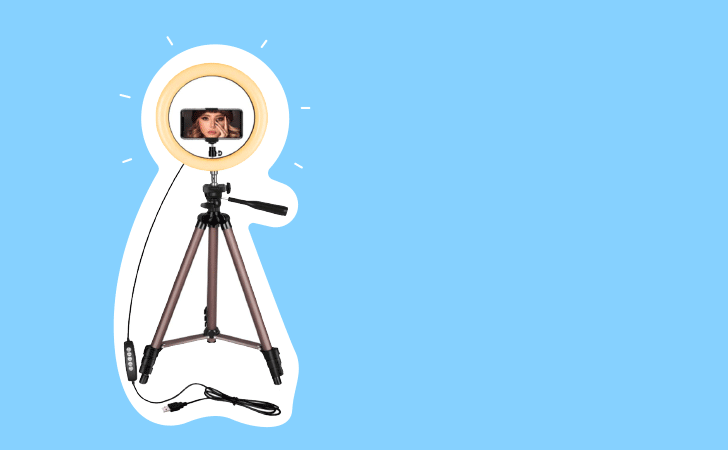 What: Emart 10-inch 10 Colors & 10 Brightness Levels RGB Ring Light
Why: Unlike other all-in-one light ring sets, this one has a special feature: an adjustable rainbow mode ring that can be used in a variety of RGB colors. The other items are included in the set, too: a stand, a smartphone holder and even a mirror to check your look.
Price: from $39.99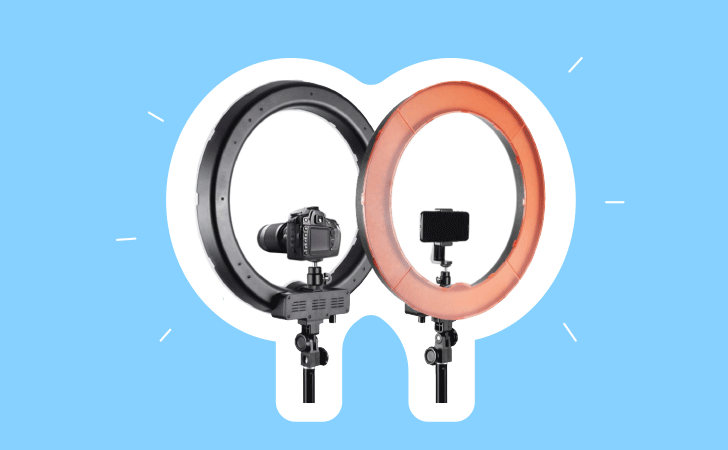 What: Neweer Ring Light Kit
Why: Over 7000 positive reviews on Amazon can't be wrong. This kit comes with two filters of warm and cold shades, a stable stand compatible with both smartphones and DSLR cameras, a bluetooth receiver for remote control, and the ring itself with a fairly large dimming range. Looks like a great deal for a reasonable price.
Price: from $89.99
Best Budget Light Rings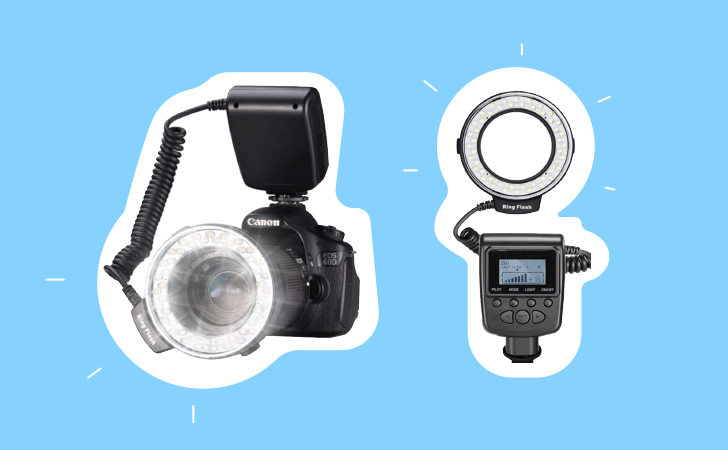 What: Neewer 48 Macro LED Ring Flash
Why: As you've probably figured out by now, professional photography ring lights can cost you an arm and a leg. If taking pictures isn't a source of income for you, consider starting with a cheaper alternative. Just don't forget to check the list of compatible models – eight adapter rings are included in the set which should cover most popular types of lens.
Price: From $33.50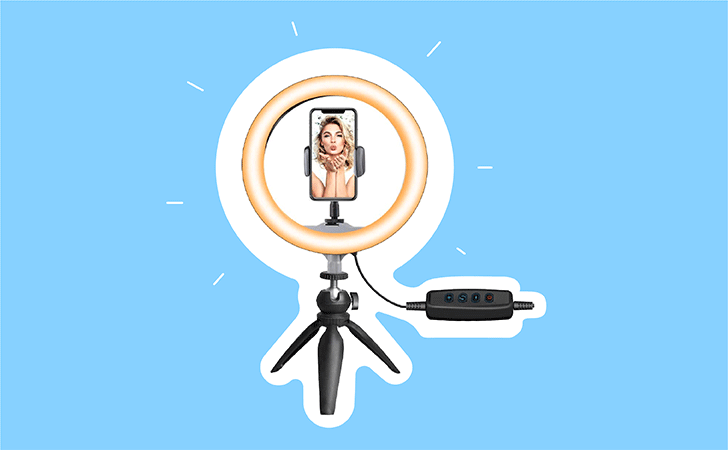 What: UBeesize 10″ LED Ring Light
Why: This tool is almost just as good as the more expensive UBeesize device listed above. The difference is that this one is slightly smaller and less flexible. The tripod configuration makes this model better suited for tabletop use, but it works just fine as a regular tripod, too. It's probably safe to say that this is the best budget option in its category.
Price: from $23.99