With all currently available cloud storage technologies, it is still comforting to think that you have a hard copy of your data. To save your time, we've compiled a list of leading tools to burn CDs and DVDs and to copy your relevant and irreplaceable music, pictures, documents, and movies. 
If you're looking for a more versatile program that offers a variety of instruments for working with video and audio content, which you can later burn to CD, the best option we can recommend is Movavi Video Suite. 
Movavi Video Suite is a powerful toolbox with a whole set of features required to work with any audio, image, or video. Burn, rip, edit, convert, record the screen, grab your favorite YouTube movies, add subtitles and artwork (the software has a rich library of effects, which can be added to your visual creation), use professional filters to improve the quality, create remarkable image slideshows, create ISO images of CDs and DVDs – all of the above and many more in one genuinely user-friendly and clear interface. It is much more than just a disk burner, but it does this part of work exceptionally well. Why waste time and money on separate software or risk downloading suspicious open-sourced programs, when you can get it all in one box?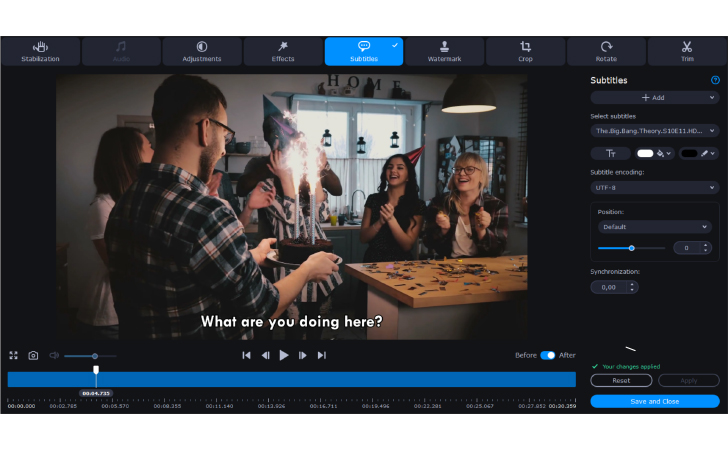 If you'd rather opt for a free tool at this point, here's our list of the best free CD burning software that we can recommend. 
Top Free CD Burner Software to Try
WinX DVD Author: free and fast-performing free cd burning software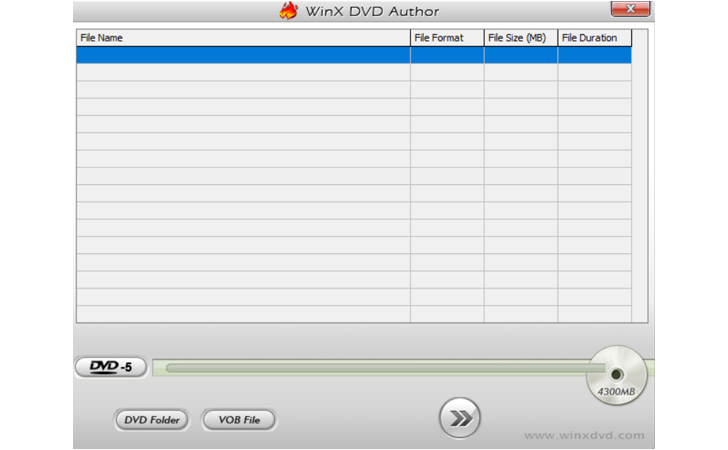 WinX DVD Author is aimed at those who want to create video DVDs. If you are after a tool that will burn CDs, it will disappoint you, but read on, we have some alternative suggestions for you. 
As for WinX DVD Author, it has a full list of features required to work with videos. For example, there is a tool to grab videos directly from YouTube. Editing arsenal is good, too. You can trim your videos, create subtitles and chapter menus, and moreover, convert files, it is compatible with different aspect ratio options, as well as both standards, NTSC and PAL. 
It's free of charge, fast-performing, with an easy to use and neat interface. It equally suits novices and those who consider themselves experts in CD-burning. The output quality is high, too, who can dream of anything better?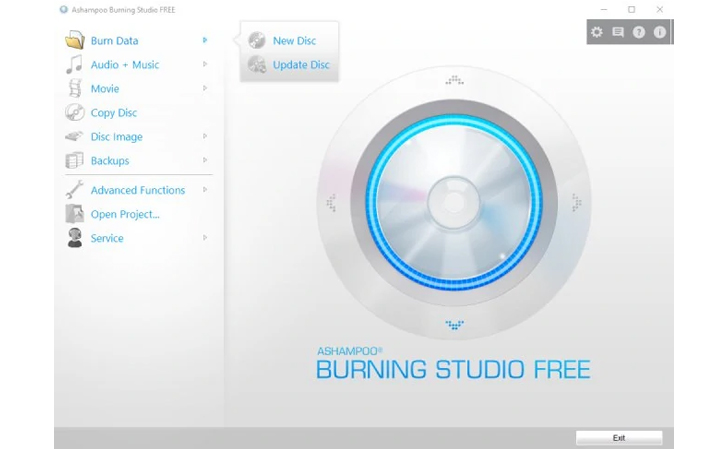 Ashampoo Burning Studio is cited to be one of the best customers' choices. It copes with any burning tasks, whether it is about making data CDs or DVDs, backups, or disk images. The burning software is absolutely free of charge, although it does require registration. The range of supported formats is really impressive, too, considering it is a completely free cd burner.
Ashampoo Burning Studio Free burns any data, including music and video, it restores, copies, rips, erases data on rewritable disks, creates ISO images, and stores files in WAV and WMV. It works with audio CDs, data, and video disks, accompanied by Blu-ray support, too, and can help you with any backup tasks you might have. Multi-disk file backup and disk verification are among its advanced options. Other features worth noticing are file-compressing and a data prevention option that is performed with a password protection tool. 
There is a multitude of options available, but the manufacturers made a point of keeping things as simple as possible. They managed to achieve the task overall, with the interface being friendly and approachable, and the software on the whole easy to handle. 
Roxio CD Burner Free: everything you want from a CD burner software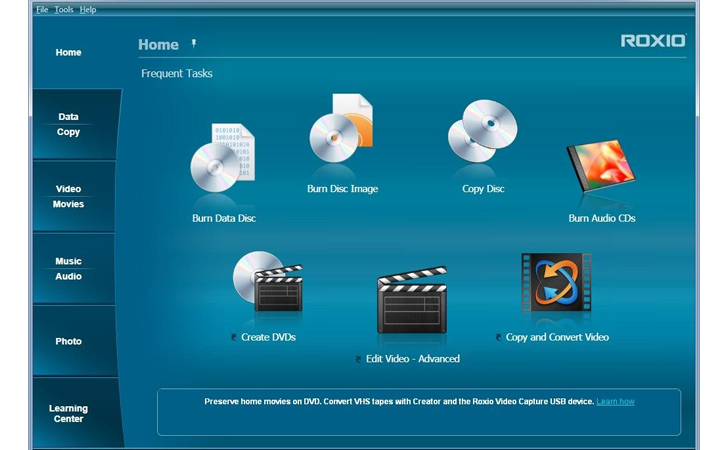 Roxio Creator is another free CD burning software that was primarily designed to burn videos, audios, and other data. It suits both, CDs and DVDs. 
It has a moderate list of other available features, too, like editing, creating, and converting images, audio and video. 
It does not come for free, like other popular burning solutions, but its price is affordable. You can download it as cheap as $20 for its basic version.
It's easy to handle and will surely meet all your CD and DVD burning needs. Here is what you can do with it. Write data, like audio, images, or video hassle-free. Back up the files that matter to you, archive the old ones using multiple disks. Burn your photos to disk and keep them for long. Create ISO files. Erase rewritable disks. 
The software has a drag-and-drop feature, so copying information is as simple as never. 
There is an editing toolbox, too. So, you can author DVDs, adding images, text, artwork to your movies, creating chapters, and subtitles. Also, you can convert files to a chosen format so that your MP3 player or iPod can play them. 
Express Burn: a free CD burning software that saves your time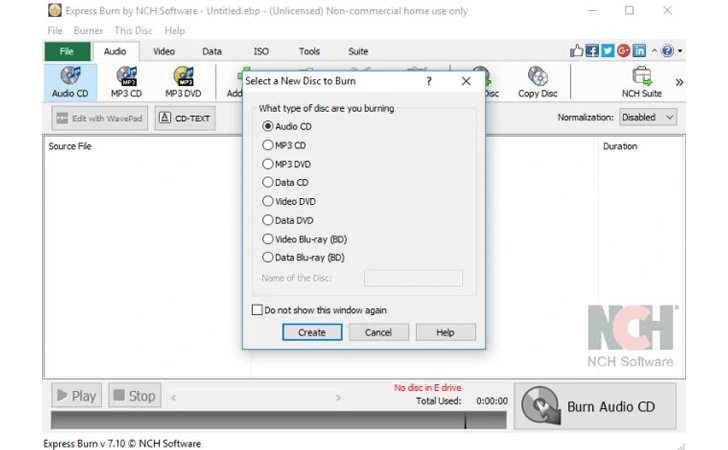 Express Burn is another easy, approachable, fast disk burner. You can run it on Windows or Mac to burn audio CDs, video DVDs, Blue-rays, and to write data an any of the above storage media. 
You can get it absolutely at no cost. The free version has some restrictions, though. You can burn CDs and use them at home since a free license is for non-commercial purposes only. 
Among its obvious advantages is the drag-and-drop feature which allows you to get your files directly into the app once you have got them ready for burning.
The manufactures claim the program to be the fastest burning software currently in the market. Nevertheless, if you are after a better quality burning, you may spend a bit longer and burn a CD slower.
Express Burn supports numerous audio and video formats, IWAV, AVI, MPG, VOB, WMV, MP4, OGM MP3, WMA, OGG, FLAC includingly. Audio is recorded with direct digital recording so perfect audio quality is maintained. 
There is a number of editing tools and you are welcome to customize your tracks. Normalize the volume, make the pause between tracks longer or shorter,  create chapters, use standard or widescreen formats for video.
Advanced options include recording video files to PAL or NTSC, creating tailored menus, adding custom images to any ready-to-go template, burning data as UDF, ISO or Hybrid images Burn, making data disks ready to boot. 
Nero: a top-notch tool for burning disks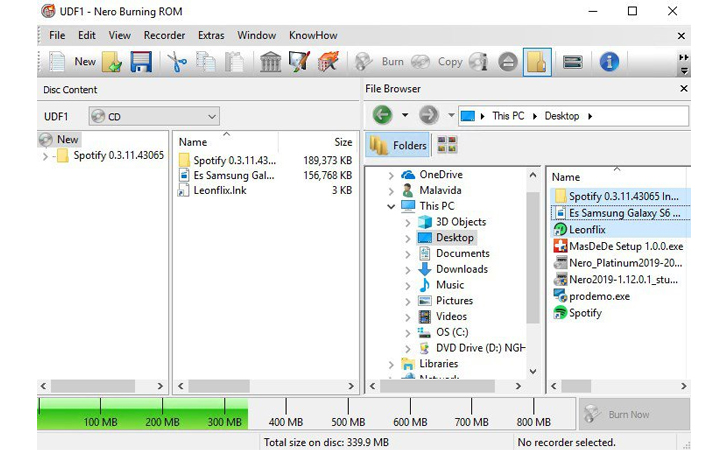 Nero is believed to be a star among other burning software. It obviously has some ground, boasting of a wide range of remarkable features. 
It rips individual songs and whole audio CDs on a whole set of devices, such as PC, smartphone, or MP3 player. You can pick the desired format, most popular being MP3, AAC, PRO, FLAC, and APE. You may be sure that the original high audio or picture quality is preserved. It is true for standard CDs or Blue-rays. It operates gracenote technology, which means the software integrates album covers into the audio file. 
If the program discovers an occasional problem with the sound, it will automatically improve it, or you can do it manually, using an easy toolbox. You can burn disk images or disk structures with it, too. 
Last, but not least, the software uses special security technology, which offers digital signature and password protection.
BurnAware Free Edition: free and simple cd burner software for any purpose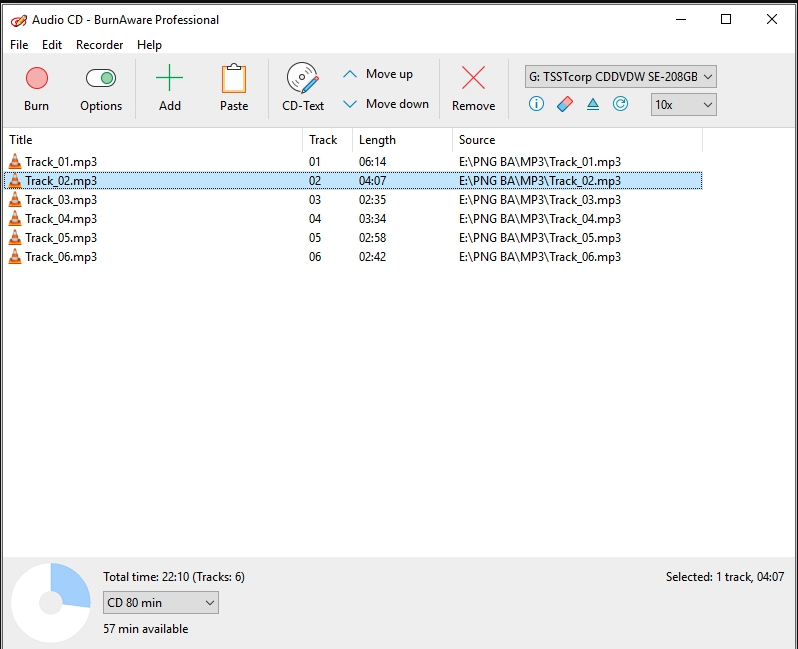 It's another disk burning program that copes with any basic ripping, copying, or burning task you set.  Unlike its many free competitors, it supports Blu-ray, too. It has a remarkably user-friendly interface and can boast of fast processing. These are the features that make it exceedingly popular. 
Its competencies are numerous: it can burn all kinds of CD and DVD media, Blu-ray included, it can create disk images, it handles an extensive range of audio formats, too, MP3, WMA, FLAC, AAC, WAV, OGG, and M4A.
What is more,  it is really lightweight and has a low CPU usage.
You can download a free version of BurnAware or pay for Premium and Pro editions to enjoy its advanced features, like simultaneous burning. 
Both versions, free and paid, are compatible with the most popular Windows 7, Windows 8, Windows10 Vista, and XP.
Burn: a CD burner software for Mac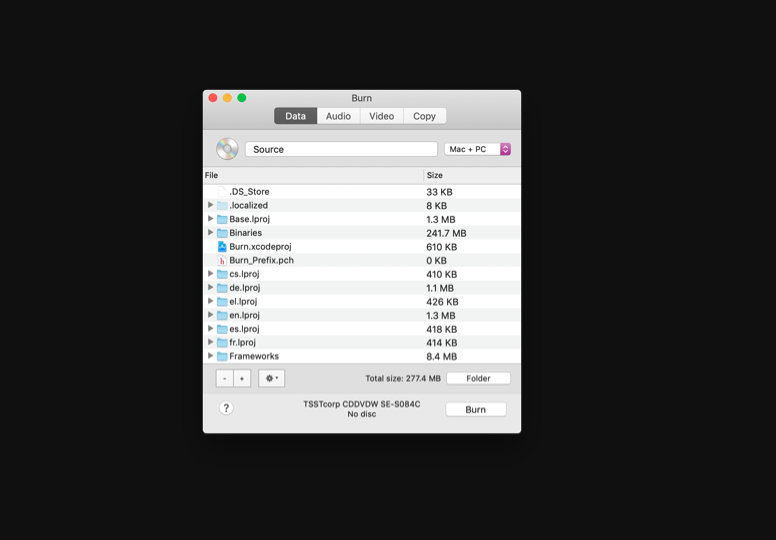 A super simple burning tool with an ambitious set of options. It offers to burn CD by simply dropping the desired file into the audio list, clicking the "burn" button. You can convert the files into most popular formats and personalize your disk, like tagging, text editing and adding interactive menus. The software allows to create a simple data disk, too. 
The creators keep updating it so that it is always in tune with the most recent iOS version. 
Users complain, though, that it burns files in the order different from the one they are in the active window. It means you need to manually re-sequence them and be careful with the names.  
ImgBurn: a free CD burner with an open-source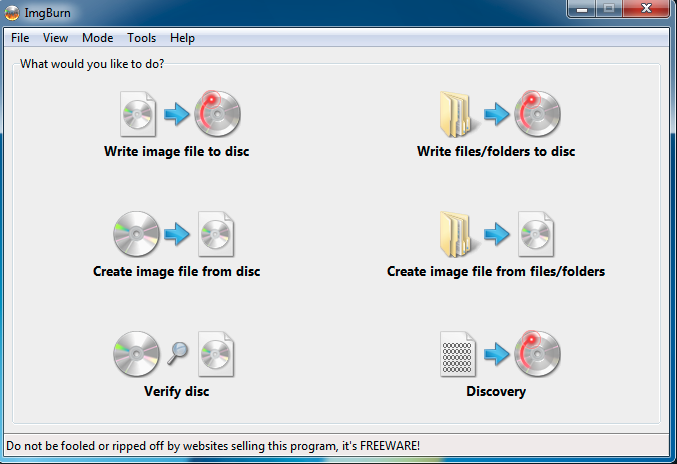 The program is exceptionally lightweight, under 2mb, and fast-performing. It burns CDs, DVDs and is compatible with Blu-ray technology. It is capable of creating boot disks, too, and data disks that will safely store your backups and archives, as well as disk images and other necessary data. The formats the burning app works with are various:  BIN, CUE, DI, DVD, GI, IMG, ISO, MDS, NRG, PDI, and others.
It has some limitations, though. For example, it won't remove the copyright protection, and some users keep complaining that it is an issue at times to keep the original quality of the burned file.
We do hope you find our selection of use, making a bunch of hard copies of all your invaluable data and keeping them safe with the above fast and easy burning tools.